Herb Montgomery | January 11, 2019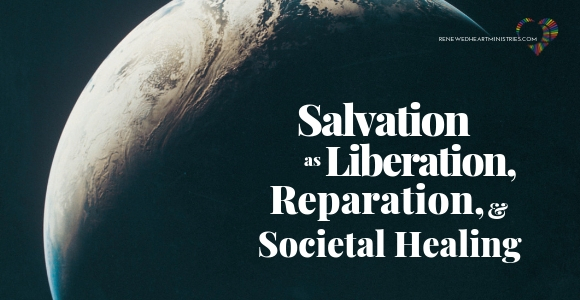 "
"For God did not send the Son into the world to condemn the world, but to save the world through him." (John 3:17)
My wife and I purchased a home almost fifteen years ago now. It's an American foursquare from the turn of the 20th Century. We thought it would be a beautiful adventure to restore an old home together. We wanted to do all the work ourselves, slowly, as we could afford it. So today, we live in an ongoing construction. The journey has hardly been what we thought it would be.
Some people look at our home today alongside the before pictures and say, "Herb, why didn't you just condemn the building, bulldoze it, and build a new house?" That would have been easier, but it wasn't the choice we made. The house, though in need of restoration, had great "bones." But getting it into shape has been a lot of work.
John's gospel includes an interesting story. Nicodemus comes to talk to Jesus in the night. And in the middle of their conversation, Jesus tells him:
"God did not send the Son into the world to condemn the world, but to save the world through him." (John 3:17)
Contrary to many "end-time" preachers, Jesus' vision for this world was not to condemn it, wipe it out, and make a new one. Jesus pictured a God who loved our world: a God who dreamed of this world's healing, reparation, and transformation. Jesus' vision wasn't to wipe our world out and start all over, but to see our world healed.
The word in the passage most translated as "saved," sozo, can just as easily and accurately be translated as healed. Salvation is understood in the gospels not in terms of penalty and payment but in terms of restoration and healing in the context of the violence, injustice, and oppression faced by multitudes in our present world. Salvation as a post mortem fire insurance policy finds no place in the gospels.
John's gospel defines salvation more holistically. What do we see Jesus doing with the majority of his time in all four of the canonical gospels? We see him going from place to place to place bringing healing and liberation. When I began to look at our world through the lens of healing and liberation rather than the lens of a fire insurance it shifted something in me.
In Luke 19, we find the story of Zacchaeus, a tax collector. He was responsible for participating in a system that benefited the wealthy, including himself, while impoverishing many.
The next thing the story tells us about Zacchaeus is the tree he had climbed. As in his own life, he had climbed higher and higher but as he sits in the tree, he realizes that the ladder he'd been climbing was leaning against the wrong wall.
Jesus comes to the spot where Zacchaeus is lodged in the tree and tells him to climb down. "I'm going to go to your house today."
Everyone begins to whisper, "He's going to the house of a sinner!"
The masses disdained tax collectors like Zacchaeus and labelled them "sinners."
In Jewish society at this time, the label of "sinner" was not universal. It was a label the political elite used to marginalize and exclude people. There were two distinct groups: the righteous and the sinners. A Jewish person had to be living outside either the Pharisees' or the Sadducees' interpretations of the teachings of Moses to be labelled a "sinner" or "unclean." Though they were born into the community of Abraham's covenant, they could be labelled as living in such a way that excluded them from the hope and promises of their Jewish heritage.
(The Sadducees were much more conservative than the Pharisees, which served to marginalize more people as sinners. The Pharisees used more liberal interpretations and therefore were more popular.)
This pattern of marginalization was Zacchaeus' story. He was a Jew by birth, and so a son of Abraham, but on the basis of his complicity with the Romans, he was labelled a "sinner," an Other, an outsider.
This is why the people in the story were upset that Jesus planned to go to Zacchaeus' house. Up to this point in Luke, Jesus had practiced a preferential option for the poor, yet here he was now, associating with someone responsible for making many people poor.
Grace doesn't mean letting someone off the hook. Genuine grace transforms oppressors, just as it liberates the oppressed. Did Jesus care that Zacchaeus was responsible for a system that was repressing so many? Absolutely. Yet something had already changed inside of Zacchaeus; we aren't told how, and we aren't told when.
Before Jesus could respond to the crowd's accusation that Jesus was going to the home of a sinner, though, Zacchaeus interrupts:
"Look, Lord! Here and now I give half of my possessions to the poor, and if I have cheated anybody out of anything, I will pay back four times the amount." (Luke 19:8)
Zacchaeus was changing. As he climbed down from the tree, he was also climbing down from his position of power, prestige, and public privilege. Also, he was not seeking simple forgiveness.
Zacchaeus understood that following Jesus would involve him making reparations to those he had exploited. It would also involve him going beyond direct reparations to a kind of wealth redistribution to the poor because of his role in an economic system that drove many into poverty. I'm reminded of the words of Nelson Mandela who stated, "Like slavery, like apartheid, poverty is not natural. It is manmade and it can be overcome by the actions of human beings." (Address at the Make Poverty History campaign, London, England, February 3, 2005.) The father of Latin liberation theology, Gustavo Gutiérrez, wrote:
"The poor person does not exist as an inescapable fact of destiny. His or her existence is not politically neutral, and it is not ethically innocent. The poor are a by-product of the system in which we live and for which we are responsible. They are marginalized by our social and cultural world. They are the oppressed, exploited proletariat, robbed of the fruit of their labor and despoiled of their humanity. Hence the poverty of the poor is not a call to generous relief action, but a demand that we go and build a different social order." (The Power of the Poor in History, p. 44)
Today, in a world where poverty is not the product of scarcity because we produce more than we can possibly need, and poverty results from unwillingness to embrace our interconnectedness and share, these words ring true: "There was a time when poverty was considered to be an unavoidable fate, but such a view is no longer possible or responsible. Now we know that poverty is not simply a misfortune; it is an injustice." (Remembering the Poor: An Interview with Gustavo Gutiérrez)
Zacchaeus followed Jesus. He didn't only believe another world was possible. He actually moved toward that world. Jesus responded to him by saying:
"Today salvation has come to this house, because this man, too, is a son of Abraham." (Luke 19:9)
Right there, then, at that very moment "salvation"—healing—had come to Zacchaeus' house.
What would it mean for salvation or healing to come to your house right now? Would it come in the form of liberation for you and the community you belong to? Or would it, like it did for Zacchaeus, come in the form of your transformation: you taking up the work of liberation with others working for their freedom and regaining your own humanity as you go? In our world where inequality and injustice are most often rooted in disparities based on race, gender, education, religion, sexual orientation, gender identity or expression, class, ability, and more, what would Zacchaeus-like salvation look like for you?
"For God did not send the Son into the world to condemn the world, but to [heal] the world through him." (John 3:17)
HeartGroup Application
Healing our world can take a myriad of different forms. This week, here in the U.S. we find ourselves in the midst of a heated debate over our treatment of Jesus' "strangers" and what, if not ended by this Saturday, could be the longest government shutdown in the history of the U.S. I'ver heard from many of you who follow RHM who are federal employees. I've heard the stories of how you feel as if you are being held for ransom as you continue to go without pay, some of you expected to show up to work regardless.
Last April our book of the month for RHM's annual suggested reading course was Rev. Kelly Brown Douglass Stand Your Ground: Black Bodies and the Justice of God. In the very first chapter, in the section titled The Making of Cherished Property: The Immigration Paradox, Douglass lays out the history of racism that has ever been at the heart of our immigration debates. This week I would like to return to this chapter. Read and discuss this chapter as a group. How does this history inform how you consider what happening presently along the southern border of the U.S.?
Just this week, Jim Wallis of Sojourners, a Christian magazine dedicated to Jesus and societal justice, implored his readers: "Right now, it's important that you tell your senator to pass funding bills to restore the operation of government agencies, without approving Donald Trump's 2,200-mile monument to racism." I agree on both counts. Right now, it is important to be contacting your Congressional representatives. And Wallis' is correct in naming Trump's wall as a "2,200-mile monument to racism," especially in the context of the history of our immigration debate here in the U.S.
In the gospel of Matthew, Jesus condemns the choices of his followers who failed to follow his teachings in moments such as these. "I was a stranger and you did not invite me in, I needed clothes and you did not clothe me, I was sick and in prison and you did not look after me." (Matthew 25:43) Besides contacting your representatives, what else can you as a HeartGroup do to be a source of healing in your community presently? Sharing an informed summary of our history to those who are misinformed in our daily discussions with others? Providing support for those seeking asylum in this country either directly if you live in an area along the souther border or through supporting an organization that is providing help? Do you have any federal workers in your HeartGroup that you can surround and come under and support during this difficult time for them, as well? Come up with something you can do as a group and do it.
Rev. John Dorhaur, who is the General Minister and President of the United Church of Christ, said it rightly this week, "We are faced with a moral crisis as a country, not a border crisis, nor a national emergency." History is being made. Let's make sure we are on the right side of it.
Thank you for checking in with us this week. I'm so glad you are here.
Next weekend I will be in Arizona officiating the wedding of two friends of mine, but I'm going to try and get out next week's podcast/eSight before I go.
Until then, remember, another world is possible.
I love each of you dearly.
I'll see you next week.