By Herb Montgomery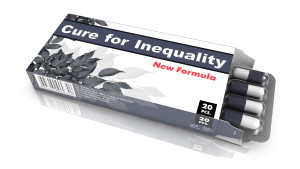 Jesus looked around and said to his disciples, "How hard it is for the rich to enter the kingdom of God!" (Mark 10:23)
First, I didn't say the above statement! So don't be upset with me. But it is in Mark's version of the Jesus story, so I'd like to address it.
Most believe Mark's gospel was written just before or just after the destruction of the Jerusalem during the Roman-Jewish war. The events taking place in the Jesus community at this time help us understand re-emphasizing Jesus' teachings on sharing our superfluous wealth with each other.
According to the book of Acts, the Jesus community practiced communal care: they took care of the needs of those within their community.
All the believers were together and had everything in common. They sold property and possessions to give to anyone who had need. (Acts 2.44-45)
All the believers were one in heart and mind. No one claimed that any of their possessions was their own, but they shared everything they had. With great power the apostles continued to testify to the resurrection of the Lord Jesus. And God's grace was so powerfully at work in them all that there were no needy persons among them. For from time to time those who owned land or houses sold them, brought the money from the sales and put it at the apostles' feet, and it was distributed to anyone who had need. (Acts 4:32-35, emphasis needed.)
What is so amazing about both of these passages is the result: the early Jesus community eliminated poverty in their group. "There were no needy persons among them"—this is what a world influenced by the teachings of Jesus could look like.
One of the purposes of Mark's gospel is to encourage Jesus's followers to continue this care-taking. Here's how he does it. Mark dedicates a large portion of the narrative to this topic.
First, we have the miraculous feeding of the five thousand, with twelve baskets of leftovers in chapter 6:34-44. Then, two chapters later, we have another feeding a multitude (Mark 8:1-10). This time it's four thousand fed, and seven basketfuls left over.
Just one of these stories would be expected; it's the repetition of the elements that should cause us to sit up and ask "Why."
Mark answers this question in verses 14-21 of chapter 8:
"The disciples had forgotten to bring bread, except for one loaf they had with them in the boat. 'Be careful,' Jesus warned them. 'Watch out for the yeast of the Pharisees and that of Herod.' They discussed this with one another and said, 'It is because we have no bread.' Aware of their discussion, Jesus asked them: "Why are you talking about having no bread? Do you still not see or understand? Are your hearts hardened? Do you have eyes but fail to see, and ears but fail to hear? And don't you remember? When I broke the five loaves for the five thousand, how many basketfuls of pieces did you pick up?' 'Twelve,' they replied. 'And when I broke the seven loaves for the four thousand, how many basketfuls of pieces did you pick up?' They answered, 'Seven.' He said to them, 'Do you still not understand?'
Let's begin to unpack this exchange: "Are your hearts hardened?," Jesus asks. In Hebrew folklore, the quintessential hardened heart was Pharaoh's in Exodus. Within that story, Egypt symbolizes a world empire built on scarcity, accumulation, and storage that over time grew into a domination system rooted in greed, oppression, and ruthless brick-production. The story climaxes with a stand off between Moses the liberator and Pharaoh the oppressor; the story says Pharaoh's heart was "hard," meaning that "he would not let the Israelites go."
Jesus emerged within 1st Century Judaism as a liberator of the poor and oppressed. To the degree that Jesus' disciples would not participate in this liberation, they, like the Pharaoh in the story, choose the way of a hardened heart. Jesus called for his followers to radically embrace one another to the degree that even the wealthy would embrace the poor and liquidate superfluous assets to eradicate need. Two chapters after the conversation in chapter 8, we see Jesus telling a rich questioner, "Sell everything you have and give it to the poor" (Mark 10:18-25).
There are two obstacles to this level of radical sharing. One is feeling like you don't have enough to share; the other is having enough today but being so afraid of not having enough in the future that you refuse to share now. The stories of the feedding of the multitudes address the first obstacle, whereas the rich man in Mark 10 represents the second.
In each of the "multitude" stories, there is not enough to go around. But in these stories, each person brings what they have and "miraculously" there is somehow enough with more to spare.
In Mark 8, in the boat, the disciples are bumping up against a "scarcity" mentality once again. There is only one loaf to be divided among them, and their temptation is to revert to the narrative of hoarding or "competing" for what there is. Jesus warns them to beware of the leaven of Herod and the wealthy Pharisees. The leaven Jesus is referring to here is that fear of future scarcity that leads to accumulation, hoarding, greed, and a hard heart that ignores the needs of others today. The hard heart makes you a mini "pharaoh," one who refuses to liberate those around you from whatever prevents them from being fully human.
Jesus' solution to the oppression of the poor is not charity, but community. I don't think there is anything wrong with charity. Charity is vital! Charity takes care of hungry stomachs right now. Certainly following Jesus includes no less than sharing charitably with the needy, but it also includes more. Following Jesus means community, where each person, rich and poor alike, brings what they have to the shared table. Even though we may be tempted to think that we only have two loaves and a few fish to feed an entire community, when we come together, something magical happens. As each person contributes what they have, somehow every person's needs are met.
A couple weekends ago, I encountered an organization in Glendale, CA, called Communitas. Communitas is a Latin noun referring to an unstructured community in which people are equal or to the very spirit of community. The philosophy is that we can choose to network together in a community where each one of us has something that someone else needs. Our needs put us in touch with one another. As we choose to take care of each other, each ability connecting with each need, we can eliminate need by applying the abilities we already possess. Even those who are "in need" have abilities and talents they can bring to the shared table. Communitas is an amazing organization that does more than offer bandaid solutions to poverty. It's an organization subversively casts a vision of systemic change.
In Mark, Jesus' solution to "need" or poverty is to close the inequality gap by inviting each person into community where every need is supplied by another person's shared ability. Some of the wealthy responded well: think of those among the wealthy tax collectors who had chosen to follow Jesus. Others did not: think of those among the Pharisees who viewed Jesus' teaching with contempt and dismissal.
Mark finishes his story in chapter 10 with these words:
"Children, how hard it is for the rich to enter the kingdom of God! It is easier for a camel to go through the eye of a needle than for someone who is rich to enter the kingdom of God."
Notice that he does not say it was impossible. He did say it was hard. Jesus was simply being honest about the difficulty. In the words of Bob Dylan, "When you ain't got nothin', you ain't got nothin' to lose." But for those who felt as if they had much to lose, choosing the way of compassion and bringing what they possessed to the shared table was, at best, a challenge.
An aside: there actually wasn't a camel gate in Jerusalem that camels had to get down on their knees to enter. This is a myth that began in the 16th Century to allow the wealthy to follow Jesus and still hold on to their wealth. The phrase "eye of the needle" is beautiful Hebrew hyperbole, and also appears in the Babylonian Talmud: Tractate Baba Mezi'a 38b. Jesus is also using an Aramaic play on words. The Aramaic word gamla can be translated as "rope" as well as camel, because most ropes were made of camel hair. And so the phrase can be read as "getting a rope through the eye of a needle." The pun holds as Mark's gospel is translated from Greek into Latin: The Latin word for rope is kamilos, and the Latin word for camel is kamelos.
So what does the pun mean? For a rope to go through an eye of a needle, it must undergo a change: it must be pared down significantly. The rope must become thread. Jesus is saying that the way the wealthy are saved is through choosing to let go of their fear of the future, their trust in the safety of what they have accumulated, and to accept instead the way of compassion that values fellow humans more than wealth. Jesus calls the wealthy to place their wealth on the shared table alongside everything that others bring to the shared table. No hoarding allowed.
The emphasis is not about reducing individual wealth; it's about making wealthy communities. Jesus is casting the vision of sharing communities that create shared wealth. In these communities, as it states in Acts, there will no longer be a needy person among us.
"A needle's eye is not too narrow for two friends, but the world is not wide enough for two enemies." — Solomon Ben Judah Ibn Gabirol (Spanish Jew and Collector of Jewish Aphorisms; Spain, c. 1021 – c.1069; see Geary's Guide to the Worlds Great Aphorists)
"Never doubt that a small group of thoughtful, committed citizens can change the world. Indeed, it is the only thing that ever has." — attributed to Margaret Mead
HeartGroup Application
This week I have a special activity for each HeartGroup.
Before you meet as a group make time to personally watch Richard Wilkonson's 16 minute Ted talk How Economic Inequality Harms Societies. Write down any thoughts, questions, or insights you get as you watch.
When you meet together for your HeartGroup this upcoming week, watch the short presentation again as a group and then spend some time sharing with each other your response.
As a group, write down ways you could close the gaps that exist within your own HeartGroup. Then pick one of these ways to experiment with over the next few weeks. Schedule a time a month from now when you can, as a group, discuss what you have discovered through this exercise.
I'd love to hear what your group discovers. Shoot me an email and let me know what has happened.
Till the only world that remains is a world where Love reigns. Here's to a safer, more compassionate world, through the means of a shared table, for us all.
I love each of you dearly.
I'll see you next week.