Part 7 of 9
by Herb Montgomery
I Am Thirsty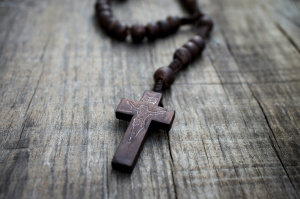 Later, knowing that everything had now been finished, and so that Scripture would be fulfilled, Jesus said, "I am thirsty." (John 19.28)
As we continue in John's telling of the Jesus story, I want to remind you that what makes his telling unique is that he is writing in conversation with early Gnostics.  A dialectic relationship exists between John's gospel and the dualism of Gnosticism.  An oversimplified explanation of the Gnostics' dualism is that they first believed that all matter was evil.  Secondly, they believed that humans possessed an immortal soul which was good.  Thus humanity had a dualistic nature of being simultaneously good and evil.  It is this element of "matter being evil" that John is meeting head on.
Because the Gnostics believed all matter was evil, they taught that the Divine could never become entangled with embodiment (having a body, i.e. "matter").  Divinity was not dualistic in the fashion that humanity is.  (Their dualism ran deep, dividing humanity and Divinity as well, as contrasted with humanity being fashioned in the image of Divinity and being the very offspring of Divinity.  But we'll have to save that conversation for later.)  The Gnostics would have taken issue with John's "incarnation" that the Logos (the Divine) was "made flesh" (matter).  The Divine could not be identified with the flesh. [1]  Gnosticism, as some scholars have pointed out, would have taught that "Jesus walked on the beach but left no footprints."  The Gnostics' version of the Jesus story taught that Jesus' Spirit (the holy part) departed from him prior to him being crucified, because the Divine could not participate with the material human flesh on that level of physical suffering.  This is why John's Jesus, on the Cross, is not a human victim, but Divinity embodied, as the revelation of the Divine suffering in solidarity with all who have ever been oppressed, or who have suffered injustice at the hands of dominant systems in every age.  John's telling of the crucifixion is his way of saying "no" to early Gnosticism.  Jesus in John's Gospel is fully Divine while fully embodied; he is fully human and his physical suffering at the hands of the injustice of his day is not to be dismissed or devalued.
Yet the question that we must ask is why is John pushing back so hard against Gnosticism?
Simply put, because the belief in the dualistic nature of humanity, specifically that all matter was evil, was causing a shift among the early Christians.  Toward the close of the first century, they were focusing more on liberating their souls from their physical bodies in some far distant "heaven."  They were abandoning the core principle of what John felt it meant to follow Jesus—which was the "healing of the world" here and now.  John's Jesus states unequivocally that "God did not send the Son into the world to condemn the world [matter is evil] but that the world through Him might be healed*." (John 3.17, emphasis added.  *Sozo can be translated as heal as well as save.  Jesus was the great healer.)  The goal of the ancient Hebrews was not to one day become some disembodied soul on some far distant cloud, but to see a time when the Messiah would come and end all the injustice, oppression, and violence here on earth.  A Hebrew telling of the Jesus story did not have at the end, as its goal, "getting to heaven"; on the contrary, the goal of Jesus' coming would have been "the healing of the world" ("tikkun olam").
I cannot pass up this opportunity to point out that most Christians today (although certainly not all) are more concerned with escaping this world, for which they believe there is no hope, and making it to heaven, than in healing this world and bringing an end to the present order of domination, oppression, injustice, and violence.  Jesus' "Kingdom" was a new social order here and now!  It was the subversive "mustard seed" planted in the "soil" of this world that was to grow (like leaven in dough) until the old order was choked out and Jesus' new social order of restorative justice, transformative mercy, and redeeming LOVE was all that remained.
Gnosticism, at the turn of the first century, was transforming Jesus' followers into "escapists" rather than the subversive force for dismantling privileged pyramids and exclusive circles in the here and now.  Today it matters not whether those pyramids and circles are economic, religious, political, or social.  Wherever we find domination (pyramids) and exclusion (circles), whether in matters of race, gender, wealth or orientation, as a Jesus follower, we are to be more concerned with bringing a healing revolution than reaching some far distant "heaven."
This may come as a shock to some, but Christianity today is more Gnostic than Christian, if we allow the historical Jesus to be that which defines Christianity.
John foresaw this result in the beginning of what he was witnessing around him in his day.  John's entire telling of the Jesus story is a retelling of Genesis chapter 1, which was the Hebrews' origin story.  Genesis chapter one (as contrasted with Genesis 2 [2]) reminded the Hebrews that this earth is good, very good.  That we are all (male, female and any combination of those two book ends that nature may produce) made in the image of God and that none are to be the subject of domination or exclusion by another.  We are all children of the same Divine Parents.  And we are all going to have to learn to sit around the same family table once again.  I'm not saying that the Hebrew people always rightly perceived these insights within the narrative of their origin story in Genesis 1.  What I'm putting forth is that this was Jesus' subversive interpretation and application of the Hebrew origin story of Genesis 1.  I hope to write on this more at length in a future eSight.
John takes Genesis chapter 1 and frames the entire Jesus story, using Jesus as the Christian origin story.  Genesis 1 begins with the phrase, "in the beginning . . ."  So does John: "In the beginning . . ." (John 1.1)  In Genesis 1 there are seven days of creation.  In John's version Jesus' life is divided up and told with seven "signs."  Genesis 1's narrative of the physical creation of the world climaxes with Elohim saying, "It is Finished."  So John's telling of the Jesus story climaxes as Jesus cries out over his restored (new) creation with the words, "It is Finished." (We'll cover this at more depth next week.)  As Genesis 1 has Elohim resting on the Sabbath day, so Jesus rests from his work of restoration in the tomb on the seventh day.[3]  As the narrative of Genesis then moves quickly into a garden with a woman being the first to be deceived, John's gospel moves quickly into another garden [4] with a woman being the first to be enlightened, becoming an apostle to the apostles.  (I'll say more about this next week as well.)
In John's telling of the Jesus story, it is no accident that John focuses our attention on three things:
1.  The very human, physical relationship between Jesus and his mother. (Last week's eSight.)
2.  The very human, physical sensation of having "thirst." (This week's eSight.)
3.  The deep connection between the Hebrews' human origin story and Elohim's creation of the physical world by Jesus' dying cry of restoration, "It is Finished!" (Next week's eSight.)
What is John saying by all of this focus on the humanity and physicality of Jesus?
John is saying to Jesus' followers of his day (as well as Jesus' followers today), "STOP FOCUSSING ON ESCAPING THIS WORLD AND GETTING TO HEAVEN!  GET BACK TO WORK RESTORING, HEALING, TRANSFORMING, AND REDEEMING THE WORLD AROUND YOU!"
The Jesus of John is not an itinerant teacher traveling the countryside offering people an easy way to get to heaven!  John's Jesus is proclaiming a frequently dangerous, and difficult at times, of healing the world!
The Jesus in John's gospel isn't trying to get people to heaven.  He is bringing heaven to the people who live here today!
Current statistics show that 70% of all theists (including Christians), when confronted with injustice, will do nothing.  If this offends you, then this merely shows that you happen to belong to the 30% who actually do something about it.  But that is still a horrible percentage.  Don't you agree?
As a Jesus follower, I must confess that I have wasted too many years trying to sell a post-mortem insurance policy and arguing with other Christians over what the premium should be.
I'm done.  If John were alive today, I'd tell him, "I hear you!"  I want to follow Jesus.  I, too, want to be a conduit for dismantling systems of dominance and exclusivity.  I, too, want to turn pyramids of privilege upside down. [5]  I, too, want to be an agent of healing change, tearing down walls of marginalization that confine fellow humans to being "others" or "outsiders."
I know I will do poorly.  I'm not claiming that I ever have, or ever will follow Jesus well.  Yet my heart is captivated by the values of the Jesus story, the ethics of that itinerant Rabbi, the non-homogenous, shared table where all (regardless of race, gender, wealth, or orientation) are invited to take a seat, alongside each other, and share their stories.  This is a table where we are all welcome, and where we, by virtue of valuing each other as fellow Divine image bearers, learn to integrate the many and diverse experiences of life into a meaningful and coherent whole.
I'm done being a Christian Houdini.  I'm done being a feel-good escape artist.  I'm choosing to be a mustard seed, a WEED, nurtured in the soil of this good earth, subversively growing, little by little, toward a safe and compassionate world for all.  I'm choosing a life of restorative justice, transformative mercy, here and now, till the only world that remains is a world where Love reigns.
And I'd absolutely love it if you will go on this journey with me.
HeartGroup Application
The time is fast approaching when many in Western Christianity will celebrate the resurrection.  Next week we will be addressing the seventh of the last sayings of Jesus in the gospels.  After that we will look at the vindication of Jesus and his teachings through the resurrection.
But before we get into all of that, this week I'm asking you to do the following three things in preparation for this series end.
1.  Spend some time in contemplation ("sitting with Jesus" is what I call it), reading through John's gospel with the goal of noticing where John is focusing on Jesus' body, Jesus' humanity, Jesus' physicality, and Jesus' message of healing this world rather than abandoning it.  Start in John 1 and just read.  I'll give a few examples to start with.  The first example you'll encounter is where logos (a gnostic term) becomes "flesh."  In John 2 you'll find Jesus making water into wine!  A scandal for those who believed we should deny any pleasure to our physical bodies as a means of liberating our sacred, immortal souls.  And then you'll encounter Jesus speaking of the temple, the dwelling place of the Divine Presence, but referring specifically to his body.  In John 3, you'll read of how Jesus tells Nicodemus that the Son's purpose is not to condemn this world but rather to save or heal it.
That should get you started.
2.  Journal what you discover.  Don't get distracted.  There are many rabbit holes in John you could go down.  Step back and keep your focus on the forest, not the individual trees.  Remember, you are looking for where John gave us subtle hints that matter is not evil, but the good creation of the Divine, worthy of our efforts in shaping it to be a safer, more compassionate home. [6]
3.  Share with your upcoming HeartGroup what you discover.
As I shared last week, our narrative is one of hope.  A new day has dawned.  A light is shining from an "empty tomb."  If any are in Christ, "New Creation has come!" [7]
Remember, this week you're a mustard seed!
Therefore, keep living in love, loving like Jesus, till the only world that remains is a world where Love reigns.
One shared table, many voices, one new world.
I'm still praying for your heart.  I'm praying for it to be enlarged and liberated as you move more deeply into the contemplation of the great healer and liberator, Jesus of Nazareth.
I love each of you deeply.
I'll see you next week.
---
1. 1 John 4.2—This is how you can recognize the Spirit of God: Every spirit that acknowledges that Jesus Christ has come in the flesh is from God.
2 John 7—Many deceivers, who do not acknowledge Jesus Christ as coming in the flesh, have gone out into the world. Any such person is the deceiver and the antichrist.
2. Jesus contrasts the ethics of Genesis 1 with the ethics of Genesis 2 in Matthew 19.4 and Mark 10.6. I plan to say more on this in an upcoming eSight.
3. This is actually in Genesis 2 but the chapter division is misplaced. The first three verses of Genesis 2 actually belong to the narrative of Genesis 1.
4. John 20.15—Thinking he was the gardener, she said, "Sir, if you have carried him away, tell me where you have put him, and I will get him."
5. See the Sermon on the Mount in Matthew 5 and the Sermon on the Plain in Luke 6.
6. Remember the form of the New Testament we have today ends with our home being here, a new heaven and new earth, reunited. The Greek word for new, used by the New Testament when referencing the New Earth, is not neos, meaning a second earth, but kainos, meaning a restored, healed, and redeemed first.
7. 2 Corinthians 5.17 (NIV)—Therefore, if anyone is in Christ, the new creation has come: The old has gone, the new is here!