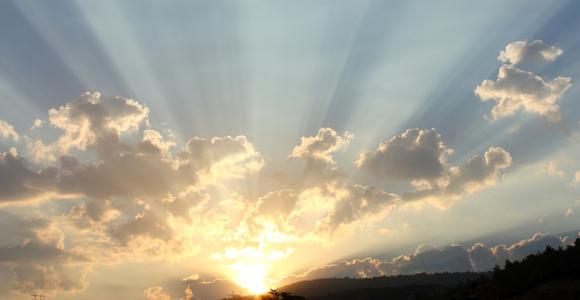 Herb Montgomery | January 20, 2023
To listen to this week's eSight as a podcast episode click here.
---
"Today we still have social sicknesses that desperately need healing justice. I think of the sicknesses of patriarchy and misogyny, of racism and White supremacy, of classism and victim blaming practiced toward poor people, of heterosexism and bigotry toward same-sex sexuality, and bigotry from certain cisgender people toward transgender or nonbinary people. Healing justice can still liberate today as it did in some of our most sacred, ancient stories."
---
Our reading this week is from the gospel of Matthew:
When Jesus heard that John had been put in prison, he withdrew to Galilee. Leaving Nazareth, he went and lived in Capernaum, which was by the lake in the area of Zebulun and Naphtali— to fulfill what was said through the prophet Isaiah:
"Land of Zebulun and land of Naphtali,
the Way of the Sea, beyond the Jordan,
Galilee of the Gentiles—
  the people living in darkness
have seen a great light;
on those living in the land of the shadow of death
a light has dawned."
From that time on Jesus began to preach, "Repent, for the kingdom of heaven has come near."
As Jesus was walking beside the Sea of Galilee, he saw two brothers, Simon called Peter and his brother Andrew. They were casting a net into the lake, for they were fishermen. "Come, follow me," Jesus said, "and I will send you out to fish for people." At once they left their nets and followed him.
Going on from there, he saw two other brothers, James son of Zebedee and his brother John. They were in a boat with their father Zebedee, preparing their nets. Jesus called them, and immediately they left the boat and their father and followed him.
Jesus went throughout Galilee, teaching in their synagogues, proclaiming the good news of the kingdom, and healing every disease and sickness among the people. (Matthew 4:12-23)
This week's reading starts with John the Baptist in prison. As we discussed two weeks ago, John preached against social and systemic injustices of his society. (See Breaking With the Way Things Are) Preachers don't get imprisoned for handing out tickets to heaven. They're imprisoned for calling for systemic, societal change that threatens those benefiting from the current status quo (see Letter from a Birmingham Jail).
When Jesus hears of John being arrested and put in prison, he leaves the area and goes to Galilee. The author associates this geographical shift with a passage from Isaiah. As much as I understand the rhetorical purpose of contrasting light and darkness for those who lived in the Middle East before electricity and modern lighting, we should now be careful with this language.
The authors of both Matthew and Isaiah were people of color. The Bible was not written by White people. Today, though, we live in the wake of a long history of White people demonizing darkness in ways that harm people whose skin color is darker than theirs. Whiteness and light  and darkness and Blackness have been closely associated in White supremacist polemics. Today it behooves us, given White degradation of Black people, to say unequivocally that we are all equal. Our differences reveal the rich diversity of the human family of which we are all a part. And our differences are to be celebrated, not used to create hegemony or a hierarchy of value.
This impacts how we talk about the Bible's use of light and darkness, too. We don't have to demonize the darkness to talk about the benefits of light. Light has intrinsic value and benefit. So does darkness. Darkness is not evil. It is life giving. Things grow in darkness, not just in light. In darkness, we rest and heal. Too much light can also harm.
We could perhaps reclaim the rhetoric of light and darkness today by speaking of balance between the light and the dark. Socially, making one difference supreme over another is death-dealing. As we need balance biologically, we need egalitarianism socially. Our call is not to lift up light over the darkness, but to work toward a world that is safe and just for us all; a place where each of us can feel at home. We are called to work toward a world that has room for all of our differences and is big enough for us all.
In our reading, with John now in prison, Jesus embarks on his own journey, preaching that the kingdom has arrived. This language, too, needs updating within our context. The language of a kingdom might have been meaningful when contrasted with the Roman empire and given the hopes for the renewal of David's kingdom among 1st Century Jewish liberationists, but today we live in a multiracial, multi-gendered, richly diverse democracy.
Kingdoms are both patriarchal and hierarchical. What could Jesus' "kingdom" be called in our democratic context today? Some have updated the language to call it the beloved community. Others refer to this change as God's just future that is breaking through into our world here and now. Still others call it a kin-dom referring the kinship we all share being part of one another within our human family. (See Finding Jesus, Herb Montgomery, p. 53)  Here at Renewed Heart Ministries we call it making our world a safe, just compassionate home for all. Whatever one decides to call it, we are talking about changes here and now, not post mortem bliss in the future but life-giving healing and change from the violence, injustice, and oppression (hell on earth) that many people face on our planet, today.
Lastly in our reading this week, Jesus calls the disciples. Last week's reading had these events taking place on the banks of the Jordan. This week, John has been arrested and the action takes place in Galilee instead. Each of the gospels have differences like this depending on the audiences and political purposes each was written for. Matthew was written for Galilean and primarily Jewish Jesus followers.
As we've discussed before, in several Hebrew scriptures, fishing for people was about hooking or catching a certain kind of person, a powerful and unjust person, and removing them from the position of power where they were wielding harm. It wasn't about saving souls so they could enjoy post mortem bliss, but about changing systemic injustice in the here and now.
Speaking of those who do harm within their positions of power, Jeremiah reads:
"But now I will send for many fishermen," declares the LORD, "and they will catch them. After that I will send for many hunters, and they will hunt them down on every mountain and hill and from the crevices of the rocks. (Jeremiah 16:16)
Speaking of those who "oppress the poor and crush the needy," Amos reads:
The Sovereign LORD has sworn by his holiness: "The time will surely come when you will be taken away with hooks, the last of you with fishhooks." (Amos 4:2)
Speaking of the abusive Pharaoh, king of Egypt, Ezekiel reads:
In the tenth year, in the tenth month on the twelfth day, the word of the LORD came to me: "Son of man, set your face against Pharaoh king of Egypt and prophesy against him and against all Egypt. Speak to him and say: 'This is what the Sovereign LORD says:
'"I am against you, Pharaoh king of Egypt,
you great monster lying among your streams.
You say, "The Nile belongs to me;
I made it for myself."
But I will put hooks in your jaws
and make the fish of your streams stick to your scales.
I will pull you out from among your streams,
with all the fish sticking to your scales.
I will leave you in the desert,
you and all the fish of your streams.
You will fall on the open field
and not be gathered or picked up.
I will give you as food
to the beasts of the earth and the birds of the sky.
Then all who live in Egypt will know that I am the LORD. (Ezekiel 29:1-6)
And commentators agree on this association:
"In the Hebrew Bible, the metaphor of 'people like fish' appears in prophetic censures of apostate Israel and of the rich and powerful: 'I am now sending for many fishermen, says God, and they shall catch [the people of Israel]…' (Jeremiah 16:16) 'The time is surely coming upon you when they shall take you away with fishhooks…' (Amos 4:2) 'Thus says God: I am against you, Pharaoh king of Egypt…. I will put hooks in your jaws, and make the fish of your channels stick to your scales…' (Ezekiel 29:3f) Jesus is, in other words, summoning working folk to join him in overturning the structures of power and privilege in the world!" (Ched Myers, Marie Dennis, Joseph Nangle, Cynthia Moe-Lobeda, Stuart Taylor; Say to This Mountain: Mark's Story of Discipleship, p. 10)
If this is a new interpretation for you, you may be interested in reading my brief article Decolonizing Fishing for People.
Our reading this week ends with Jesus' Jewish renewal movement traversing through Galilee, teaching in synagogues and proclaiming the good news or "gospel" of the kingdom. The term "gospel" was taken from the Roman empire. Rome proclaimed a gospel each time it arrived to take over new regions. The gospel authors appropriate this term to contrast Rome's approach with Jesus' vision for ordering our world in ways that are life-giving for all.
Our passage characterizes Jesus' way as being one of healing.
Today we still have social sicknesses that desperately need healing justice. I think of the sicknesses of patriarchy and misogyny, of racism and White supremacy, of classism and victim blaming practiced toward poor people, of heterosexism and bigotry toward same-sex sexuality, and bigotry from certain cisgender people toward transgender or nonbinary people.
This week, let's choose to focus our following of Jesus on working to heal and eradicate these social diseases. Healing justice can still liberate today as it did in some of our most sacred, ancient stories. May it continue to do so through us, today.
HeartGroup Application
1. Share something that spoke to you from this week's eSight/Podcast episode with your HeartGroup.
2. How has your Jesus following changed as a result of testing the fruit of your beliefs and actions by the condition of whether they are life-giving? Share with your group.
3. What can you do this week, big or small, to continue setting in motion the work of shaping our world into a safe, compassionate, just home for everyone?
Thanks for checking in with us, today.
You can find Renewed Heart Ministries on Twitter, Facebook and Instagram. If you haven't done so already, please follow us on your chosen social media platforms for our daily posts. Also, if you enjoy listening to the Jesus for Everyone podcast, please like and subscribe to the JFE podcast through the podcast platform you use and consider taking some time to give us a review. This helps others find our podcast as well.
And if you'd like to reach out to us through email, you can reach us at info@renewedheartministries.com.
My new book, Finding Jesus: A story of a fundamentalist preacher who unexpectedly discovered the social, political, and economic teachings of the Gospels is now available at renewedheartministries.com
Right where you are, keep living in love, choosing compassion, taking action, and working toward justice.
I love each of you dearly,
I'll see you next week.
---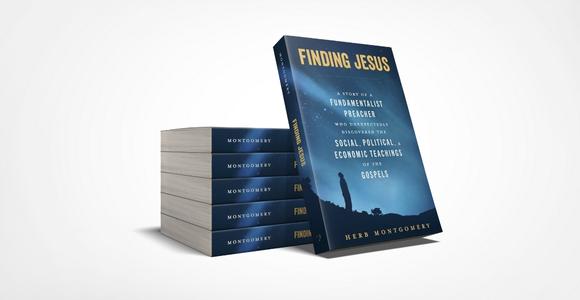 Now Available at Renewed Heart Ministries!
It's here!  Herb's new book Finding Jesus: A story of a fundamentalist preacher who unexpectedly discovered the social, political, and economic teachings of the Gospels, is available at renewedheartministries.com, just in time for the holidays!
Here is just a taste of what people are saying:
"Herb has spent the last decade reading scripture closely. He also reads the world around us, thinks carefully with theologians and sociologists, and wonders how the most meaningful stories of his faith can inspire us to live with more heart, attention, and care for others in our time. For those who've ever felt alone in the process of applying the wisdom of Jesus to the world in which we live, Herb offers signposts for the journey and the reminder that this is not a journey we take alone. Read Finding Jesus with others, and be transformed together." Dr. Keisha Mckenzie, Auburn Theological Seminary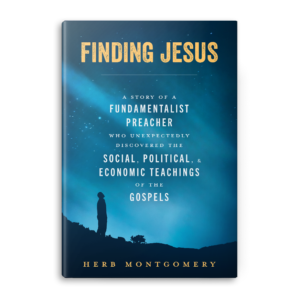 "In Finding Jesus, Herb Montgomery unleashes the revolutionary Jesus and his kin-dom manifesto from the shackles of the domesticated religion of empire.  Within these pages we discover that rather than being a fire insurance policy to keep good boys and girls out of hell, Jesus often becomes the fiery enemy of good boys and girls who refuse to bring economic justice to the poor, quality healthcare to the underserved, and equal employment to people of color or same-sex orientation.  Because what the biblical narratives of Jesus reveal is that any future human society—heavenly or otherwise—will only be as  good as the one that we're making right here and now. There is no future tranquil city with streets of gold when there is suffering on the asphalt right outside our front door today.  Finding Jesus invites us to pray 'thy kingdom come, thy will be done on earth as it is in heaven' on our feet as we follow our this liberator into the magnificent struggle of bringing the love and justice of God to all—right here, right now."—Todd Leonard, pastor of Glendale City Church, Glendale CA.
"Herb Montgomery's teachings have been deeply influential to me. This book shares the story of how he came to view the teachings of Jesus through the lens of nonviolence, liberation for all, and a call to a shared table. It's an important read, especially for those of us who come from backgrounds where the myth of redemptive violence and individual (rather than collective) salvation was the focus." – Daneen Akers, author of Holy Troublemakers & Unconventional Saints and co-director/producer of Seventh-Gay Adventists: A Film about Faith, Identity & Belonging
"So often Christians think about Jesus through the lens of Paul's theology and don't focus on the actual person and teachings of Jesus. This book is different. Here you find a challenging present-day application of Jesus' teachings about the Kingdom of God and the Gospel. Rediscover why this Rabbi incited fear in the hearts of religious and political leaders two millennia ago. Herb's book calls forth a moral vision based on the principles of Jesus' vision of liberation. Finding Jesus helps us see that these teachings are just as disruptive today as they were when Jesus first articulated them." Alicia Johnston, author of The Bible & LGBTQ Adventists.
"Herb Montgomery is a pastor for pastors, a teacher for teachers and a scholar for scholars. Part memoir and part theological reflection, Finding Jesus is a helpful and hope-filled guide to a deeper understanding of who Jesus is and who he can be. Herb's tone is accessible and welcoming, while also challenging and fresh. This book is helpful for anyone who wants a new and fresh perspective on following Jesus."— Traci Smith, author of Faithful Families
Get your copy today at renewedheartministries.com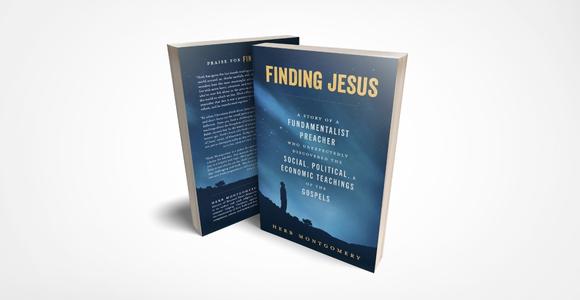 ---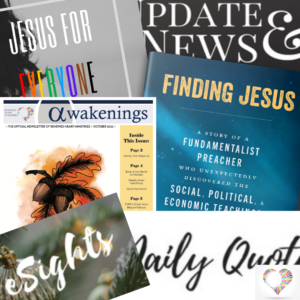 Are you receiving all of RHM's free resources each week?
Begin each day being inspired toward love, compassion, action, and justice. Free Sign-Up HERE.