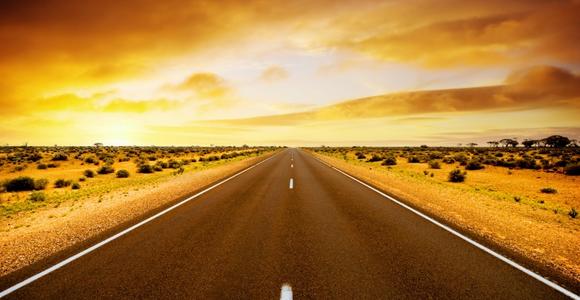 Herb Montgomery | January 6, 2022
To listen to this week's eSight as a podcast episode click here.
---
"That our participation in John's baptism might symbolize that for us today gives me pause. Do I really want to break with the way things are? Do I really want change? How committed am I to that change? Am I committed enough to choose those differences in my daily life? All of this and more is on my heart as this new year begins. What changes will our choices and actions bring this new year?"
---
Happy New Year from all of us here at Renewed Heart Ministries!
Our reading this week, as we begin the new year, is from the gospel Matthew:
Then Jesus came from Galilee to the Jordan to be baptized by John. But John tried to deter him, saying, "I need to be baptized by you, and do you come to me?"
Jesus replied, "Let it be so now; it is proper for us to do this to fulfill all righteousness." Then John consented.
As soon as Jesus was baptized, he went up out of the water. At that moment heaven was opened, and he saw the Spirit of God descending like a dove and alighting on him. And a voice from heaven said, "This is my Son, whom I love; with him I am well pleased." (Matthew 3:13-17)
The first thing we have to understand about this story is that the narrative details were designed for its original audience: people in Galilee. These details were designed to echo liberation and justice themes from other passages from the Hebrew scriptures. Three passages they'd have reminded that original audience of are from Isaiah and Psalms:
Oh, that you would rend the heavens and come down,
that the mountains would tremble before you!
  As when fire sets twigs ablaze
and causes water to boil,
come down to make your name known to your enemies
and cause the nations to quake before you! (Isaiah 64:1-2)
This passage is about being liberated from foreign oppression, and Matthew's version of the Jesus story was written for people longing for liberation from Roman imperialism.
The kings of the earth rise up
and the rulers band together
against the LORD and against his anointed, saying,
I will proclaim the LORD'S decree:
  He said to me, "You are my son;
today I have become your father.
Therefore, you kings, be wise;
be warned, you rulers of the earth. (Psalms 2:2, 7, 10)
This verse would have reminded the Galileans of King David's struggles against the empires around his country. It also hints at Jesus and his movement being a renewal movement of liberation and restoration in the context of Roman imperialism.
  "Here is my servant, whom I uphold,
my chosen one in whom I delight;
I will put my Spirit on him,
and he will bring justice to the nations. (Isaiah 42:1)
This last passage speaks of a servant YHWH delights in as the conduit through which the nations experience justice. This association speaks to the early Jewish followers of Jesus' belief that Jesus' movement would begin their liberation from foreign oppression, right all injustice, and end all violence.
All of these connections to liberation and justice would have been made by those who originally heard this story read to them. What lessons might we draw from it today in our context?
First, before forming his own movement, Jesus participated in the renewal movement of John the Baptist. John's movement called people to reject the present order, power structures, and the complicity with Roman imperialism embodied in Rome's client overseers, Herod and his sons. John called the propertied, privileged, and powerful in his society to repent of participating with Roman oppression and be washed clean of acts of injustice through both water and restitution.
There are a lot of similarities between John's movement and Jesus'. John was originally a mentor of Jesus. Both led a Jewish renewal movement. Like John, Jesus called for both individual repentance and social, community repentance. And in our reading this week Jesus participates in the baptism of repentance John practiced. I side with the scholars who see Jesus' baptism as a genuine act of social repentance and a confession of past social mistakes of the society he belonged in relation to the teachings of the prophets. These societal injustices Jesus was rejecting could have been things such as complicity with Rome, injustice toward the poor, and/or the exclusion of those marginalized. His baptism by John signals his inward resolve to break away from the unjust power structures of his society and to choose a different path. Jesus' baptism clearly rejects the social, political and economic order of Rome. As a Jewish man, Jesus isn't rejecting his Judaism. He is rejecting the elites' Jewish-Roman collaboration and he is canceling their approach to power and community life.
There are also some differences between Jesus' movement and John's. John's movement is a forerunner movement: it announces that a change is coming! Jesus, on the other hand, announces that the time for change has already arrived: "The kingdom of God is in your midst" (Luke 17:21).
How does this relate to us today?
As this year begins, we need some honest reflection. We are living in the wake of harmful laws and social structures. Christianity in America has been complicit in or directly responsible for many of them. The legal assault on women's bodily autonomy has roots in a patriarchal expression of Christianity that tries to regulate a woman's choices and sexuality. Many LGBTQ folks have experienced harm at the hands of Christians. And while I'm deeply grateful for the recent Respect for Marriage Act, what stands out is the compromising exemptions that seem to say, "Fine, let them marry, but don't involve us." Certain Christians have loudly ensured that they don't have to participate in social progress. I recently spoke with a pastor friend who still loses members every time his weekend sermon is about an issue of social salvation, things such as racial justice or economic justice for the poor, instead of on personal, individual (psychological) salvation.
What would it look like for Jesus followers today to participate, like Jesus, in a baptism that symbolized us breaking away from the injustices of systems in our society. What if we chose alignment and solidarity with efforts to bring about change? What could a baptism of social repentance look like for us?
Many Christians have a "Jesus-instead-of-us" religion based on the belief that Jesus died instead of us. We must be careful not to let that mean that Jesus was also righteous instead of us, that he was baptized instead of us, or that he lived a life of social concern instead of us.
To follow Jesus instead means to model our lives after the example of Jesus. I'm thinking specifically in the areas of the Golden Rule: neighborly love, solidarity with the marginalized, economic justice for the poor, egalitarianism toward women, nonviolent resistance, and more.
As we begin this new year, how can we renew our commitment to reshaping our world into a safe, compassionate, just home for everyone? How can we renew our dedication to creating a world that's big enough for our many and varied differences, one where differences are celebrated rather than feared?
As this new year begins, I want to be baptized by John the Baptist, too! Not in the sense of traveling back in time to the banks of the Jordan, but in the sense that in my own social context, I want to, like Jesus, break with the way things are and be immersed in working toward change.
The Sermon on the Mount, remember, was not a prescription for how to make it through the pearly gates. The Sermon on the Mount announced changes breaking out in our world and invited all to participate in them. It was a pathway, not to heaven, but for a transformed earth. That transformation is hard work. But in the end, it's worth it.
Matthew tells us that "People went out to John from Jerusalem and all Judea and the whole region of the Jordan. Confessing their sins, they were baptized by him in the Jordan River." (Matthew 3:5-6)
Luke's version clearly names these "sins" as social injustices:
"What should we do then?" the crowd asked.
John answered, "Anyone who has two shirts should share with the one who has none, and anyone who has food should do the same."
Even tax collectors came to be baptized. "Teacher," they asked, "what should we do?"
"Don't collect any more than you are required to," he told them.
Then some soldiers asked him, "And what should we do?"
He replied, "Don't extort money and don't accuse people falsely—be content with your pay." (Luke 3:10-14)
I can understand why many preachers are reluctant to focus on the social elements of John's (and Jesus') teaching and preaching. Pastors today find it much easier to talk about Jesus and John than to talk about the themes they both talked about.
Yet once you see the social emphasis of the gospel stories, it's really hard to unsee. Now that we have, though, which social injustices might we include in our confessions and choices for change today?
What can it look like for us today to, like Jesus, break from the way things are and choose to follow a different way.
As the late Peter Gomes wrote in his book, The Scandalous Gospel of Jesus:
"When Jesus came preaching, it was to proclaim the end of things as they are and the breaking in of things that are to be: the status quo is not to be criticized; it is to be destroyed." (p. 31)
That our participation in John's baptism might symbolize that for us today gives me pause. Do I really want to break with the way things are? Do I really want change? How committed am I to that change? Am I committed enough to choose those differences in my daily life?
All of this and more is on my heart as this new year begins.
What changes will our choices and actions bring this new year?
HeartGroup Application
1. Share something that spoke to you from this week's eSight/Podcast episode with your HeartGroup.
2. What hopes do you have for change in this new year? Discuss with your group.
3. What can you do this week, big or small, to continue setting in motion the work of shaping our world into a safe, compassionate, just home for everyone?
Thanks for checking in with us, today.
You can find Renewed Heart Ministries on Twitter, Facebook and Instagram. If you haven't done so already, please follow us on your chosen social media platforms for our daily posts. Also, if you enjoy listening to the Jesus for Everyone podcast, please like and subscribe to the JFE podcast through the podcast platform you use and consider taking some time to give us a review. This helps others find our podcast as well.
And if you'd like to reach out to us through email, you can reach us at info@renewedheartministries.com.
My new book, Finding Jesus: A story of a fundamentalist preacher who unexpectedly discovered the social, political, and economic teachings of the Gospels is now available at renewedheartministries.com
Right where you are, keep living in love, choosing compassion, taking action, and working toward justice.
I love each of you dearly,
I'll see you next week.
---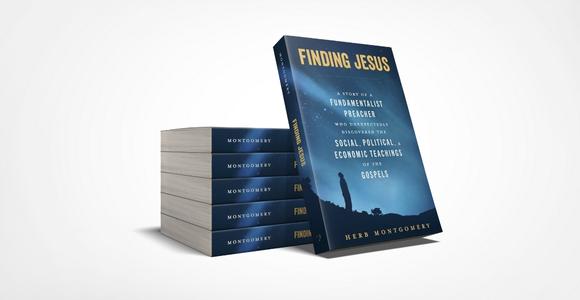 Now Available at Renewed Heart Ministries!
It's here!  Herb's new book Finding Jesus: A story of a fundamentalist preacher who unexpectedly discovered the social, political, and economic teachings of the Gospels, is available at renewedheartministries.com, just in time for the holidays!
Here is just a taste of what people are saying:
"Herb has spent the last decade reading scripture closely. He also reads the world around us, thinks carefully with theologians and sociologists, and wonders how the most meaningful stories of his faith can inspire us to live with more heart, attention, and care for others in our time. For those who've ever felt alone in the process of applying the wisdom of Jesus to the world in which we live, Herb offers signposts for the journey and the reminder that this is not a journey we take alone. Read Finding Jesus with others, and be transformed together." Dr. Keisha Mckenzie, Auburn University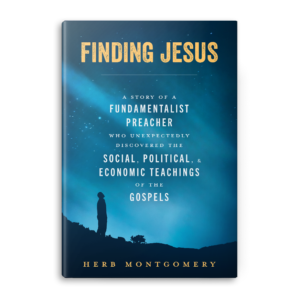 "In Finding Jesus, Herb Montgomery unleashes the revolutionary Jesus and his kin-dom manifesto from the shackles of the domesticated religion of empire.  Within these pages we discover that rather than being a fire insurance policy to keep good boys and girls out of hell, Jesus often becomes the fiery enemy of good boys and girls who refuse to bring economic justice to the poor, quality healthcare to the underserved, and equal employment to people of color or same-sex orientation.  Because what the biblical narratives of Jesus reveal is that any future human society—heavenly or otherwise—will only be as  good as the one that we're making right here and now. There is no future tranquil city with streets of gold when there is suffering on the asphalt right outside our front door today.  Finding Jesus invites us to pray 'thy kingdom come, thy will be done on earth as it is in heaven' on our feet as we follow our this liberator into the magnificent struggle of bringing the love and justice of God to all—right here, right now."—Todd Leonard, pastor of Glendale City Church, Glendale CA.
"Herb Montgomery's teachings have been deeply influential to me. This book shares the story of how he came to view the teachings of Jesus through the lens of nonviolence, liberation for all, and a call to a shared table. It's an important read, especially for those of us who come from backgrounds where the myth of redemptive violence and individual (rather than collective) salvation was the focus." – Daneen Akers, author of Holy Troublemakers & Unconventional Saints and co-director/producer of Seventh-Gay Adventists: A Film about Faith, Identity & Belonging
"So often Christians think about Jesus through the lens of Paul's theology and don't focus on the actual person and teachings of Jesus. This book is different. Here you find a challenging present-day application of Jesus' teachings about the Kingdom of God and the Gospel. Rediscover why this Rabbi incited fear in the hearts of religious and political leaders two millennia ago. Herb's book calls forth a moral vision based on the principles of Jesus' vision of liberation. Finding Jesus helps us see that these teachings are just as disruptive today as they were when Jesus first articulated them." Alicia Johnston, author of The Bible & LGBTQ Adventists.
"Herb Montgomery is a pastor for pastors, a teacher for teachers and a scholar for scholars. Part memoir and part theological reflection, Finding Jesus is a helpful and hope-filled guide to a deeper understanding of who Jesus is and who he can be. Herb's tone is accessible and welcoming, while also challenging and fresh. This book is helpful for anyone who wants a new and fresh perspective on following Jesus."— Traci Smith, author of Faithful Families
Get your copy today at renewedheartministries.com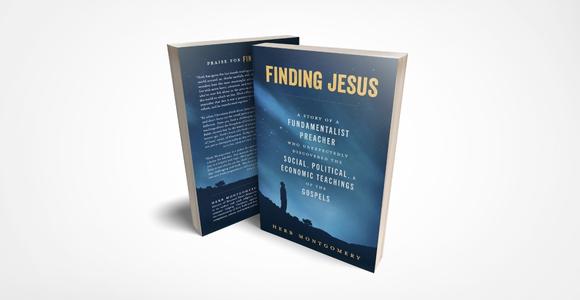 ---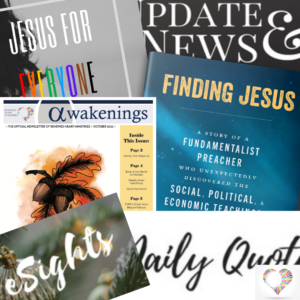 Are you receiving all of RHM's free resources each week?
Begin each day being inspired toward love, compassion, action, and justice. Free Sign-Up at: