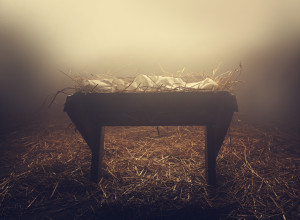 BY HERB MONTGOMERY
"I bring you good news that will cause great joy for all people." (Luke 2.10) 
Advent season has begun!
Over the next two weeks I want to look at the birth narratives of Jesus from first century Christian, Jewish, and Roman perspectives. Much has been lost, co-opted, and eclipsed by the Imperial Christianity that began in the fourth century when Christianity became the official religion of the Empire. So in the next two weekly e-Sights, we'll be looking first at Matthew's birth narrative and then at Luke's. Both Matthew and Luke have story elements in common. They also differ greatly on other narrative details. We will be reading each story in the contexts they were each written in. Seen that original context, these narratives are intensely subversive of the military, political, and economic ways of empire as well as imperial theologies, not just in Rome but across time, including our own era.
A useful tool that I want to recommend this holiday season is Marcus Borg's and Dominic Crossan's timely volume, The First Christmas. They've done invaluable work in compiling information about the historical/cultural setting in which these birth-narratives were originally told. That information helps us rediscover the stories' meaning not simply to the first century followers of Jesus but also to us today as well. If I were teaching a class on the Christmas narratives this holiday season, not only would each student have a copy of Matthew's and Luke's narratives, they'd also have this 244-page volume as an accompanying text book. It is a fantastic overview.
A Preliminary Word about Both Narratives
Something to note before we begin: These narratives are primarily concerned with this world, not with heaven. They are focused on this life. Too often, the birth-narratives of Jesus are read through the lens of salvation defined as entrance into a post-mortem heaven. But that is not how the original Jewish Jesus community would have heard these stories. They were concerned with the whole of life, not merely with an afterlife. A spiritual or afterlife application of these narratives became the dominant interpretation through the cultural influence of the expanding Roman Empire and European colonialism. We've talked about the way that reading the gospel narratives with an otherworldly focus has had intensely destructive fruit. Before imperial Christianity, these narratives were understood to be about the transformation of this world. They were not solely theological; they were theological and political! They announced the Divine dream for this world and announced that the fulfillment of that dream had begun in Jesus. They were not about the destruction of this world but about the restoration of it. This restoration, seen in the narratives as they were originally understood, was symbolized by visions of the end of war, violence, injustice, and oppression.
The Importance of Context
A point that I have been harping on for months now (and was happy to see addressed by Borg and Crossan) is the importance of acknowledging the historical context in which the Jesus narratives were created. Two examples that I use regularly to help people see the historical context of the Jesus story are Gandhi and Dr. Martin Luther King, Jr. I was overwhelmingly pleased to see Marcus and Dom use these examples as well:
"What would you think of a book that started with the opener, "I am going to discuss Mahatma Gandhi as a Hindu saint, but I'll skip all that distracting stuff about British imperial India"? Or another with, "I am going to describe Dr. Martin Luther King, Jr., as a Christian saint, but I'll get right to his biography and skip all that stuff about racism in America as background baggage"? You would know immediately that something is seriously wrong with those authors' presentations."—The First Christmas (p. 55)
I couldn't agree more!
If we're going to be able to wrest these two narratives from the militaristic, political, economic, and theological eclipse of empire and restore them to their original, deeply imperially subversive character, we must discover their Jewish, Christian, and Roman context.
Once we see the historical context of these stories, we cannot unsee it. Once we know it, we cannot unknow it. And once we experience this context, it will forever change how we read the birth-narratives of Jesus.
Next week, we'll look again at Matthew's narrative. The following week, just before Christmas, we will be turning our attention to Luke's. My hope is that through this short series that you will read the birth-narratives in Matthew's and Luke's gospels anew, that your heart will be renewed, and that you will be inspired, as a Jesus follower, to more deeply embody the this-world-transforming values taught within these narratives.
Though the early Jesus birth-narratives were originally intended to subvert the Roman Empire, I believe they also hold significance for us today who live in or in the shadow of the American Empire. In our era, these narratives are being eclipsed by the consumerism of our Empire's economic machine. The early followers' voices are lost even to Christians who are most familiar with these Christmas stories. Systemic racism continues to thrive, xenophobia toward Syrian refugees and Muslim Americans flourishes, and U.S. militaristic methods of achieving peace are continually touted by those who carry the name of this babe from Bethlehem.
If we are to rediscover the original subversive power of the birth-narratives of Jesus and rightly apply the stories to our lives today, we must begin with reading these narratives in the matrix of Imperial Rome and its grinding clash with the hopes of first-century Judaism.
"Who is the 'King of the Jews'? That was Herod the Great's title, but Matthew's story tells us Herod was more like Pharaoh, the lord of Egypt, the lord of bondage and oppression, violence and brutality. And his son was no better. Rather, Jesus is the true King of the Jews. And the rulers of his world sought to destroy him.
Who is the Son of God, Lord, savior of the world, and the one who brings peace on earth? Within Roman imperial theology, the emperor, Caesar, was all of these. No, Luke's story says, that status and those titles belong to Jesus. He—not the emperor—is the embodiment of God's will for the earth.
Who is the light of the world? The emperor, son of Apollo, the god of light and reason and imperial order? Or is Jesus, who was executed by empire, the light in the darkness, the true light to whom the wise of this world are drawn?
Where do we find the fulfillment of God's dream for Israel and humanity? In the way things are now? Or only beyond death? Or in a very different world this side of death?"
—The First Christmas, p. 37.
The Gospel of Rome promised peace through victory achieved by violence. The conquered interpret this kind of peace in a vastly different way than the conquerors do. The Gospel of the Early Jesus Community envisioned a peace through restored justice for all, through a distinctly nonviolent transformation.
Over the next two weeks, I'm looking forward to sharing these two birth-narratives with you and focusing on how the first century Jesus community heard and read them in the context of their era.
What we are about to discover may mean you'll never read these stories in quite the same way again.
HeartGroup Application
Take time this week to read Matthew 1-2 as well as Luke 1-2. Familiarize yourself with each story. Try to keep them separate, for now, in your reading.
List what each story has in common. Then where each narrative differs from the other.
In preparation for next week, create an outline of Matthew's birth-narrative as this is the one we will be looking at first. You can do this on your own or as a group in your HeartGroup.
I'm looking forward to next week already! Until then, keep living in the way of love, till the only world that remains is a world where only love reigns.
I love each of you dearly.
I'm overjoyed that you're joining us for this small series this year.
Happy Holidays, and I'll see you next week.