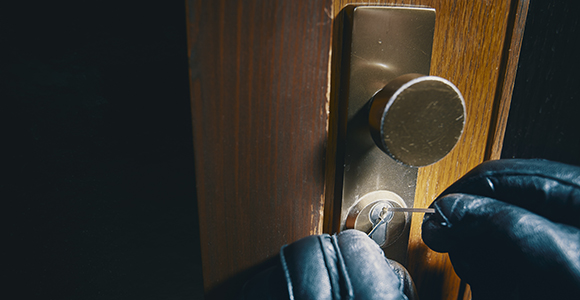 by Herb Montgomery
"A strong person's house cannot be looted, but if someone still stronger overpowers him, he does get looted." (Q 11:21-22)
Matthew 12:29: "Or again, how can anyone enter a strong man's house and carry off his possessions unless he first ties up the strong man? Then he can plunder his house."
Luke 11:21-22: "When a strong man, fully armed, guards his own house, his possessions are safe. But when someone stronger attacks and overpowers him, he takes away the armor in which the man trusted and divides up his plunder."
Gospel of Thomas 35:1-2: "Jesus says: It is not possible for someone to enter the house of a strong person, and take it by force unless he binds his hands. Then he will loot his house."
In this week's saying, Jesus represents himself as the one looting another's house rather than as a well armed home owner protecting what is theirs. Adolf Deissmann wrote in his groundbreaking volume Light from the Ancient East:
"By its social structure Primitive Christianity points unequivocally to the lower and middle class. Its [connections] with the upper class are very scanty at the outset. Jesus of Nazareth was a carpenter, Paul of Tarsus a weaver of tent-cloth, and St. Paul's words about the origin of his churches in the lower classes of the great towns form one of the most important testimonies, historically speaking, that Primitive Christianity gives of itself. Primitive Christianity is another instance of the truth taught us with each return of springtime, that the sap rises upward from below. Primitive Christianity stood to the upper class in natural opposition, not so much because it was Christianity, but because it was a movement of the lower classes." (Kindle Locations 360-365).
 In Deissman's volume New Light on the New Testament from the Records of the Graeco-Roman Period, he states even more pointedly that Primitive Christianity was not "Christianity" as we know it today, but "a movement of the proletarian lower class." (p. 7)
Jesus' listeners would have been more inclined to identify with those scratching out a desperate existence in an exploitative economic system that produced haves and have nots. Few would have listened to him from the societal location of homeowners protecting their possessions from others. This saying uses imagery that the lower and possibly lowest social classes would have been familiar with because of their economic vulnerability.
This saying is also in the context of last week's saying. The writers of Sayings Gospel Q claim that even though the people's oppressors are strong, they can be overcome by "one stronger." In the context of a Jewish apocalyptic worldview, this saying would have been heard as, "Yes, your earthly and cosmic oppressors are, indeed, strong. Yet the mission and activity of Jesus and our community informed is stronger. Our Messianic hope for liberation can overcome our oppressors."
A Force More Powerful
The documentary A Force More Powerful explores popular 20th Century nonviolent movements. These movements stood up against entrenched regimes and military forces with unconventional weapons like boycotts, strikes, demonstrations, and acts of civil resistance. They helped to subvert the operations of government through direct intervention in the form of sit-ins, nonviolent sabotage, and blockades, and they frustrated the efforts of those in power to suppress people.
Last February, in Renouncing One's Rights, we saw how Jesus taught these very principles of non-violent resistance. We found in the gospels a Jesus who warned oppressed people not to retaliate with the same type of force used against them. Jesus' first audience did not have access to militaristic power in any way comparable to Rome. To try to use violence against these oppressors would only invite the Roman annihilation, and the history of 66-70 C.E. bears out that it did.
Nevertheless, Jesus cast a vision for his oppressed listeners of a way in which the "strong man" in their lives, their oppressors, could be "over powered." The people were actually stronger than those who dominated them, and Jesus offered three examples of how: a) nonviolent resistance, b) nonviolent direct action, and c) nonviolent noncooperation. (See Matthew 5:38-41 cf. with the above article.)
To be clear: dominated and subjected people typically do not have access to the material power of their subjugators. But, as history witnesses, those same people are very much more powerful than their oppressors in another way: when they choose to change the rules of the game. In the spirit of these imaginative means, Jesus sought to inspire nonviolent resistance, disruption, noncooperation, and action in his followers, those who despite appearances also had the power to promote societal change.
Just a Little Further South
In my region of the U.S. (Appalachia) and just a little south of me, white, male, heterosexual Jesus followers today find themselves in a very different social location than the people Jesus spoke to. Rather than being the ones within a society who would have been more prone to be breaking into homes, we, today, are the ones protecting our homes and possessions at any cost. This is the demographic that always, without fail, comes up to me at the end of a presentation on Jesus' teachings on nonviolence and says, "If someone's breaking into my home, I'll shoot 'em."
These conversations often remind me of the story of the pastor of a church I visited about five years ago in Rochester, Minnesota. The worldwide Seventh-day Adventist church is typically listed as a peace-church because of their traditional teachings on violence, combat, and force. But four years ago, the pastor of the local Seventh-day Adventist church in Rochester mistook his granddaughter for an intruder trying to break into his home and shot her. You can read the story in this article by Star Tribune where the pastor agreed to be interviewed, as he himself said, "as a caution to others who might find themselves in a similar situation."
He told the paper, ""I had a plan but I didn't follow the plan, I thought somebody was breaking into my house and it just scared us to death." Fear took over him, and so instead of viewing the "intruder" as a child of God, he shot his own granddaughter. It's a horrific story. The Tribune's article closes with the pastor's statement that he "would not want anybody to ever have this horrible, horrible experience."
Remarkably, this happens more often than you'd imagine. Statistically, adding another lethal weapon to a violent situation doesn't mean you become safer. Studies show that "the notion that a good guy with a gun will stop a bad guy with a gun is a romanticized vision of the nature of violent crime." Jesus' words in Matthew that those who live by a sword will die by a sword don't just apply to individuals. They also apply to societies as well.
In societies with an economic structure that produces "haves" and "have-nots," Jesus calls those who have more then they need to a plan not of hoard and protect but of sharing and choosing to take care of those who aren't having their needs being met and being faced with desperation due to their lack.
In Luke's gospel, Jesus tells the story of a "rich man" who, rather than share his surplus, chose to build a bigger, more efficient means of hoarding it. After teaching that this man was a "fool," because his life ended that same night, Jesus goes on to define being "rich toward God" as selling one's possessions and giving the surplus to those whose daily needs are not being met.
We who live in America today live in a society shaped by independence, individualism, and self-reliance. The Jesus of the synoptic gospels taught that the solution to the challenges of his own day were to be found in the opposite of these norms. In short, Jesus' solution to these problems was community. Much of what he taught doesn't even make sense outside of community!
Trying to follow Jesus' teachings on one's own, without a community in which to apply those teachings, is like trying to build a house without building materials or trying to follow a recipe in a cookbook without having the necessary ingredients to combine. In the story in Luke that I reference above, Jesus calls the wealthy who trust in their wealth to insulate them from what the future might bring to let go of their "worry" and instead use their resources to create strong community.
Jesus' solution is not necessarily for us to have wealth but it's definitely for us to have each other. And as long as we have each other, we can survive whatever the future may bring, because we are in this together. Jesus finishes up his story with the statement, "For where your treasure is, there your heart will be also." He isn't contrasting heaven and earth here. Rather, Jesus is contrasting people investing in community with isolated people individualistically investing in themselves solving the problem of the future for themselves at the expense of others around them. Jesus seems to be clear: either we are all taken care of, or none of us will be. The man in the story who sought to take care of only himself still lost all he had because he couldn't keep it when he died.
When we add the Luke 12 story to our saying this week, two things come to the surface despite our societal conditioning. First, those who seek to "protect" their own possessions with strength of arms can still be overpowered. From Jesus' teachings elsewhere, we see that Jesus did not encourage meeting violence with violence or physical force with physical force. Jesus instead taught that the way to overpower one's enemy was through another form of direct action: what Gandhi, Martin Luther King and others have referred to as "soul force." It's a force more powerful. Second, those who take the path of hoarding and protecting assume a future that looks very different from the reality of what will happen. They imagine themselves leaning back enjoying the benefits of what they have amassed and protected, but instead, they end up losing their lives.
So what is our take home this week?
Jesus challenges those on the underside of society to believe in the power of nonviolent resistance, disturbance, protest, direct-action, and non-cooperation. And he calls on people like those who come up to me defensively after my presentations on nonviolence to place people above property, possessions and profit.
Depending on your location in our current classist societal structure, this week's saying might be a promise that offers hope, or a warning that your efforts to protect things are ultimately futile and possibly even lethal:
"A strong person's house cannot be looted, but if someone still stronger overpowers him, he does get looted." (Q 11:·21-22)
HeartGroup Application
1. This week I want you as a group to sit down and watch Richard Wilkinson's 2011 TED Talk How Economic Inequality Harms Societies. 
Notice the relation of crime to wealth inequality. There is a connection between the two. The more wealth is shared (e.g. Jesus story above in Luke 12) the less crime (e.g. home invasions) occurs. Could it be that the solution to violent crime is not bigger guns, but the embrace of our natural communal interdependence? Jesus' teachings do call us to stop individualistically resisting interdependence.
There is an intrinsic relationship of cause and effect. Whether the inequality is rooted in disparities based on gender, class, race, orientation, gender identity, age, ability—whatever—history bears out that the fruit of inequality is not security for the future but greater vulnerability and risk for us all.
2. After watching the TED talk, discuss with your HeartGroup what implications you see for your group, and brainstorm ways to lean into Jesus teachings, even if your first steps are small.
3. Pick one of those ways you just discussed and begin putting it into practice.
In this week's saying, Jesus comes offering a way that is more holistic, that has the potential to "overpower" how we in the West typically operate. Wherever this saying finds you this week, may it bring you hope or challenge, or both!
Keep living in love. Till the only world that remains is a world where only love reigns.
I love each of you dearly.
I'll see you next week.