Herb Montgomery | September 21, 2018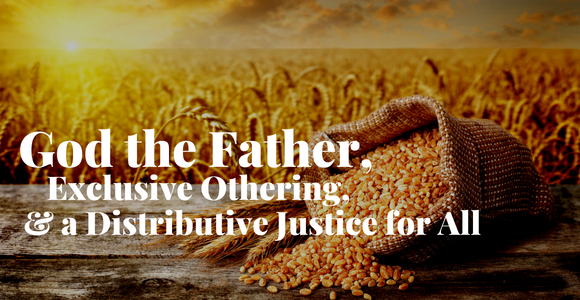 ---
"And if Amos were alive this week, he might have said, 'I hate, I despise your endless religious statements that make you feel pious, protecting your phobias about those whose experiences in life are so different than your own. Away with your worthless statement and drafted expressions of bigotry. Let justice roll on like a river, righteousness like a never-failing stream!'"
---
"This, then, is how you should pray: 'Our Father in heaven, hallowed be your name, your kingdom come, your will be done, on earth as it is in heaven. Give us today our daily bread. And forgive us our debts, as we also have forgiven our debtors. And lead us not into temptation, but deliver us from evil.'" (Matthew 6:9-13)
This week, we begin a series of articles on Jesus' revolutionary prayer in Matthew's gospel, the prayer we label today as "the Lord's prayer." This prayer frames an outline we can use to consider the themes in Jesus' teachings in Matthew's gospel. There's much in it that I believe speaks to our work today of survival, resistance, liberation, reparation, and transformation.
The outline of this prayer is:
Our Father in Heaven:
Be hallowed Your Name
Be come Your Kingdom
Be done Your Will
As in Heaven, so on Earth:
Daily Bread
Debt Cancellation
Deliverance from temptation to evil
Those are the themes that we'll be looking at. Now, let's dive right in.
Our Father in Heaven
Historically, the exclusive image of God as "Father" has borne bad fruit for those who are neither male nor fathers. Some in the dominant social position have weaponized it against those whose differences are "Othered" and then dominated, exploited, and destroyed them. One example aptly laid out by Grace Ji-Sun Kim is how these images of God have been used against Asian American women. In her book Embracing the Other: The Transformative Spirit of Love, she writes:
"As a poor Jewish peasant teacher from Nazareth, Jesus was marginalized and stood in solidarity with the marginalized throughout the Roman Empire. Jesus' incarnate life, kingdom teaching, and crucifixion on a Roman cross unveil God as a lover of justice, peace, and liberation.
While Jesus was a revolutionary, when Christianity became the official religion of the Roman Empire, Jesus becomes reimagined as a supporter of empire. Classical theism in the West often emphasizes God as an Almighty Father. This patriarchal concept of God has often been wielded in destructive ways throughout the history of Western Christianity. Through European colonization, too often guided by a patriarchal image of God, indigenous cultures have been dominated and destroyed, Africans have been enslaved, Asians exploited, women have been abused, and the poor have been economically exploited. The male God image mediated through the Almighty Father has often had negative conscious and unconscious effects on women, especially women of color. God the Almighty Father has often been a theological tool used by white men of European descent to subjugate woman and people of color." (p. 116)
This title for God, "Almighty Father," has proven extremely vulnerable to being coopted by sexism, racism, colonialism, imperialism, and binary heterosexism for the abuse of those who, though not male and not fathers, are nonetheless bearers of the image of the Divine. For many, the phrase "Our Father" in such a transformative prayer as this is not an appropriate place to begin but a trigger of pain and suffering.
But for those also dedicated to contemplating and following the teachings of Jesus, this first portion of this prayer presents no small challenge. After all, Jesus was Jewish, and Jewish tradition encourages practicing care with picturing God in one's mind's eye. In the Torah we read,
Moses said to God, "Suppose I go to the Israelites and say to them, 'The God of your fathers has sent me to you,' and they ask me, 'What is his name?' Then what shall I tell them?" God said to Moses, "I AM WHO I AM. This is what you are to say to the Israelites: 'I AM has sent me to you.'" (Exodus 3:13-14)
This cryptic description of the Divine within the Hebrew sacred scriptures provides for a universality in bearing the image of the Divine. "I am who I am" is left cryptically defined. The question could be asked, "Who are you?" We must practice caution against answering the question definitely, for any word that comes next will undoubtedly limit the Divine.
There is a rich diversity within the human race. And to believe that all of humanity, every member of the human family, all of our human siblings, are made in the image of God speaks to the rich complexity of God, too (See Genesis 1:26). Our concept of the Divine must become more expansive and inclusive. It is okay to speak of God as male and as female. It's okay to speak of God as nonbinary and ungendered, too! God is not just White, but also Black, Asian, and more. God has traditionally been defined within the imagery of heteropatriarchy. We must be careful to allow every person to see themselves reflected in an expansive image of the Divine because "in the image of God has God made humankind." (Genesis 9:6). And to the degree we exclude anyone from God's image today, history shows we will exterminate them tomorrow.
There are many ways to respond to this in prayer. Some of those who understand and practice this way of addressing the Divine in prayer use "Mother-Father God" or "Paternal God." I've prayed, "Dearest Heart at the Center of the Universe." I've also heard "Source of Light and Love," "God of all nations," "God of all peoples," "Faithful One," "Source of Wisdom," or "Source of Goodness, Grace, Mercy and Justice." On June 22, 2017, Rev. Kevin Kitrell Ross, addressed his prayer in the U.S. House of Representatives to the "Loving Presence," and concluded with "In the name of a love supreme we pray."
The Jewish tradition seems to encourage not limiting God with our images of Divinity:
"You saw no form of any kind the day the LORD spoke to you at Horeb out of the fire. Therefore watch yourselves very carefully, so that you do not become corrupt and make for yourselves an idol, an image of any shape, whether formed like a man or a woman, or like any animal on earth or any bird that flies in the air, or like any creature that moves along the ground or any fish in the waters below." (Deuteronomy 4:15-18)
I will admit that the authors' intent in this passage was most likely to discourage people from using creation as any kind of referent at all, but I would also argue that this passage, therefore, leaves our image of the Divine as cryptic which also allows for an expansive and inclusive imaging that embraces the rich diversity of everyone. Jesus' Jewish tradition would have given him sufficient grounds to have addressed his prayer in much more inclusive ways.
So why does this prayer in Matthew begin with "Father"?
We cannot ignore the reality that, like many of the cultures around it, Jesus' culture was deeply patriarchal. Householders were almost exclusively men. Householders were "fathers." In rare exceptions, widowed women might become householders.
But there are some hints of another worldview in the rest of the prayer. It is a deeply economic prayer. Of all the things Jesus could teach his followers to pray for, he teaches them here to pray for enough bread for today, for all indebtedness to be forgiven in Jubilee fashion, and for liberation from evil as a violation from Israel's covenant with YHWH. I believe, given the other content of this prayer, that deliverance from temptation to evil could have been a direct reference to the way the rich were exploiting the poor in violation of the economic teachings of the Torah.
"However, there need be no poor people among you, for in the land the LORD your God is giving you to possess as your inheritance, he will richly bless you, if only you fully obey the LORD your God and are careful to follow all these commands I am giving you today." (Deuteronomy 15:4-5)
But back to our quest for understanding this prayer's address, "Our Father." Given that this prayer is grounded in economic realities, and in the Jewish patriarchal family the father was the householder, the one responsible for ensuring no one in the family had too much while others didn't have enough, John Dominic Crossan offers this fitting and possible explanation:
"[The prayer's] vision derives from the common experience of a well-run home, household, or family farm. If you walked into one, how would you judge the householder? Are the fields well tended? Are the animals properly provisioned? Are the buildings adequately maintained? Are the children and dependents well fed, clothed, and sheltered? Are the sick given special care? Are responsibilities and returns apportioned fairly? Do all have enough? Especially that: Do all have enough? Or, to the contrary, do some have far too little while others have far too much?
"It is that vision of the well-run household, of the home fairly, equitably, and justly administered, that the biblical tradition applies to God. God is the Householder of the world house, and all those preceding questions must be repeated on a global and cosmic scale. Do all God's children have enough? If not—and the biblical answer is "not"—how must things change here below so that all God's people have a fair, equitable, and just proportion of God's world? The Lord's Prayer proclaims that necessary change as both revolutionary manifesto and hymn of hope. Do not, by the way, let anyone tell you that is Liberalism, Socialism, or Communism. It is—if you need an -ism—Godism, Householdism or, best of all, Enoughism. We sometimes name that biblical vision of God's World-Household as Egalitarianism but, actually, Enoughism would be a more accurate description." (John Dominic Crossan, The Greatest Prayer: Rediscovering the Revolutionary Message of the Lord's Prayer, p. 3).
Given the cultural context as well as the content fo the rest of the prayer, it could be synonymous to pray, "Our Householder in Heaven." And Jesus' point is that the will of the World Householder is that everyone have enough. Within a Jewish worldview, the responsibility for carrying out that will has been delegated to humans. We have to ask ourselves what kind of world have we made with this responsibility. Jesus is calling for a community of people (the Kingdom) to come into being where the distributively just will of the World Householder is actually carried out. This is a prayer, within the contradiction of a patriarchal culture, that calls for an economic, distributive justice. How this prayer begins may still remain deeply problematic for many. But the prayer still offers us much. There is much to reclaim and to renew our hearts as we continue to work today toward a world that is safe, distributively just, and compassionate for everyone.
The God who Jesus pictured for his listeners was a God who causes the sun and rain to fall on all indiscriminately. So if someone is going without, we have to look for the obstruction. It's being "sent" to all, so who and what are preventing what we need for thriving from reaching all? As is often been stated, there is enough each day for every person's need, but not for every person's greed. In teaching this, Jesus was accessing his Jewish tradition:
"The poor and the oppressor have this in common: The LORD gives sight to the eyes of both." (Proverbs 29:13)
"Give me neither poverty nor riches, but give me only my daily bread." (Proverbs 30:8)
This distributive justice spoken of by Jesus also has its roots in the way the Hebrew prophets spoke truth to power.
"I hate, I despise your religious festivals; your assemblies are a stench to me. Even though you bring me burnt offerings and grain offerings, I will not accept them. Though you bring choice fellowship offerings, I will have no regard for them. Away with the noise of your songs! I will not listen to the music of your harps. But let justice roll on like a river, righteousness like a never-failing stream!" (Amos 5:21-24)
Crossan again notes, "the primary meaning of 'justice' is not retributive, but distributive. To be just means to distribute everything fairly. The primary meaning of 'justice' is equitable distribution" (dIbid., p. 2). This was the great Hebrew hope of a distributive justice whose fruit would be peace.
"Of the greatness of his government and peace
there will be no end.
He will reign on David's throne
and over his kingdom,
establishing and upholding it
with justice [distributive] and righteousness." (Isaiah 9:7)
"The fruit of that righteousness [distributive] will be peace;
its effect will be quietness and confidence forever." (Isaiah 32:17)
Amos names the error of prioritizing religious ritual over concern for justice, especially justice for the vulnerable. Two weeks ago now, the same group of evangelicals that produced The Nashville Statement last year put out another ugly statement entitled The Statement on Social Justice and the Gospel. I'm not going to link to it. It reveals the drafters' and signers' gross ignorance of both the gospel and social justice. How many times do we see Christians practicing extreme care for their religiosity, while either being totally ignorant of or even opposing people's cry for justice? Gustavo Gutiérrez reminds us, "The kingdom and social injustice are incompatible" (A Theology of Liberation, 15th Anniversary Edition, p. 97). And if Amos were alive this week, he might have said, "I hate, I despise your endless religious statements that make you feel pious, protecting your phobias about those whose experiences in life are so different than your own. Away with your worthless statement and drafted expressions of bigotry. Let justice roll on like a river, righteousness like a never-failing stream!"
Jesus begins his prayer in a way that would have been heard and understood by his original audience. He paints a picture of the human family where everyone has enough to not only survive, but also thrive.
I believe prayer, meditation, contemplation, and practices like these shape those who practice them. Over the next few weeks as we continue to contemplate this famous prayer, my hope is that it will shape us, too, into people who work to transform our world into a safe, compassionate home for all, regardless of race, gender, religion, culture, ethnicity, education, economic status, sexuality, gender identity and expression, ability, or whatever —a safe home for all, where everyone has enough.
"This, then, is how you should pray: 'Our Father in heaven, hallowed be your name, your kingdom come, your will be done, on earth as it is in heaven. Give us today our daily bread. And forgive us our debts, as we also have forgiven our debtors. And lead us not into temptation, but deliver us from evil.'" (Matthew 6:9-13)
HeartGroup Application
There is a lot happening this week.
Women all over the country are, again, hearing through our various news feeds and in private conversations family and friends the rhetoric of "boys will be boys," "he was young," "that was high school," and more. Even before a hearing, the use of this rape culture rhetoric continues to perpetuate prioritizing violators over survivors. There is never an "okay" age for rape. Teenage boys should not get a pass. To say they are not mature enough to understand consent is disturbing. As a father having discussions this week with both my son and my daughters, I'm deeply concerned about the messages being communicated to them right now. And as human being, I witness how these kinds of statements deeply impact the women in my life. I'm deeply concerned for what this continues to say to women, and survivors, and men.
Take a moment this week in your HeartGroup to go around the room and affirm each of the women in your midst. Tell them that you value them. Be voices in their lives this week saying, "This is not okay."
If any would like to share, make time for the women in your HeartGroup to share how this week has impacted each of them. Listen to them. Let me repeat that. Men, listen to them.
Lastly, put your feet in motion. What are some of the ways your group can engage the work of making our world a safer place for women? Create a list. Then pick something from the list and put it into practice the following week.
Thank you for checking in with us, this week. Wherever you are today, keep living in love, survival, resistance, liberation, reparation and transformation. Till the only world that remains is a world where only love, justice and compassion reigns.
Another world is possible.
And remember, this is the time of year when Renewed Heart Ministries needs your support. If you have been blessed by our work, please consider making a one time contribution or becoming one of our monthly supporters. Go to renewedheartministries.com and click "donate." Any amount helps. And thank you in advance for your support.
I love each of you dearly.
I'll see you next week.