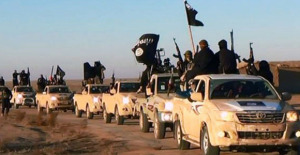 For this is my blood of the covenant, which is poured out for many for the forgiveness of sins.—Jesus (Matthew 26.28)
What did Jesus mean when he told his disciples that his blood was being poured out for the forgiveness of sins? We must not answer this from our perspective today, but from the perspective of those to whom these words were originally intended.
To first century Jews, who were longing to be free from Roman oppression, the phrase "forgiveness of sins" did not mean that God would forgive their moral infractions and let them into heaven when they died. No, no! "Forgiveness of sins" within the Jewish context that Jesus used this phrase meant that their time of captivity to foreign powers—and most presently, Rome's presence in Jerusalem—would be reversed and the hope of Israel would be restored.
Jesus' blood being poured out through his unjust crucifixion, and the reversing and undoing of that deed by God through the Resurrection, according to Jesus, was not to produce changes in God toward us, but rather radical changes in both the Roman Empire and the Jewish nation that would lead to radical redistribution of how life on Planet Earth is arranged.
Much is missed when we don't recognize the characters in the story and who their modern-day equivalents are.
Remember, Rome was the superpower of its day—and Jerusalem was a region that resented Rome's presence. There were even radical, fundamentalist Jews who thought the only way for Jewish voices to be heard by Rome was through barbaric, violent, militaristic terrorism on their part. Those who subscribed to these methods were called Zealots.
What Jesus was demonstrating through the cross, and what God was endorsing through the Resurrection, was that the way to heal the world was not for the Jewish people to resort to barbaric violence to bring about Israel's liberation and restoration. Rather, it was through forgiveness and love for their Roman enemies, and a desire to awaken the hearts of the Romans' compassion and win them over through nonviolent direct actions coupled with unconditional enemy love—having their own blood shed rather than staining their hands with the blood of others.
Now, let's back up and see if we can plug in modern-day equivalents. Rome was the then present superpower of the Jesus story. Zealots were the fundamentalist Jews who were using barbaric violence to try and remove the Roman presence from Jerusalem.
What does the Jesus story say to us if we were to place America in the place of Rome and ISIS in the place of the fundamentalist Jewish Zealots?
ISIS is a barbarically violent, militant, fundamentalist sect—much like the Jewish Zealots of Jesus day—who felt the only way throw off the Roman presence in Jerusalem was through terroristic means. The majority of the Jewish people of Jesus' day did not feel that the Zealots rightly represented Israel just as the majority of Muslims today do not feel that ISIS rightly represents them. The Zealots, although barbarically violent, and using terrorist tactics, did not feel they were terrorists. None of the Zealots saw themselves as terrorists. They saw themselves as defenders of Israel against a foreign presence. They saw themselves as freedom fighters, and they did not regard their tactics as in any way acts of terrorism. This is exactly how ISIS feels today, not against a Roman Empire, but against the presence of the American Empire in their home. ISIS today sees themselves as mujahedeen (warriors for the faith defending an Islamic State against foreigners). The parallels between ISIS and the Zealots of Jesus day cannot be missed. What we must also take notice of is that it was with these Zealots especially that Jesus would plead to use nonviolent enemy love as their means of arriving at the social changes they desired in relation to Roman oppression. If they would continued on the path of using their present methods, Jesus warned repeatedly, then Rome, being much stronger, would respond, and it would end in gehenna—Jerusalem's destruction by Rome at the end of the three-year Jewish-Roman War in A.D. 70.
Just as the Jewish nation resented Roman occupation and felt oppressed by Rome's presence, today those who belong to ISIS resent and feel oppressed by America's presence in their region as well. What this requires of a Jesus follower is, first, not to look at the present situation as an American but as a Jesus follower. And as Jesus followers, we are not give in to fear or scapegoating, but rather compassion—even for those who others deem as evil and beyond redemption—trying to first understand what would make the members of ISIS feel that the only way to remove the presence of the West is through such barbaric violence.
We must first and foremost look at the situation from the perspective of someone who is being oppressed. ISIS is not the enemy. Matter of fact, labeling someone as enemy, drawing a hard line in the sand that demarks an "us vs. them" is the very first step away from the path that follows Jesus. So let's first ask the question: What would Jesus say to ISIS today?
It's the same thing Jesus would say to the Jewish Zealots of his day in the Jesus story. Jesus would say to those who feel oppressed by the West's presence in their region to choose the way of a nonviolent direct action, coupled with enemy love and the power of truth, to overthrow injustice, violence and oppression rather than simply responding with greater violence. And that if they did not heed his call to nonviolent means of change, the only end in sight was their own gehenna at the hands of their Roman equivalent: America.
Jesus' call to ISIS would be to seek to liberate themselves from Western occupation through a cross rather than a sword.
There are others who have been oppressed who have discovered Jesus' way of peace:
"Gandhi was probably the first person in history to lift the love ethic of Jesus above mere interaction between individuals to a powerful and effective social force on a large scale. Love for Gandhi was a potent instrument for social and collective transformation. It was in this Gandhian emphasis on love and nonviolence that I discovered the method for social reform that I had been seeking."—Dr. Martin Luther King, Jr.
Remember that Gandhi, in using methods learned from Jesus' Sermon on the Mount, successfully removed Britain's presence from India. King picked up these same methods and changed the face of civil rights in his generation in America.
So Jesus would first say to ISIS that there is a better way, and warn them of what the superpower they are going up against will end up doing to them if they reject this better way.
But here is MY question. 
As a citizen of a modern "Rome" (the USA), whose foreign presence in a modern "Jerusalem" (the Middle East) is resented by those for whom that place is their home, what is Jesus also saying, not just to ISIS, but to the WEST?
Jesus would say to America what he would have said to Rome in his day. We cannot miss this!
1.  Don't use violence to protect your position of privilege and oppression.
Using ISIS' barbaric violence to justify a greater presence and a greater show of force, in a region that possesses resources you may want to control, may be good for the Western economy, but it's not just toward those for whom this region is home. It's a contemporary form of disguised colonialism at best. If we think ISIS is the enemy that can't be reasoned with, which leaves us with no other option than to crush it out of existence, we are no different than Rome in how she viewed militant, fundamentalist Jews of the first century.
2.  Don't use nonviolence to preserve your position of privilege and oppression either. Rather let go of the pyramid of privilege that, by definition, produces both oppressors as well as those who will continue to be oppressed.
Jesus is not telling America to use nonviolence to defeat ISIS. Jesus is telling America to relinquish her grip on her position at the top of a political pyramid. As a superpower, to co-opt the cross, using Jesus methods to defeat ISIS and gain control of that region is a gross misapplication of what Jesus would say to Rome. Jesus would call upon ISIS to use nonviolence, as he did with Jewish fundamentalist Zealots. But Jesus would call upon America (modern Rome) to abandon the power to kill, and choose the power of compassion, putting herself in the shoes of opponents by asking herself whether there is good reason to. Nonviolent direct action (NVDA) by America will not work as long as NVDA is merely a tactic whose ultimate goal is to establish a greater American presence and oppression in a part of the world only desired out of a felt need to control resources native to that region—again, a region that others call home. (America really doesn't care about spreading "justice" and democracy in areas where oil fields, or other American interests, don't exist.)
3.  Don't scapegoat ISIS as "enemy," as Rome did with the militant Jews of Jerusalem in the first century to Rome's citizens.
Reject fear and choose compassion. Choose to see the humanity of those who feel participation with ISIS is the only option they have at their disposal to have their voices heard. Start by providing space for those voices (as well as their concerns) to actually be listened to. Make it easier for members of ISIS to believe that the way of nonviolence might actually work by taking the initiative to demonstratively listen and respectfully respond to concerns of those feeling oppressed by the West's presence in their homeland. Even if this costs the West its control of commodities it covets as precious, remember that these are commodities that really belong to those who live there. Treat others the way you'd like to be treated if they stormed into your homeland seeking to instill their favorite form of government through violent means for what could be ulterior motives.
Again, we must look at these events, first and foremost, not as Americans who blindly feel America can do no wrong. We must look at the present events through the lens of the Jesus story as followers of Jesus himself, who calls us to be makers of peace.
As a follower of Jesus, we are called not to side with a kingdom of this world in crushing a threat to that empire's safety. We are to be ministers of reconciliation, calling on ISIS to not resort to barbaric violence but to believe there is a better way, all while calling on the West to relinquish the pyramid of privilege and oppression and to not make members of ISIS feel the only way they can be heard is through such barbaric violence.
As a Jesus follower, you are neither pro America nor pro ISIS. You are pro peace; you are a follower of the Prince of Peace. And within the pyramid of privilege and oppression, which we have discussed in so many eSights previously, we are to call upon those at the top to dismantle the entire pyramid for a better way. We are to stand in solidarity with those who are being oppressed at the bottom of the pyramid, honoring their hunger and thirst for justice while also pleading with them to choose a better way than barbaric violence.
This does not justify ISIS' use of barbaric violence. That, no doubt, is horrifically evil. But this doesn't justify America either. It refuses to take a side, calling both sides to follow Jesus. We place ourselves in the shoes of those who feel oppressed, pausing to reflect on what it must be like for them to feel like they are standing against the biggest bully on the planet, and not being able to believe (just like the Zealots in Jesus' day) that if they use nonviolent means the West will actually hear them.
Yes, Jesus' call to ISIS is to lay down the sword. But Jesus' call to the West is also to relinquish its place as biggest bully on the hill, and to stop, listen and give hope to ISIS so that they don't have to use barbaric violence to be heard. Jesus' call to his followers is to not allow fear to rob you of compassion. And above all, Jesus is calling to all three parties to avoid just rushing to violent means of solving conflict between those who feel oppressed and those in the position of privilege and oppression.
Jesus calls us all to see both the West and the members of ISIS as, remember, not us vs. them, but as siblings of the same Divine Parents who are going to have to eventually learn how to sit around the same family dinner table again.
Will this come without losses? No, there will be many losses on both sides. There will be losses on ISIS' side if they should choose to use NVDA to awaken the hearts of those in the West to listen. And there will be losses on the West's side (in relation to the West's position of privilege) if those in the West choose to listen and begin treating those in the Middle East the way they would like to be treated if the roles were reversed.
It's time for humanity to let go of fear of scarcity and an addiction to monopolizing positions at the top of the pyramids. It's time for humanity to embrace a worldview of abundance, enough for everyone's need but not their greed—with cooperation and sharing rather than anxiety, competition and violence.
Jesus is calling.
There is a conversation that is said to have taken place between Lord Irwin and Gandhi, where Lord Irwin asked what Gandhi believed would solve the problems between Great Britain and India. The story states that Gandhi reached over and picked up a Bible from off of the desk, and opened it to the Gospel of Matthew's chapter five—the beginning of Jesus' Sermon on the Mount. Gandhi then said, "When your country and mine shall get together on the teachings laid down by Christ in this Sermon on the Mount, we shall have solved the problems not only of our countries but those of the whole world."
There is only one "Savior of the World." It's not America, with her military might. It's the nonviolent Jesus.
HeartGroup Application
This week I'm not going to ask for you to contemplate any passages from the Gospels. I'm going to ask you, every day for a week, to pray for both ISIS and America, that both will follow Jesus instead of the course they are presently on so that this world would be healed (John 3.17) and that what will be enlarged through all of this will be Jesus' Kingdom rather than simply yet another of this world's empires.
Journal what Jesus shares with you about the West and about ISIS as you pray.
Share what Jesus shares with you with your HeartGroup this upcoming week.
Wherever this finds you this week, choose love and not fear, and choose compassion over violence, until the only world that remains is a world where Christ's love reigns.
I love each and every one of you. And remember, God does too.
See you next week.