by Herb Montgomery | February 15, 2019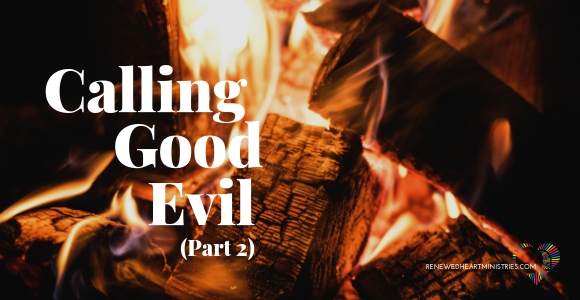 "My purpose in sharing their work with you is so that each of us can do our own homework, putting in the energy to read, study, and grapple before we ask someone in the Christian LGBTQ community to answer questions they have already answered multiple times and in multiple ways. These discussions are not academic for them. They are personally invested and many are tired of continually arguing about their existence. They already exist and have callings to pursue. It's up to you how you respond. With that said, I want to offer some help to those who are sincerely searching, doing their homework, and wanting direction."
"By their fruit you will recognize them. Do people pick grapes from thornbushes, or figs from thistles? Likewise, every good tree bears good fruit, but a bad tree bears bad fruit. A good tree cannot bear bad fruit, and a bad tree cannot bear good fruit. Every tree that does not bear good fruit is cut down and thrown into the fire. Thus, by their fruit you will recognize them." (Matthew 7:16-20)
As I shared last week, I've refrained from debating the passages we'll be considering this week. I've also not wanted to be another straight, cisgender male getting air-time to speak on passages that LGBTQ people have been speaking and writing on for decades now. I didn't want to take up space when I believe others' voices need to be heard right now.
And yet, as I said, I'm torn when I watch the toll it takes on my LGBTQ friends to repeatedly explain these passages. Speaking about this does not have the same emotional cost for me as it does for them. Perhaps I have been a little too silent: not silent in my affirmation, but silent on some of the ways I arrive at affirmation.
So I've promised to amplify two voices on this topic: the excellent work of Matthew Vines, a writer and speaker in the LGBTQ community that Jesus followers should be listening to, and James Brownson, a Bible scholar and parent of a child in the LGBTQ community.
My purpose in sharing their work with you is so that each of us can do our own homework, putting in the energy to read, study, and grapple before we ask someone in the Christian LGBTQ community to answer questions they have already answered multiple times and in multiple ways. These discussions are not academic for them. They are personally invested and many are tired of continually arguing about their existence. They already exist and have callings to pursue. It's up to you how you respond.
With that said, I want to offer some help to those who are sincerely searching, doing their homework, and wanting direction.
Matthew Vines' God and the Gay Christian is very readable. It's not written for scholars but for average people. Brownson's book, The Bible, Gender, and Sexuality,is a definitive work on affirming Christian theology. It played a significant role in my own journey of learning about affirming theology.
What follows is a brief explanation of how I interpret each passage typically used to address LGBTQ people. These are not exhaustive defenses of each passage, but brief summaries—an introduction to get you started. For a more detailed discussion of each passage, I recommend the two resources above.
Let's begin.
Genesis 19
This passage is an ancient story of a city's xenophobic refusal to show hospitality to strangers. This refusal came out of the townspeople's desire to protect their affluence from the threat of having to share with others. The city, Sodom, was located in a coveted, agriculturally fertile region. Much like the U.S., which has recently separated migrant children from their parents on its southwest borders, Sodom developed an effective strategy of terrorizing potential migrants to keep foreigners away.
In the story, Lot was different. He saw two foreigners in his town and invited them to his home for the evening to keep them safe, hoping to send them secretly on their way at the first light of dawn. What happened that night was terrifying and an intentional message to all foreigners to stay away!
"The two angels arrived at Sodom in the evening, and Lot was sitting in the gateway of the city. When he saw them, he got up to meet them and bowed down with his face to the ground. 'My lords,' he said, 'please turn aside to your servant's house. You can wash your feet and spend the night and then go on your way early in the morning.' 'No,' they answered, 'we will spend the night in the square.' But he insisted so strongly that they did go with him and entered his house. He prepared a meal for them, baking bread without yeast, and they ate. Before they had gone to bed, all the men from every part of the city of Sodom—both young and old—surrounded the house. They called to Lot, 'Where are the men who came to you tonight? Bring them out to us so that we can have sex with them.'" (Genesis 19:1-5)
Typically, Christians use this story to marginalize those with same sex attraction/orientation or in same sex loving relationships. I believe these interpretations miss the mark in a most destructive way for those who identify as LGBTQ.
In this story and culture, rape was a way to inflict the worst possible humiliation on another, and was rooted in ingrained, patriarchal gender roles. (See Gender and Law in the Hebrew Bible and the Ancient Near East) The laser beam of convicting truth in these ancient tales should not be focused on members of the LGBTQ community but rather on people who use sexual violence (or any form of terror) against others and on the kinds of xenophobic actions the United States is committing at its borders and against immigrants across the country.
Hospitality toward strangers was and still is a deeply held Jewish value (see Deuteronomy 26:12; Deuteronomy 24:19-21; Deuteronomy 14:28-29; Deuteronomy 10:19).
The Jewish followers of Jesus carry on this tradition of hospitality toward strangers in the New Testament scriptures as well. This passage from the book of Hebrews almost echoes the story of Sodom:
"Do not forget to show hospitality to strangers, for by so doing some people have shown hospitality to angels without knowing it." (Hebrews 13:2)
The story of Sodom is not about the LGBTQ community or LGBTQ people's loving relationships. Instead it has everything to do with people who were extravagantly affluent and did not wish to share.
"Now this was the sin of your sister Sodom: She and her daughters were arrogant, overfed and unconcerned; they did not help the poor and needy. They were haughty and did detestable things before me. Therefore I did away with them as you have seen." (Ezekiel 16.49-50)
The story of Sodom has nothing to do with sexual orientation.or loving same-sex relationships. It's rather about the evil of responding to strangers with violence, in this case sexual violence, especially when their lives depend on your welcome and hospitality. And it is a warning against xenophobia and the terror tactics xenophobes employ. (For additional background, read Judges 19:11-30; see also Rape as a "weapon of war" against men, Male rape survivors fight stigma in Uganda, and Male Rape and Human Rights).
Leviticus 18
Leviticus 18:22 reads, "Do not have sexual relations with a man as one does with a woman; that is detestable."
Christian affirming theologies interpret this passage in many different ways. The way that speaks most deeply to me and my sense of justice is related to our previous story in Sodom, which does not address same-sex sex between women but only what men to do other men.
Again, this passage is not informed by what we understand today as sexual orientation. It's informed by the sexual violence that men inflict on other men to diminish them (see again Judges 19:11-30, Genesis 19:1-5, and the above sources referenced). As I just explained, a man raping another man intended to inflict the worst possible humiliation on him. In that culture, women were wrongly considered less than men and so one way to dehumanize a man was to lower him to the same status as a woman.
So in this culture the law prohibited diminishing men by treating them as if they were women. Both men and women were raped in times of war and conquest, and still are today. But it is shocking to see how lightly many portions of our sacred text considered the rape of women. We seem to see much more concern with protecting men from being raped by other men than with protecting women from rape or raping women being "detestable."
Again, this was an androcentric culture of deeply rooted patriarchy. Today, we still see misogyny and toxic masculinity at the heart of many men's reaction to same sex relationships between men. Many men today seem to more easily tolerate same sex relationships between women than those between men. Some even treat same-sex sex between women as a sexual fetish.
I remember sitting in a restaurant speaking with a friend of mine whose son had just come out to him as gay. My friend was beside himself. He stated how deeply repulsed he was by same-sex intimacy between men. He said he didn't even want to be in the same room with "them," and now his own son was "one of them" too!
I looked at him and risked an accusation. I was banking on our relationship allowing me to get away with it. I looked him in the eye and said, "You just don't like the idea of men looking at you the way you typically look at women."
The light came on in his eyes and the coin dropped in the slot. His misogyny and objectification of women was deeply tied to his inability to accept same sex relationships among men, including his own son's.
I'm happy to say that conversation was a turning point for my friend. Today, he fully embraces and celebrates his son, and his relationships with women have become a million times more healthy. He is an outspoken ally of LGBTQ folks. He's come a long way.
What a contemporary reading of Leviticus should warn men about today is the intrinsic harm of believing women are somehow less than men. I'm convinced that if someone truly believed women were equal with men, then seeing men who don't align with our culture's toxic definitions of what it means to be a "man" would not threaten those of us who identify as male. And yet, even in saying all of this, it says a lot when "masculinity" is still defined as "not femininity." When that's the case, the rape of men is a problem because it treats men like women. The deeper violation is that sexual violence is a problem on its own terms and one that harms people of all genders. To fail to see this is still as androcentric as the culture out of which Leviticus was written.
We'll look at four New Testament passages next week. Then we'll close with a look at Genesis 1.
For now, remember:
"By their fruit you will recognize them. Do people pick grapes from thornbushes, or figs from thistles? Likewise, every good tree bears good fruit, but a bad tree bears bad fruit. A good tree cannot bear bad fruit, and a bad tree cannot bear good fruit. Every tree that does not bear good fruit is cut down and thrown into the fire. Thus, by their fruit you will recognize them." (Matthew 7:16-20)
HeartGroup Application
I grew up in a faith tradition that looked at the Bible as having only one right interpretation and many wrong interpretations. I was wrongly taught that one could objectively find this one right interpretations if one practiced the proper hermeneutics.
I no longer subscribe to this way of looking at sacred texts. Our biases are inescapable. We all have blind spots. Even in our attempts to be objective, we rarely recognize our own biases and blind spots. Fish don't know they are wet. When we look at the text as having only one right interpretation, the result is that we seek to find that right interpretation, regardless of whether that fruit is harmful for life giving. We want to be right rather than being righteous. The goal, I believe, should rather be to allow the text to speak to us in our contexts today with the most life giving, life affirming, life celebrating interpretations our present level of knowledge will enable.
Sacred texts of all religions, including the Bible, can have a myriad of interpretations and applications. The goal is to embrace life giving interpretations and move away from interpretations that do harm to oneself and others. Asking whether an interpretation is right or not, I believe is the wrong question. We must ask if our interpretations are righteous. What fruit do they produce? Is the fruit harmful or life embracing, life giving? Does it liberate or oppress? Do our interpretations fuel injustice or do they empower us to move away from injustice toward the work of shaping of a just, compassionate, and safe society for everyone?
The choice, including in our interpretations, is an ancient one—life or death. (Deuteronomy 30:15-2) How can you know if you're on the right track? Consider if your interpretations are bringing life or doing harm. "By their fruit you will recognize them." (Matthew 7:16) If your interpretation of a passage is doing harm, don't hold on to out of a prioritized value of being right or because it is an interpretations that most resonates with your own biases, perceived or otherwise. Prioritize people first. People matter. Loosen your grip on harmful interpretations regardless of how long you've held on to them, and be open to embracing other interpretations that are righteous, that prioritize people's well being, that are just, and that give life.
This week:
1. Come up with a list of three (if you can) interpretations of Bible passages that you believe are harmful.
2. Discuss with your HeartGroup the harm you have witnessed from these interpretations.
3. Discuss with your group alternative interpretations and/or begin seeking out new interpretations with the goal of interpreting your sacred texts in more life giving ways.
Thanks for journeying with us so far. I'm deeply grateful that you're here. We'll keep exploring next week. This week, wherever you are right now, keep living in love, compassion, action and justice.
Another world is possible.
I love each of you dearly.
I'll see you next week.