Rehoboth
Kinship Regional Retreat
May 2-5, 2019
Earlier this month I had the pleasure of presenting at Kinship's Region 2, annual weekend retreat at Rehoboth Beach in Delaware. 
For those of you who may not know what Kinship is, Seventh-day Adventist Kinship International (Kinship) is a diverse, multigenerational worldwide community of individuals who are somehow connected to the Adventist community. SDA Kinship is the only organization for current or former Adventists who identify as LGBTIQ+. Kinship is not a change-oriented ministry. Their mission is to provide a safe spiritual & social community to lesbian, gay, bisexual, transgender, & intersex current & former Seventh-day Adventists around the world, their families, & those who support them. Some members still attend Adventist churches and others have moved on in different directions. It is also part of Kinship's mission to educate church leaders (pastors, teachers, and administrators, etc) to understand the LGBTIQ+ community better and to learn how to create safe spaces. (For more info see: https://www.sdakinship.org)
I spoke on the relevance of Jesus as a first-century, Jewish prophet of the poor from the marginalized region of Galilee, emerging as an itinerant teacher in the "wilderness" and what these locations might say to the Christian LGBTIQ+ community today. One's social location matters. And the Jesus of the gospels practiced an inclusive priority for those on the margins of his society.
Many LGBTIQ+ Christians find a wellspring of wisdom within the Jesus stories as they continue to work toward inclusion and equality both in their various faith communities and their wider society.
To listen to the two presentations I shared at Rehoboth click:
Rehoboth; Kinship Regional Retreat 2019
If you would like more information on Renewed Heart Ministries' affirmation and support of our LGBTIQ+ family and friends read:
Calling Good Evil (Part 1 of 5) or listen to the podcast episode here
Calling Good Evil (Part 2 of 5) or listen to the podcast episode here
Calling Good Evil (Part 3 of 5) or listen to the podcast episode here
Calling Good Evil (Part 4 of 5) or listen to the podcast episode here
Calling Good Evil (Part 5 of 5) or listen to the podcast episode here
and/or listen to: 
Jesus' Preferential Option for the Marginalized: LGBTQIA Identities and the Image of God.
I want to thank Kinship for the invitation to share. And I want to thank each of those who attended.  I had a wonderful time seeing you again, and for some of you meeting for the very first time.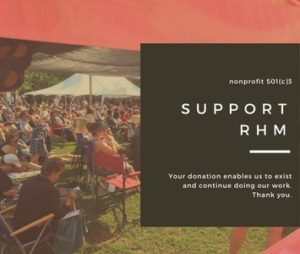 If you have been blessed by our work here at Renewed Heart Ministries, I want to take the opportunity this month to reach out to you and ask you to support our work.  This is a time of the year when the need for your support is keenly felt as well as deeply appreciated.  You can support our work either by clicking on the donate page on our website or by mailing your support to:
Renewed Heart Ministries
PO Box 1211
Lewisburg, WV 24901
You can make a one time gift, or become one of our continuing monthly sustainers. 
All amounts help, regardless of the size. 
Thank you in advance for your support.  We simply could not exist nor continue our important work without you. 
With much love and gratitude for you all, 
Herb Montgomery 
Director | Author | Speaker
Renewed Heart Ministries