Herb Montgomery | March 15, 2019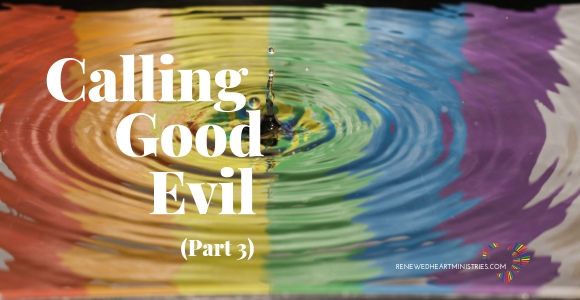 ---
"Using the term 'homosexual' in these translations represents negative cultural bias. If these passages were free from homophobic bias, they would read 'pederasty.' One must ask which interpretation is more culturally biased, and more so, what is the fruit of each interpretation? One produces demonstrable bodily harm to a group of human beings because they are born different. And that should warn us."
---
"No good tree bears bad fruit, nor does a bad tree bear good fruit. Each tree is recognized by its own fruit." (Luke 6:43-44)
This week we're continuing our look at passages that Christians have typically interpreted and used in ways that harm LGBTQ people and others. There are a myriad of ways to interpret the passages we are considering in this series, so I want to remind us to continue asking ourselves, what is the fruit of how I interpret these passages? Are my interpretations doing harm or are my interpretations life giving? As Jesus said, "No good tree [or interpretation] bears bad fruit."
A few years back, I listened to a presentation by Justin Lee where he mentioned Mark Noll's book The Civil War as a Theological Crisis. Lee brought up Noll's book because of the striking similarities between the theological crisis slavery and the abolition movement brought to Christianity in America and today's schisms caused by churches' refusal to recognize, include, embrace, and celebrate Christians who identify as LGBTQ. The United Methodist Church's recent decisions are just one example. Immediately after listening to Lee, I purchased Noll's book and was shocked at how similar the arguments for and against abolition were to today's arguments for and against inclusion of LGBTQ Christians as members and as clergy in the Christian church.
Noll writes:
"Nuanced biblical attacks on American slavery faced rough going precisely because they were nuanced. This position could not simply be read out of any one biblical text; it could not be lifted directly from the page. Rather, it needed patient reflection on the entirety of the Scriptures; it required expert knowledge of the historical circumstances of ancient Near Eastern and Roman slave systems as well as of the actually existing conditions in the slave states; and it demanded that sophisticated interpretative practice replace a commonsensically literal approach to the sacred text." (Mark A. Noll. The Civil War as a Theological Crisis, p. 49)
As we turn to the New Testament passages under our consideration, we too must pay attention to nuance. We must do more than engage in surface readings of passages that too easily can be interpreted through our own unseen biases. We need not throw out our sacred text. We must simply learn to look more deeply at passages in their context and in our context today to arrive at life-giving interpretations.
This is keenly true of our first two passages.
1 Corinthians 6:9 and 1 Timothy 1:10
The term "homosexuality," though invented in the late 1800s, did not appear in any Bible before 1946. This is significant. As I argued last week, the passages in the Hebrew scriptures that Christians typically associate with loving same-sex relationships were not addressing same-sex attraction as we understand it today. Christians for most of history read these two New Testament passages very differently than those translated recently.
I want you to see the progression in translations.
King James Version (1611):
1 Corinthians 6:9: Know ye not that the unrighteous shall not inherit the kingdom of God? Be not deceived: neither fornicators, nor idolaters, nor adulterers, nor effeminate, nor abusers of themselves with mankind,
1 Timothy 1:10: For whoremongers, for them that defile themselves with mankind, for menstealers, for liars, for perjured persons, and if there be any other thing that is contrary to sound doctrine;
Revised English Bible (1989):
1 Corinthians 6:9: Surely you know that wrongdoers will never possess the kingdom of God. Make no mistake: no fornicator or idolater, no adulterer or sexual pervert.
1 Timothy 1:10: And fornicators, perverts, kidnappers, liars, perjurers—in fact all whose behaviour flouts the sound teaching
The two Greek keywords in these passages are malakoi and arsenokoitai. These words are extremely difficult to translate. We've seen that the passages in the Hebrew scriptures usually associated with our topic are actually referring to sexual violence that men used to terrorize or dehumanize other men in times of war. Brownson also reveals that these two passages were not speaking of what we call homosexuality today, but were describing the abusive Roman practice of pederasty (sex between an older man and a young boy): sex with a minor, which would today be condemned as rape by the LGBTQ community.
"[Arsenokoitai] is particularly problematic because there is no attested usage of this word preceding the New Testament documents — that is, in extrabiblical literature — that might provide additional information about its range of meaning. But the most important thing to recognize is that there are two words, not just one. Most scholars recognize that the presence of these two words reflects widespread assumptions throughout the ancient world about male-male homosexual activity: almost all the documents discussing male same-sex eroticism assume a distinction between active older men (commonly referred to in Greek as erastai) and passive younger males (commonly referred to as erōmenoi) — in other words, the practice of pederasty. The malakoi (" softies") are the younger, passive erōmenoi, and the arsenokoitai (" man-bedders") are the older, active erastai. (James V. Brownson, Bible, Gender, Sexuality: Reframing the Church's Debate on Same-Sex Relationships, p. 274, emphasis added.)
Brownson concludes on the next page:
"But when we take the original social context of these vice lists seriously, we again recognize a gap between what these vice lists are rejecting and what is happening in committed same-sex relationships today." (Ibid., p. 275.)
After 1946, though, there is an obvious homophobic bias in New Testament translations that is not warranted by the original languages. Where the original languages address sexual and power violations between an adult and a child, i.e. injustice, we begin to see after 1946 generic homophobia instead.
Here are a few examples from more contemporary translations:
New International Version (2011):
1 Corinthians 6:9: Or do you not know that wrongdoers will not inherit the kingdom of God? Do not be deceived: Neither the sexually immoral nor idolaters nor adulterers nor men who have sex with men
1 Timothy 1:10: for the sexually immoral, for those practicing homosexuality, for slave traders and liars and perjurers—and for whatever else is contrary to the sound doctrine.
Notice how in the NIV the wording is "men who have sex with men." The pederasty reference in the original language is completely and, with bias, ignored.
New American Standard (1960):
1 Corinthians 6:9: Or do you not know that the unrighteous will not inherit the kingdom of God? Do not be deceived; neither fornicators, nor idolaters, nor adulterers, nor effeminate, nor homosexuals,
1 Timothy 1:10: and immoral men and homosexuals and kidnappers and liars and perjurers, and whatever else is contrary to sound teaching,
Today's New International Version (2005):
1 Corinthians 6:9: Or do you not know that wrongdoers will not inherit the kingdom of God? Do not be deceived: Neither the sexually immoral nor idolaters nor adulterers nor male prostitutes nor practicing homosexuals
1 Timothy 1:10: for the sexually immoral, for those practicing homosexuality, for slave traders and liars and perjurers. And it is for whatever else is contrary to the sound doctrine
New Revised Standard Version (1989):
1 Corinthians 6:9: Do you not know that wrongdoers will not inherit the kingdom of God? Do not be deceived! Fornicators, idolaters, adulterers, male prostitutes, sodomites,
1 Timothy 1:10: fornicators, sodomites, slave traders, liars, perjurers, and whatever else is contrary to the sound teaching.
We've considered what was really happening in the ancient Sodom story. The term "sodomites" used in the New Revised Standard Version is a misnomer and betrays a heterosexist bias and the cultural normativity of our day.
That's the biggest point this week. Those who seek to interpret these Bible texts in more life-giving ways within the LGBTQ community are often accused of allowing the present culture to bias them. But what we see in the progression of translations over the last half-century is that translating 1 Corinthians 6 and 1 Timothy 1 terms as homosexuality rather than pederasty allows contemporary cultural homophobia to bias the translations while completely ignoring the cultural context which these passages were originally intended for and written in.
Using the term "homosexual" in these translations represents negative cultural bias. If these passages were free from homophobic bias, they would read "pederasty." One must ask which interpretation is more culturally biased, and more so, what is the fruit of each interpretation? One produces demonstrable bodily harm to a group of human beings because they are born different. And that should warn us.
In the Jesus story, some religious leaders (scribes, Sadducees, some Pharisees) taught interpretations of the Torah and practiced a kind of holiness that marginalized the most vulnerable. Jesus, like the prophets before him, instead valued people and interpretations of the Torah that were life-giving rather than destructive. Jesus practiced a kind of holiness that expressed itself in a preferential option for the vulnerable. Even if, as a Christian, you deem same-sex attraction as condemned by your sacred text, you still have one grave reality staring back at you in the face: As a Jesus follower, why are the results, the fruits, of your interpretation so different from Jesus and so identical to those in the story who crucified Jesus? We must let this contradiction confront us.
Regardless of our claim, the fact that LGBTQ Christian youth have such a higher suicide rate in our Christian faith tradition, a rate that is increased by their being "Christian" and having been rejected by their religious families, a rate that is eight times higher rate than non-Christian youth who are accepted, all of this screams to us that in all our piety and holiness, we have imbibed more the spirit of those who stood in opposition to the Jesus of the story than we have the spirit of Jesus himself.
Being LGBTQ has not taken the life of one Christian gay young person, but our interpretations and the way we are relating to them has.
If sin is wrong because it produces death and does harm, and how we are to responding to our LGBTQ population is producing death, you have to ask where is the sin? First get the log out of your own eye, then you will see more clearly to get the dust out of someone else's.
For the sake of every Christian LGBTQ young person who is struggling with this right now as I write, for the sake of every last phone call made and every effort engaged to talk someone back down off the ledge, it is time for change.
If you are following Jesus, it's time for change. Please don't say you're simply standing up for what is right. Those who rejected and crucified Jesus felt they were too. Jesus stood up to defend those who were being damaged by those who were standing up for what they interperated as right. It's time that we and our Jesus looked more like the one in the story.
Next week, we'll consider Romans 1.
"No good tree bears bad fruit, nor does a bad tree bear good fruit. Each tree is recognized by its own fruit." (Luke 6:43-44)
HeartGroup Application
First let me say, it's good to be back. While I have been traveling over the past few weeks, a lot has been happening in the Christian LGBTQ community in relation to the recent decisions made by the United Methodist Church.
It was a deeply disappointing to watch for many of us who were hoping for and even expecting a very different outcome. I'm encouraged personally to see how many within the Methodist tradition are standing their holy ground. Churches who have been welcoming and affirming across the nation are choosing to be excluded on the basis of whom they include rather than included because of whom they exclude.
I would like your HeartGroup this week to sit down and discuss three ways your little group can become more welcoming and affirming, too. It's never a bad time to become more inclusive of those others are marginalizing. As we have often discussed, Jesus modeled and practiced a preferential option for those others excluded. How can your group do the same.
After you've listed three, make a timeline, and begin putting all three into practice.
Together we have the ability to be a source of change in our society.
Thanks for checking in with us this week.
Wherever you are today, keep living in love, compassion, action and justice.
Another world is possible.
I love each of you dearly.
I'll see you next week.