by Herb Montgomery | January 18, 2019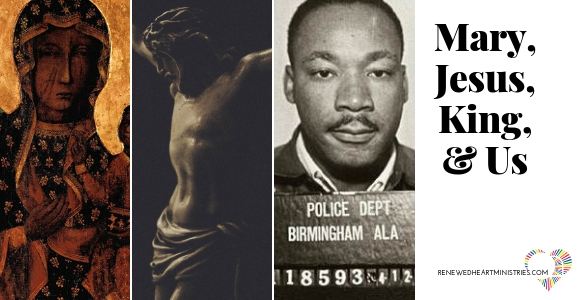 ---
"This is a much different take on women's virginity than I was raised with. It would also allow a different interpretive lens through which to view Mary who raised a son who modeled, taught, and was crucified for being a political rebel as well."
---
"He has performed mighty deeds with his arm; He has performed mighty deeds with his arm; He has scattered those who are proud in their inmost thoughts. He has brought down rulers from their thrones, but has lifted up the humble. He has filled the hungry with good things, but has sent the rich away empty." (Luke 1:51-53)
Many have struggled with Mary's story in the birth narratives for Jesus in Matthew and Luke. This makes sense to me. Growing up in Evangelical Christian purity culture, women's virginity symbolized their submission to patriarchy and male dominance over women. Mary as the holy virgin triggers such religious abuse and Christians often interpret that image of Mary in ways that perpetuate the non-egalitarian treatment of women.
This past December while I was re-reading Matthew and Luke's birth narratives, though, I was struck by how non-compliant Mary sounds. Consider what we refer to today as Mary's Magnificat:
"My soul glorifies the Lord
and my spirit rejoices in God my Savior,
for he has been mindful
of the humble state of his servant.
From now on all generations will call me blessed,
for the Mighty One has done great things for me—
holy is his name.
His mercy extends to those who fear him,
from generation to generation.
He has performed mighty deeds with his arm;
he has scattered those who are proud in their inmost thoughts.
He has brought down rulers from their thrones
but has lifted up the humble.
He has filled the hungry with good things
but has sent the rich away empty.
He has helped his servant Israel,
remembering to be merciful
to Abraham and his descendants forever,
just as he promised our ancestors."
(Luke 1:46-55)
Patriarchal cultures use virginity as a symbol of submission, yet here is a young girl who sounds more like a rebel. The lines "He has scattered those who are proud in their inmost thoughts. He has brought down rulers from their thrones but has lifted up the humble. He has filled the hungry with good things, but has sent the rich away empty" are not the words of a model submissive or someone who demonstrates how not to make waves. Proclaim these words today and see what kind of trouble they stir up. Christianity has a long history of trying to explain away the edge to these words, and something doesn't add up.
This week, I want to suggest that the story element of Mary's virginity in the gospel narrative may have actually been written as a nod to resistance movements in the culture of that time, not to promote purity culture's submission.
Researchers in RHM's suggested book of the month for December 2018 explain how virginity was used by dissident groups in the 1st Century.
"About a decade before the birth of Jesus, Rome passed marriage laws that inflicted severe tax penalties on citizens who refused to marry and to generate offspring. With an infant mortality rate of more than 60 percent and life expectancy at age twenty-five, Rome needed every woman to begin reproducing at the onset of puberty and bear five children to keep the empire's population at a replacement rate. A shrinking population meant a declining tax base and fewer sons to serve in the military and guard the empire's vast frontiers. The standard marriage involved an adult male, who had proven his ability to provide for a family, and an adolescent female a decade or more younger. People joined dissident religious groups to resist conscription and overtaxation, and asceticism and virginity emerged as ways to defy imperial pressures to reproduce and marry." (Rita Nakashima Brock & Rev. Dr. Rebecca Parker in Saving Paradise: How Christianity Traded Love of This World for Crucifixion and Empire, p. 195)
For two of the four Gospels that characterize Mary as a virgin, this may have been in the authors' thinking when they chose to characterize Mary as a virgin. (Although she is still written as being engaged.) The elements of Matthew's and Luke's birth narratives show the Jesus story was resistance literature responding to Roman rule. (See The Subversive Narratives of Advent (Parts 1 – 3))
Later Christians who lived in the context of the Roman empire also used virginity and refusing to marry as a means of resisting Rome.
"In resisting domination, many early Christian women rejected the curse of women's subordination to men, a status based on heterosexual sex. Engaging in sex with men required women to accept a subjugated role. Virginity and chastity gave them power. Virgins chose to remain so by refusing to marry, and married women left their husbands to live in women's communities. Sex was legally regulated and restricted and socially fraught by gender and power, as it still is today. However, today many tend to regard virginity as a sign of conformity to patriarchal double standards and the disempowerment of women. The popular novel The DaVinci Code, which suggests that Mary Magdalene was Jesus's wife and carried his bloodlines through her descendants, might appear to elevate Mary's importance to Christianity. However, early Christians would not have regarded making her Mrs. Jesus as an improvement over her role as a preeminent apostle and teacher with her own divinity. The virginity of early Christian women was a radical statement against male dominance and in favor of women's own power. The only legitimate virgin in a pater familias was a daughter, who was owned by her father until she could be transferred to a husband, at which point she was no longer a virgin. For daughters to refuse to marry may have aggravated Roman opposition to Christianity. As a spiritual practice, women's abstinence from marriage granted freedom from male sexual domination. Abstinence ended the curse inflicted upon Eve when she was exiled from the Garden, "your desire shall be for your husband and he shall lord it over you" (Gen. 3:16). Therefore, Christian virginity defied the core power system upon which Rome was built, the pater familias." (Ibid, p.193-194)
This is a much different take on women's virginity than I was raised with. It would also allow a different interpretive lens through which to view Mary who raised a son who modeled, taught, and was crucified for being a political rebel as well.
And this leads me to my question for us this week.
How can we, too, rebel against injustice in our society?
Seeing Mary, Jesus, and early Christian women as those who rebelled against injustice and considering the upcoming annual celebration of the life and work of Dr. Martin Luther King, Jr. brought to mind Dr. King's words in his famous Letter From Birmingham Jail. These words paint a very different view of King from the domesticated picture that we typically get today. In this section, King defends his resistance and rebellion against injustice:
"There comes a time when the cup of endurance runs over, and men are no longer willing to be plunged into the abyss of despair. I hope, sirs, you can understand our legitimate and unavoidable impatience. You express a great deal of anxiety over our willingness to break laws. This is certainly a legitimate concern. Since we so diligently urge people to obey the Supreme Court's decision of 1954 outlawing segregation in the public schools, at first glance it may seem rather paradoxical for us consciously to break laws. One may well ask: "How can you advocate breaking some laws and obeying others?" The answer lies in the fact that there are two types of laws: just and unjust. I would be the first to advocate obeying just laws. One has not only a legal but a moral responsibility to obey just laws. Conversely, one has a moral responsibility to disobey unjust laws. I would agree with St. Augustine that 'an unjust law is no law at all.'" (Letter From Birmingham Jail, May 1963)
So again, how might we rebel against injustice in our society? Which injustices are especially galling to your heart? How might you resist and rebel? What difference does it make for you to view Mary, King, and even Jesus as a rebel rather than as compliant? Does it give you courage? Do you feel as if you are in good company? Are you less alone than you might think?
Resistance to injustice is a river that stretches far back before you and will continue long after you are gone. How deeply we might wade into its waters today?
Given the details in the stories of Jesus' mother and Jesus himself, rebelling against injustice, oppression, and violence was a staple of what it meant to follow Jesus in the first few generations of the Jesus movement. May it become a staple for us today as we follow Jesus.
"He has performed mighty deeds with his arm; He has scattered those who are proud in their inmost thoughts. He has brought down rulers from their thrones but has lifted up the humble. He has filled the hungry with good things but has sent the rich away empty." (Luke 1:51-53)
HeartGroup Application
Compose three lists this week together as a group.
First make a list of injustices that you feel should be opposed. Allow time for discussion as this process can be lengthy.
Second make a list of ways you could possibly exercise opposition to injustices on the first list as individuals.
Third make a list of ways you could possibly exercise resistance as a group.
Lastly, pick some actions from the last two lists and begin putting them into practice.
I'm glad you checked in with us this week.
Where you are this week, keep living in love, justice, compassion and action.
Another world is possible.
I love each of you, dearly.
I'll see you next week.