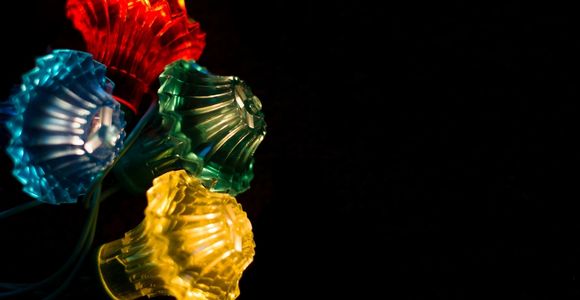 Herb Montgomery | December 16, 2022
To listen to this week's eSight as a podcast episode click here.
---
"Can the ethics in the Jesus story, ethics such as the Golden Rule, neighborly love, solidarity with the marginalized, economic justice for the poor, nonviolent resistance, and more, still promise a pathway of salvation for us today? I don't mean salvation in the sense of guaranteed post-mortem bliss, but rather salvation as shaping our present world into a safe, compassionate, just home for everyone large enough to hold all of our differences together."
---
Our Advent reading this week is from the gospels of Matthew:
This is how the birth of Jesus the Messiah came about: His mother Mary was pledged to be married to Joseph, but before they came together, she was found to be pregnant through the Holy Spirit. Because Joseph her husband was faithful to the law, and yet did not want to expose her to public disgrace, he had in mind to divorce her quietly.
But after he had considered this, an angel of the Lord appeared to him in a dream and said, "Joseph son of David, do not be afraid to take Mary home as your wife, because what is conceived in her is from the Holy Spirit. She will give birth to a son, and you are to give him the name Jesus, because he will save his people from their sins."
All this took place to fulfill what the Lord had said through the prophet: "The virgin will conceive and give birth to a son, and they will call him Immanuel" (which means "God with us").
When Joseph woke up, he did what the angel of the Lord had commanded him and took Mary home as his wife. But he did not consummate their marriage until she gave birth to a son. And he gave him the name Jesus. (Matthew 1:18-25)
Many scholars believe the stories about Jesus' birth and infancy in Matthew and Luke were the last part of the Jesus story to be developed. Paul never mentions Jesus' birth and Mark doesn't begin his version of the story with Jesus' birth either. Other early sources used by Matthew and Luke's gospels don't include any details about the birth of Jesus. These stories don't appear until Matthew and the later expanded version found in Luke.
This week's reading comes from Matthew, whose birth narrative for Jesus is rooted in Jewish folklore about Jewish liberation and the hope of the people had for liberation from Roman Imperialism and its destructive results on rural life in Judea and Galilee.
Let's consider one example of that rich folklore as context for our reading this week: Hannah's prayer in 1 Samuel 2: 1-10:
Then Hannah prayed and said:
  "My heart rejoices in the Most High;
in God my horn is lifted high.
My mouth boasts over my enemies,
for I delight in your deliverance.
  "There is no one holy like the Holy One of Old;
there is no one besides you;
there is no Rock like our God.
  "Do not keep talking so proudly
or let your mouth speak such arrogance,
for God is a God who knows,
and by the Ancient One deeds are weighed.
  "The bows of the warriors are broken,
but those who stumbled are armed with strength.
  Those who were full hire themselves out for food,
but those who were hungry are hungry no more.
She who was barren has borne seven children,
but she who has had many sons pines away.
  "The Creator brings death and makes alive;
brings down to the grave and raises up.
  The Liberator sends poverty and wealth;
humbles and exalts.
  God raises the poor from the dust
and lifts the needy from the ash heap;
seats them with princes
and has them inherit a throne of honor.
"For the foundations of the earth are the Most High's;
on them the Creator has set the world.
  Our God will guard the feet of those who are faithful
but the wicked will be silenced in the place of darkness.
"It is not by strength that one prevails;
  those who oppose God will be broken.
The Most High will thunder from heaven;
the God of justice will judge the ends of the earth.
"And will give strength to God's ruler
and exalt the horn of the anointed one."
An ever-repeating theme of these Jewish liberation narratives is that God is a God who stands in solidarity with the disenfranchised, marginalized, and oppressed. The late Dr. James H. Cone cautions us about what this means:
"If theological speech is based on the traditions of the Old Testament, then it must heed their unanimous testimony to Yahweh's commitment to justice for the poor and the weak. Accordingly it cannot avoid taking sides in politics, and the side that theology must take is disclosed in the side that Yahweh has already taken. Any other side, whether it be with the oppressors or the side of neutrality (which is nothing but a camouflaged identification with the rulers), is unbiblical. If theology does not side with the poor, then it cannot speak for Yahweh who is the God of the poor." (God of the Oppressed, p. 65)
This tradition influences how Matthew begins his version of the Jesus story. Jesus, for Matthew's audience, continues a liberation hope that did not begin or end with him. Rev. Dr. Wilda Gafney writes of this: "God's saving work did not begin with Jesus; we see it borne witness to throughout the scriptures as Hannah sings of it in her time and in days to come as would Mary, echoing her song. Jesus is the continuation and embodiment of that salvation, himself an annunciation, of good news." (A Women's Lectionary for the Whole Church, Year W, p. 14)
We will speak more of this in a moment. Before we do, let's ask why does Matthew emphasize a point that the Christian tradition has come to describe as Mary's "virginity"? Mathew is paraphrasing Isaiah 7:14:
"Therefore the Lord himself will give you a sign: The virgin will conceive and give birth to a son, and will call him Immanuel."
It's quite illuminating to read the entire context of Isaiah's passage. In ancient cultures, the word translated "virgin" simply meant a young girl who had reached the age where she could become pregnant. These cultures' desire to accurately track a person's heritage and property rights in cultures that defined lineage in terms of the father's line developed into closely controlled regulation of women's sexuality as a way of reliably determining paternity. (They could have regulated men's sexuality but choose not to.) But I don't think property or paternity are what Matthew or Isaiah are concerned about.
To understand the narrative detail in Matthew of Jesus being born from a "virgin," we have to understand Hellenized and Roman folklore as well as Jewish tradition. These imperial stories include many tales about the childhood of famous men or "heroes." In each of these stories, a person's exceptionalism is traced back to the events of their birth, and in each case the gods play a role in their conception and/or childhoods.
Just a few examples: stories of Alexander the Great (see Plutarch, Parallel Lives: Alexander, 2:1-3.5), Apollonius of Tyana (see Philostratus, Life of Apollonius, 1: 4-6), Plato (see Diogenes Laertius, Lives of Eminent Philosophers, 3:1-3, 45), and Octavian who became emperor of Rome itself—"THE DIVINE AUGUSTUS CEASAR, SON OF GOD" (see Suetonius, The Deified Augustus, 94:3-4).
Remember that the original audience for Matthew viewed the world very differently than many of us do today. I believe Matthew's version of the Jesus story sought to establish Jesus, to elevate him in the midst of others competing for people's allegiance, including Caesar. Matthew found his way through an unrelated and remote passage in Isaiah to give Jesus a place on that stage.
Today we live in the wake of past justice movements and we are living through many others right now: climate action, the movement for Black lives, Me Too, and others. Can the ethics in the Jesus story, ethics such as the Golden Rule, neighborly love, solidarity with the marginalized, economic justice for the poor, nonviolent resistance, and more, still promise a pathway of salvation for us today? I don't mean salvation in the sense of guaranteed post-mortem bliss, but rather salvation as shaping our present world into a safe, compassionate, just home for everyone large enough to hold all of our differences together, where "everyone will sit under their own vine and under their own fig tree, and no one will make them afraid" (Micah 4:4).
On this last weekend of Advent, what coming justice are you anticipating and working toward? As a Jesus follower today, how do the teachings of the Jesus of our stories speak into your concerns and efforts? Do they still speak to you? For me they do.
These stories continually challenge me and my Christianity not to avoid social concern and they inspire me to keep looking for ways to be life-giving, a source of healing, and a help to those our systems make vulnerable. They encourage me to reclaim my own humanity in recognizing and honoring the humanity of others.
As Advent closes the year and a new year begins in the Christian calendar, how can this season inspire you to, like Jesus, continue the work of making our world a safe home for everyone? This next year, may our efforts be intentional and effective. May love, joy, hope, peace and justice arrive more fully through the conduit of our lives and choices, too.
HeartGroup Application
1. Share something that spoke to you from this week's eSight/Podcast episode with your HeartGroup.
2. How has this year's season of Advent been meaningful for you? Discuss with your group.
3. What can you do this week, big or small, to continue setting in motion the work of shaping our world into a safe, compassionate, just home for everyone?
Thanks for checking in with us, today.
You can find Renewed Heart Ministries on Twitter, Facebook and Instagram. If you haven't done so already, please follow us on your chosen social media platforms for our daily posts. Also, if you enjoy listening to the Jesus for Everyone podcast, please like and subscribe to the JFE podcast through the podcast platform you use and consider taking some time to give us a review. This helps others find our podcast as well.
And if you'd like to reach out to us through email, you can reach us at info@renewedheartministries.com.
My new book, Finding Jesus: A story of a fundamentalist preacher who unexpectedly discovered the social, political, and economic teachings of the Gospels is now available at renewedheartministries.com
Right where you are, keep living in love, choosing compassion, taking action, and working toward justice.
I love each of you dearly,
I'll see you next week
---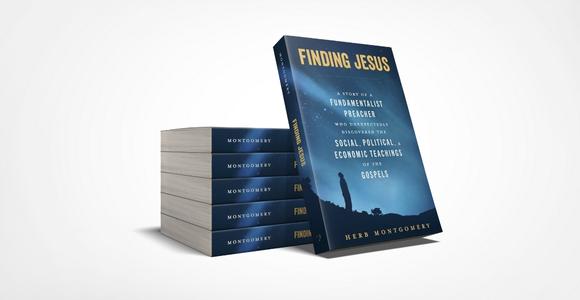 Now Available at Renewed Heart Ministries!
It's finally here!  Herb's new book Finding Jesus: A story of a fundamentalist preacher who unexpectedly discovered the social, political, and economic teachings of the Gospels, is available at renewedheartministries.com, just in time for the holidays!
Here is just a taste of what people are saying:
"Herb has spent the last decade reading scripture closely. He also reads the world around us, thinks carefully with theologians and sociologists, and wonders how the most meaningful stories of his faith can inspire us to live with more heart, attention, and care for others in our time. For those who've ever felt alone in the process of applying the wisdom of Jesus to the world in which we live, Herb offers signposts for the journey and the reminder that this is not a journey we take alone. Read Finding Jesus with others, and be transformed together." Dr. Keisha Mckenzie, Auburn University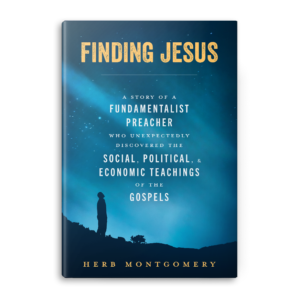 "In Finding Jesus, Herb Montgomery unleashes the revolutionary Jesus and his kin-dom manifesto from the shackles of the domesticated religion of empire.  Within these pages we discover that rather than being a fire insurance policy to keep good boys and girls out of hell, Jesus often becomes the fiery enemy of good boys and girls who refuse to bring economic justice to the poor, quality healthcare to the underserved, and equal employment to people of color or same-sex orientation.  Because what the biblical narratives of Jesus reveal is that any future human society—heavenly or otherwise—will only be as  good as the one that we're making right here and now. There is no future tranquil city with streets of gold when there is suffering on the asphalt right outside our front door today.  Finding Jesus invites us to pray 'thy kingdom come, thy will be done on earth as it is in heaven' on our feet as we follow our this liberator into the magnificent struggle of bringing the love and justice of God to all—right here, right now."—Todd Leonard, pastor of Glendale City Church, Glendale CA.
"Herb Montgomery's teachings have been deeply influential to me. This book shares the story of how he came to view the teachings of Jesus through the lens of nonviolence, liberation for all, and a call to a shared table. It's an important read, especially for those of us who come from backgrounds where the myth of redemptive violence and individual (rather than collective) salvation was the focus." – Daneen Akers, author of Holy Troublemakers & Unconventional Saints and co-director/producer of Seventh-Gay Adventists: A Film about Faith, Identity & Belonging
"So often Christians think about Jesus through the lens of Paul's theology and don't focus on the actual person and teachings of Jesus. This book is different. Here you find a challenging present-day application of Jesus' teachings about the Kingdom of God and the Gospel. Rediscover why this Rabbi incited fear in the hearts of religious and political leaders two millennia ago. Herb's book calls forth a moral vision based on the principles of Jesus' vision of liberation. Finding Jesus helps us see that these teachings are just as disruptive today as they were when Jesus first articulated them." Alicia Johnston, author of The Bible & LGBTQ Adventists.
"Herb Montgomery is a pastor for pastors, a teacher for teachers and a scholar for scholars. Part memoir and part theological reflection, Finding Jesus is a helpful and hope-filled guide to a deeper understanding of who Jesus is and who he can be. Herb's tone is accessible and welcoming, while also challenging and fresh. This book is helpful for anyone who wants a new and fresh perspective on following Jesus."— Traci Smith, author of Faithful Families
Get your copy today at renewedheartministries.com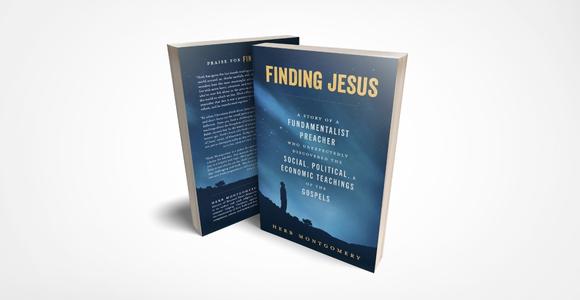 ---
Help Us Reach our Year End Goals
Consider making a one-time donation to support our work, inspiring hope and faith-filled action toward making our world a safe, compassionate, just home for all.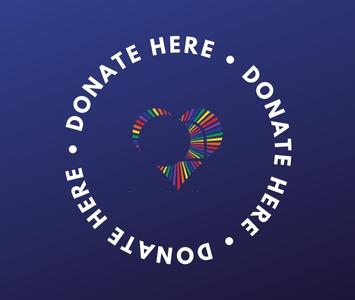 Donate to RHM online or by mail at
RHM, PO Box 1211, Lewisburg, WV 24901