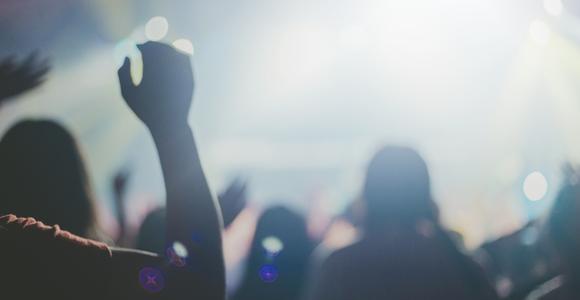 Herb Montgomery | November 11, 2022
To listen to this week's eSight as a podcast episode click here.
---
"I realize this week's passage may open up uncomfortable conversations for many Christians. But these kinds of discussions are necessary nonetheless. I want to encourage us to lean into these discussions rather than averting our gaze and perpetuating a culture of denial, a false estimation of ourselves, and further death-dealing. I want us to instead practice our faith in life-giving ways."
---
Our reading this week is from the gospel of Luke:
Some of his disciples were remarking about how the temple was adorned with beautiful stones and with gifts dedicated to God. But Jesus said, "As for what you see here, the time will come when not one stone will be left on another; every one of them will be thrown down."
"Teacher," they asked, "when will these things happen? And what will be the sign that they are about to take place?" He replied: "Watch out that you are not deceived. For many will come in my name, claiming, 'I am he,' and, 'The time is near.' Do not follow them. When you hear of wars and uprisings, do not be frightened. These things must happen first, but the end will not come right away."
Then he said to them: "Nation will rise against nation, and kingdom against kingdom. There will be great earthquakes, famines and pestilences in various places, and fearful events and great signs from heaven. But before all this, they will seize you and persecute you. They will hand you over to synagogues and put you in prison, and you will be brought before kings and governors, and all on account of my name. And so you will bear testimony to me. But make up your mind not to worry beforehand how you will defend yourselves. For I will give you words and wisdom that none of your adversaries will be able to resist or contradict. You will be betrayed even by parents, brothers and sisters, relatives and friends, and they will put some of you to death. Everyone will hate you because of me. But not a hair of your head will perish. Stand firm, and you will win life. (Luke 21:5-18)
The lectionary reading from the gospels this weekend has a very long, antisemitic history, but we can understand this passage in ways that are faithful to the Jewish ethic that Jesus' centered of in his teachings and help us love our neighbor as ourselves.
Remember that the Jesus movement did not begin as Christianity. Early Jesus followers were Jewish and the Jesus movement didn't set out to create a new religion. So the teaching that later became these verses did not come from a context of Christianity versus Judaism, but were one Jewish perspective among many on Roman imperialism's negative impact on Judaism and on the Temple aristocracy's complicity with Rome. Many marginal Jewish voices during Jesus' time were opposed to the Temple state because of its complicity with Roman imperial economic exploitation. Rome determined who would lead the Temple's aristocracy, and so those in political power in the Temple state in Jerusalem cooperated with Rome to survive and keep power in Jewish society. Because of this political calculation, the High Priesthood lost the confidence of the masses who suffered economically.
Josephus tells us of a multitude of rebel prophets promising liberation from Roman imperialism. Here is just one example:
"These people [six thousand people who Rome killed] owed their demise to a phony prophet. He was someone who on that very day announced that God had ordered the people in the city to go up to the temple area, there to welcome the signs that they would be delivered. Many prophets at that time were incited by tyrannical leaders to persuade people to wait for help from God. . . . When humans suffer they are readily persuaded; but when the con artist depicts release from potential affliction, those suffering give themselves up entirely to hope." (Josephus, Jewish Wars, 6.285-287)
I understand the Jesus movement beginning as one of this kind of Jewish liberation movements. Jesus' preaching of the "kingdom" of God over and against the empire of Rome offered the people a way to return to and restore fidelity to the Torah, centered in love of God and love of neighbor.
Our reading this week also heavily depends on Mark 13, perhaps as a way to harmonize Mark with the tensions between Jewish and Gentile Jesus followers and between Christianity and Judaism that are expanded later, in the book of Acts. Through these stories, anti-Jewishness could grow into these passages and interpretations of those passages that have been deeply destructive to our Jewish neighbors and friends.
Because of these passages, some Christians have long falsely taught that the Temple was destroyed because the Jews "rejected" Jesus. I would instead argue that what we see in the Jesus story is classism playing out. Many Jewish people embraced Jesus' liberation movement, but the upper classes in the story, threatened by Jesus and his teaching, were the only ones who played any part in turning him over to Rome to be crucified.
If there was an intrinsic cause that produced Rome's destruction of the Temple, it was Rome's economic exploitation of Jewish people that lead to the peasant uprising, which in turn led to the Jewish Roman War and a series of Roman destructions of Jerusalem and its temple, one of the worst of which was in 70 C.E.
Many scholars are convinced that this week's reading was written well after this destruction took place, and that the author was trying to makes sense out of a world without a Jewish Temple. I agree.
So is there anything life-giving that we can glean from this week's reading today?
I believe so. This passage in the lectionary gives us the opportunity to talk about the harm that some interpretations of Christianity's sacred texts have led to. Supersessionism, the theological theory that Christians have "replaced" Jews, is only one example. The passage invites us to confess where we have sinned against our fellow members of our human family. And it gives us an opportunity to affirm or re-affirm our need to choose more life-giving actions today.
Through this week's reading, we can do all of this in the context of honestly naming the harms against Jewish people that Christians are responsible for. Which other people have we as Christians harmed? What do we need to practice openly naming and making repair for today?
Some expressions of Christianity have a long history of not being life-giving to women, both cis and trans, and of all races, cultures, and ethnicities.
I think also of how Christians used the Bible to deal death to Indigenous people during colonialism. I think of Black people and how White Christians used the Bible to support slavery. In so many expressions of Christianity today, people still engage in harmful misunderstandings and actions toward the LGBTQ community. We could go on and on.
I realize this week's passage may open up uncomfortable conversations for many Christians. But these kinds of discussions are necessary nonetheless. I want to encourage us to lean into these discussions rather than averting our gaze and perpetuating a culture of denial, a false estimation of ourselves, and further death-dealing. I want us to instead practice our faith in life-giving ways.
Admitting guilt for past harms is only a step toward more life-giving actions, and it is not enough. We must also actually take life-giving actions today and in the future.
We need to be honest about the harm we have done in the past, and we also need to do the hard work of practicing more life-giving ways to follow Jesus today. As things in our society change, we can also make changes as part of the transformations every generation of Jesus followers must make to align the story we hold so dear and our faith with the teachings of the Central Figure in our faith who reaffirmed those two Jewish central pillars:
"The most important commandment," answered Jesus, "is this: 'Hear, O Israel: The Lord our God, the Lord is one. Love the Lord your God with all your heart and with all your soul and with all your mind and with all your strength.' The second is this: 'Love your neighbor as yourself.' There is no commandment greater than these." (Mark 12:29-31)
We'll lose nothing life-giving with honesty about where we have deeply messed up in the past. As difficult as it may be at times, that is what faithfulness to the teachings of that Jewish prophet of the poor from Galilee requires from us.
HeartGroup Application
1. Share something that spoke to you from this week's eSight/Podcast episode with your HeartGroup.
2. Again, we need to be honest about the harm we have done in the past. What are ways that you perceive we can lean more deeply into and practice this honesty? Discuss with your group.
3. What can you do this week, big or small, to continue setting in motion the work of shaping our world into a safe, compassionate, just home for everyone?
Thanks for checking in with us, today.
You can find Renewed Heart Ministries on Twitter, Facebook and Instagram. If you haven't done so already, please follow us on your chosen social media platforms for our daily posts. Also, if you enjoy listening to the Jesus for Everyone podcast, please like and subscribe to the JFE podcast through the podcast platform you use and consider taking some time to give us a review. This helps others find our podcast as well.
And if you'd like to reach out to us through email, you can reach us at info@renewedheartministries.com.
Right where you are, keep living in love, choosing compassion, taking action, and working toward justice.
I love each of you dearly,
I'll see you next week
---
Begin each day being inspired toward love, compassion, action, and justice.
Go to renewedheartministries.com and click "sign up."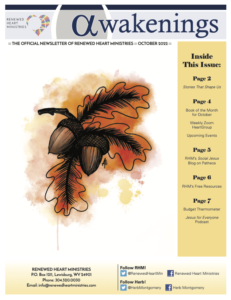 Free Sign-Up at:
https://renewedheartministries.com/Contact-forms?form=EmailSignUp
or Follow us on Facebook, Twitter and Instagram.