#GivingTuesday is Tomorrow!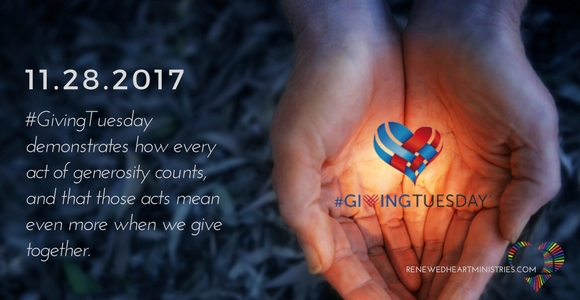 #GivingTuesday is less than 24 hours away, and Renewed Heart Ministries is excited to participate alongside 45,000 other nonprofits from 71 different countries this year on what is quickly becoming the most important day for nonprofits around the world.
Help us reach our year end goals this year with these three easy steps:
Tomorrow, on November 28th:
1. Go to RenewedHeartMinistries.com
2. Click "Donate"
3. Make a contribution.
It's that simple.
As we wrote about last week, if you donate through RHM's Facebook Page, Facebook and the Bill & Melinda Gates Foundation will be generously matching your contributions starting at 8:00 a.m. eastern time. You can make your contribution go twice as far by going to RHM's Facebook page and clicking "Donate" at the top right underneath our cover photo. And Facebook has waived all fees for contributions on tomorrow only as well.
The address for our Facebook page is: https://www.facebook.com/RenewedHeartMinistries/
#GivingTuesday demonstrates how every act of generosity counts, and that those acts mean even more when we give together.
Help us make this #GivingTuesday the best one yet.
Thank you in advance from myself and whole RHM team,
With much love and gratitude,
Happy Holidays,
Herb Montgomery
Director
Renewed Heart Ministries