Matching Funds on Donations to RHM this #GivingTuesday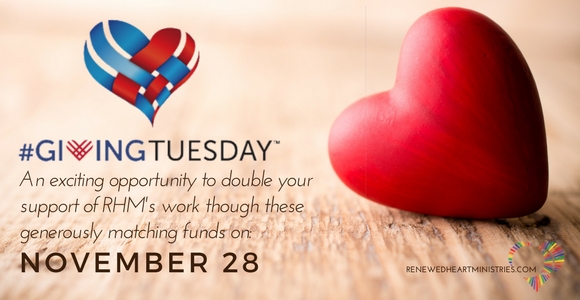 Hello all!
We are just one week away from RHM's participation in this year's #GivingTuesday and I have some great news!
Last week we shared why #GivingTuesday is quickly becoming one of the most important days of the year for nonprofits around the globe.
This year, again on #GivingTuesday, Facebook and the Bill & Melinda Gates Foundation will be matching up to $2 million of funds raised for US nonprofits through Facebook's charitable giving tools. What that means is that next Tuesday on November 28th you can go to Renewed Heart Ministries Facebook page at
 https://www.facebook.com/RenewedHeartMinistries/,
Click the "Donate" button on our Facebook page and make your gift go TWICE as far!
Donations will be matched up to $50,000 per nonprofit.
And if you start a fundraiser on your own Facebook page for Renewed Heart Ministries, those donations will also be matched with a max of $1,000 per fundraiser.
The donation matching will begin November, 28th at 8AM EST (5AM PST) and run until the $2 million in matching funds run out.
Also Facebook is waiving all fees for donations to nonprofits on #GivingTuesday.
Don't miss out on this incredible fundraising opportunity to double your support of our work!
Every act of generosity counts, and they mean even more when we give together.
Thank you to each of you in advance.
With much love and gratitude,
Herb Montgomery