Finding Jesus in Glendale, CA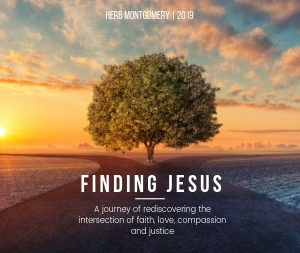 March 2, 2019
by Herb Montgomery 
"A journey of rediscovering the intersection of faith, love, compassion and justice."
A decade ago now, a book manuscript I had written titled Finding the Father was picked up and published. It chronicled the curious journey of my surprising discovery of the man who is my father. Using my personal story as a foundation, Finding the Father then went on to straight forwardly challenge many of the common assumptions many Christians make about what we refer to when we use the term "God" or "our heavenly Father."
Five years after Finding the Father, I would embark on another journey. This one unexpected and unplanned for. This new journey would lead to deep and transformational discoveries for my own life, an earnest crisis in my own faith, and an experience I refer to as Finding Jesus.  
Two weekends ago, I had the immense privilege of sharing the story of my journey of rediscovering the intersection of faith, love, compassion and justice through the Jesus story with the congregation at Glendale City Church.
I shared three presentations which were warmly received. This was my third time visiting and sharing with this group. One of the things I love about this church is that they aren't afraid to be honest about their own journey toward love, justice and inclusion.  This is a church whose administration "get's it" and they desire to find new ways of putting into practice Jesus' vision for human society where the presently marginalized are not only included but centered. As Dr. Emilie Townes states in Journey to Liberation: The Legacy of Womanist Theology, "When you start with an understanding that God loves everyone, justice isn't very far behind."
This first presentation of this new weekend series can be found at Finding Jesus. The recordings of remaining presentations will be added soon. Finding Jesus is also the title of a new book manuscript I've written that chronicles my new journey.  Our hope here at RHM is that this new book will be available later this year. We'll keep you posted.
To all of those who sustain our work through their ongoing support, I want to take this opportunity to thank you. Without your generous support we could not continue to engage faith communities like this one and help to inspire people of faith and/or goodwill in the work of shaping our societies into safe, just and compassionate places for all. This is gospel work. And your partnership with us makes it possible.
If you would like to become a partner with us in this work, you can do so by going to renewedheartministries.com and clicking "Donate."
Or by mailing your support to:
Renewed Heart Ministries
PO Box 1211
Lewisburg, WV 24901
And don't forget to sign up for our free educational resources, too. 
Another world is possible.  
And from all of us here at RHM, thank you for your support.