This Weekend in Glendale, California!
by Herb Montgomery | February 12, 2019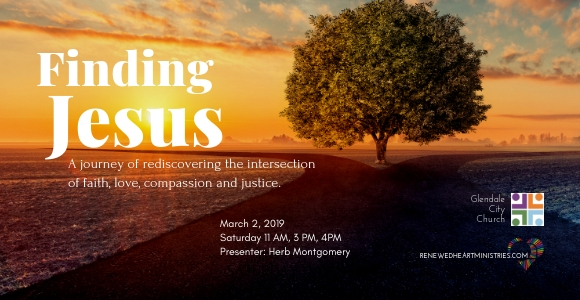 A decade ago now, a book I had written was picked up and published entitled Finding the Father. It chronicled the curious journey of my surprising discovery of the man who is my father.  Using my personal story as a foundation, Finding the Father then goes on to straight forwardly challenge many of the common assumptions many Christians make about what we refer to when we use the term "God" or "our heavenly Father."
Five years after Finding the Father was published, I would embark on another journey. This one unexpected and unplanned for. This new journey would lead to deep and transformational discoveries for my own life, an earnest crisis in my own faith, and an experience I refer to as Finding Jesus.  (This is also the title of my upcoming book that chronicles this new journey.)
This coming Saturday, on March 2nd in Glendale, CA, I will be sharing this story and the discoveries regarding the Jesus we read about in the gospels that this experience has taught me.  If you're in the area, I'd love to see there.
Finding Jesus
A journey of rediscovering the intersection of faith, love, compassion and justice.
March 2, 2019
11 AM, 3 PM, 4 PM
Glendale City Church
610 E. California Ave
Glendale, CA 91206
Phone: 818.244.7241