F.U.E.L. in Philadelphia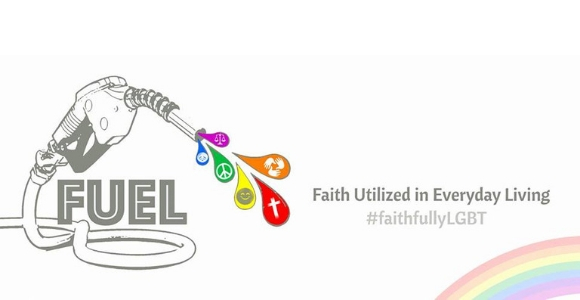 January 29, 2019
by Herb Montgomery
This past weekend I had the pleasure of attending the third anniversary of a Christian LGBTQ fellowship in Philadelphia named F.U.E.L. I've written about this group before here. I attended their very first gathering and I've been at both of their anniversaries since.
One of the ministries RHM participates in is helping LGBTQ Christians and former Christians recover from religious abuse they have suffered from Christianity. As followers of Jesus, we feel this is important for multiple reasons. First and foremost is that those who identify as LGBTQ are human. They are our siblings to whom certain sectors of Christianity have done great harm. Jesus modeled being a source of healing in our world. There are so many false narratives and brazen lies spoken about LGBTQ folks from Christians, simply out of fear of what they do not understand. We want to be a resource in aiding their journey toward healing from the religious abuse they have suffered at the hands of Christians.
Another reason is Jesus' preferential option for the marginalized in his own society. Jesus modeled an inclusion and affirmation of those who were being wrongly labeled as "sinners" and pushed to the edges of society as a result. I want to be very careful here. The label of "sinner" has a long history of abuse. In Jesus' era, the label of "sinner" was used by those in positions of power and privilege as a basis for disenfranchisement and discrimination of others.  Whether one subscribed to the more strict interpretations of Torah by the Sadducees or the more liberal and generous interpretations by the Pharisees depended on how difficult or easy it was for someone to avoid the label of "sinner." There were those, also, who were vulnerable regardless of which school of interpretation was used. In the gospels, Jesus abandoned this system of marginalization entirely. He envisioned, instead, a society shaped in the form of an inclusive shared table, with the practice of a preferential option for those most vulnerable to marginalization. Today we believe Christians are wrongfully labelling our friends, family and neighbors who identify as LGBTQ, and we have a strong example set in the Jesus story of affirmation and inclusion instead.
Jesus is also characterized in the gospels as a teacher. Therefore, in addition to the above, we at RHM will continue educating followers of Jesus, especially in regards to the role Christianity has played in harming the LGBTQ community as well as other communities who have also been marginalized and harmed by us.
I was so encouraged by fellowshipping with this group of LGBTQ Christians again. They have been meeting weekly now for three years. They were born out of experiences of being excluded by their various previous faith communities.  As they looked back over the last three years, story after story was told of those for whom F.U.E.L. has been a source of healing, learning, and life.  
When it came time for me to speak, I shared an updated version of a presentation I had given previously in Asheville, North Carolina entitled Jesus' Preferential Option for the Marginalized: LGBTQIA Identities and the Image of God. The response was overwhelming. One person shared how Renewed Heart Ministries had been such an integral part of their journey out of self hatred to where they were today.  Another shared how deeply they needed what was shared today as they were still in the midst of processing the intersection of their identity and their faith.  Another shared how RHM had played a central role in their ability to continue in their faith and still live authentically in their truth about themselves. A local minister from the Lutheran Church was also present who expressed gratitude and genuine sense of affirmation as they were also about to share similar insights with their congregation this past weekend as well. As I sat there and listened I thought back to RHM's evolution into an affirming and welcoming ministry. I thought of the heavy toll it took as we lost both friends and support as a result. I thought of the seminar cancellations we had endured. And then I was struck with the overwhelming conclusion as I sat there listening to the affirmation of those around the room—  it's all been worth it. The beauty of those in that room at that moment and the stories of their journey made our journey as a ministry worth every moment. 
For those of you who support Renewed Heart Ministries, I simply cannot thank you enough. I wish you could have been beside me to experience the testimonies of how our work here at RHM had been such a source of hope and healing to those around the room.  As I listened to each person share, I also thought of you and how much I value you in enabling us to continue doing what we do. We here at RHM could not exist without your support. Together we are making a difference. Together we are touching lives both in the here and now and for eternity. So from each of us here, thank you. 
And thank you to those of you at F.U.E.L., too! I drove away with so much hope for the future from my time spent with you.  
Another world is possible. 
In fact, it's not only possible, we see it's beginning in communities like yours.