RHM's 500:25:1 Project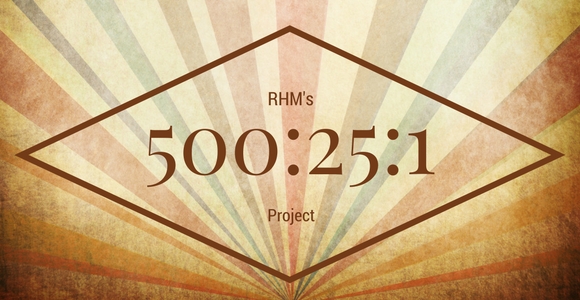 A new way to participate in the RHM community
We just held our fall board meeting here at RHM, and we are super excited as we consider potential locations for our new self-hosted events in 2018.  As we ponder the things that are transpiring around the U.S. presently, we are impressed again of the need for Renewed Heart Ministries' work. RHM edifies and educates. Our focus is on helping Christians discover the intersection of their own faith in a God of love and the work of social justice. We believe that Christians in the west are especially in need of rediscovering the teachings of Jesus and how those teachings implore us stand in solidarity with those being oppressed, and to work along side those communities toward systemic change. The Hebrew prophets did not call for charity. They called for justice. They did not call for temporary, bandaid solutions, but for systemic change. As Emilie Townes so eloquently states, "When you begin with the belief the God loves everyone, justice isn't very far behind." We help people discover how to concretely impact the suffering in our world.
Beginning this past August, we started taking our educational weekends on the road in a new, self-hosted format.  You can read about our first event here.  After one of our more recent events in Phoenix, an attendee wrote to us:
"I heard Herb speak today for the first time and was deeply moved by his presentation. I came away understanding The Lord's Prayer from a new perspective and committed to become more involved in social justice. Thank you for your honesty and ability to shed new light on basic truths."
Our 500:25:1 Project
This fall will determine how much we are able to do in 2018. We are asking for 500 people to support these new events with a donation of $25 or more each month—for one year! With your support, we'll be able to work where people can be challenged, changed, inspired to make a difference in communities we wouldn't typically be able to reach. These events will continue to be free of charge. Freely we have received, and we want to continue giving freely too. For RHM, these new self-hosted events will cost us more than our traditional seminars. Instead of relying on organizations to commit to covering our travel expenses and host us, with our new self-hosted weekends RHM will have to cover travel and space rental costs ourselves. This is where you, as one of our 500 people, will be able to help. We've already had a tremendous response to 500:25:1 project. We are just over 1/5 of the way to our goal of 500 people. Thank you to each of you who have already signed up!
If you have not yet done so, can we count on you to be one of 500 folks who partner with us for 500:25:1?
You can sign up to partner with us in this new venture at: http://bit.ly/RHM500Support
Also, if you'd like to have RHM come to your community, you can also request a weekend of teaching in your area TOO! Let us know if you'd like RHM to host a weekend in your town and we'll add it to the calendar!
Thank you so much for helping us to take this next step!
Sign up online at: http://bit.ly/RHM500Support
Or you can mail your support to:
Renewed Heart Ministries
PO Box 1211
Lewisburg, WV 24901
With much love and gratitude,
Herb Montgomery
Director | Author | Speaker
Renewed Heart Ministries
"Open your mouth for the voiceless, for the rights of all who are destitute. Open your mouth, judge justly, defend the rights of the poor and needy." (Proverb 31:8-9)
"Whoever oppresses the poor shows contempt for their Maker, but whoever is kind to the needy honors God." (Proverbs 14.31)
"One who oppresses the poor to increase his wealth and one who gives gifts to the rich—both come to poverty." (Proverbs 22.16)
"Cursed is anyone who withholds justice from the foreigner, the fatherless or the widow." Then all the people shall say, "Amen!"  (Deuteronomy 27:19)
"Do not deprive the foreigner or the fatherless of justice, or take the cloak of the widow as a pledge." (Deuteronomy 24:17)
"God defends the cause of the fatherless and the widow, and loves the foreigner residing among you, giving them food and clothing." (Deuteronomy 10:18)
"Whoever is kind to the poor lends to the LORD, and will be repaid in full."  (Proverbs 19.17)
"How terrible it will be for those who make unfair laws, and those who write laws that make life hard for people." (Isaiah 10:1)
"Learn to do good; seek justice, rescue the oppressed, defend the orphan, plead for the widow." (Isaiah 1:17)
"If anyone has material possessions and sees a brother or sister in need but has no pity on them, how can the love of God be in that person?" (1 John 3.17)
"The King will answer and say to them, 'Truly I say to you, to the extent that you did it to one of these brothers of Mine, even the least of them, you did it to Me.'" (Matthew 25:40)
"Pure and undefiled religion in the sight of our God and Father is this: to visit orphans and widows in their distress, and to keep oneself unstained by the world."   (James 1:27)
"The second is like it, 'YOU SHALL LOVE YOUR NEIGHBOR AS YOURSELF.'" (Matthew 22:39)
"So whatever you wish that others would do to you, do also to them, for this is the Law and the Prophets."  (Matthew 7:12)