Our First 500:25:1 Event!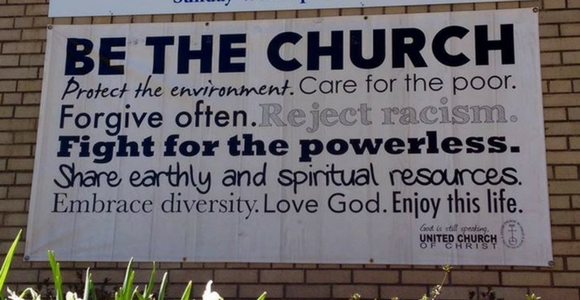 The Sayings of Jesus
Asheville, NC
August 4-5, 2017
The Intersection of Fatih and Social Justice
What a first century, Jewish prophet of the poor might offer us today in our work of survival, resistance, liberation, restoration and transformation.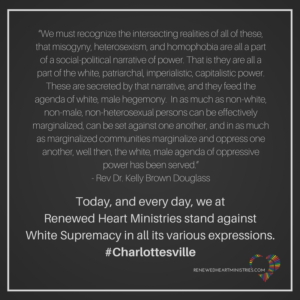 This past weekend in the U.S. we witnessed the grotesque display of racism and white supremacy/nationalism in Charlottesville, Va.  We at Renewed Heart Ministries reaffirm our commitment of solidarity with Black, Latinx, Native, Arab, Asian, Jewish, Muslim, immigrant communities, women, our LGBTQ siblings, and to the organizations of the working class who are engaging the work of opposition to the white, male agenda of power.  Rev. Dr. Kelly Brown Douglas rightly reminds us, "We must recognize the intersecting realities of all of these. That misogyny, heterosexism, and homophobia are all a part of a social political narrative of power. That is they are all a part of the white, patriarchal, imperialistic, capitalistic power. Misogyny, heterosexism, and homophobia are secreted by that narrative, and they feed the agenda of white, male hegemony.  In as much as non-white, non-male, non-heterosexual persons can be effectively marginalized, can be set against one another, and in as much as marginalized communities marginalize and oppress one another, well then. The white, male agenda of oppressive power has been served." (Eradicating the Misogyny, Heterosexism, and Homophobia). We at Renewed Heart Ministries affirm the work of those who stood in a position of opposition and resistance in Charlottesville, VA this past weekend. And we will continue to do our part in participating in the work of making our world a safe, just, compassionate home for us all.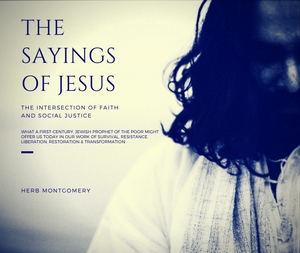 Two weekends ago, I was in Asheville, North Carolina at the First Congregational UCC church in Asheville. Renewed Heart Ministries rented space there to host our weekend event titled the Sayings of Jesus: The intersection of Faith and Social Justice.
It was such a pleasure to see so many of my old friends again, and to make some new ones, as well. We had a wonderful time together as we considered in the gospels, how, rather than fixating purely on pacifying guilt or working to ensure people can go to heaven when they die, we see a Jewish Jesus working to bring love, compassion, and justice into the lives of people here and now. Today in our society, we are plagued by the sickness of racism, misogyny, elitism, heterosexism, transphobia, and more. Jesus as the great healer and justice worker offers us not a difficult path to post mortem bliss, but a risky way of being a source of life, healing and liberation in our world today.  More than just privatized peace-of-mind, Jesus offered a distributively just path towards peace on earth.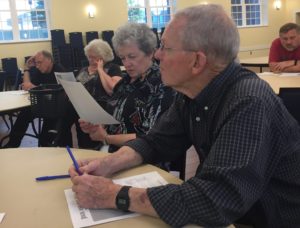 This was the first weekend event of our new 500:25.1 project.  If you're not familiar with our new project, you can find out more at http://bit.ly/RHM500251. There you can find out why we have begun these new events, how you can support these events, and best of all, how you can have us come to your area, too!
This new series, The Sayings of Jesus, will be a continuing series to which we will be adding presentations this fall, as we go along. Presently we have posted the three presentations I gave in Asheville on our website at http://bit.ly/SayingOfJesus.  You can listen to them there. They are: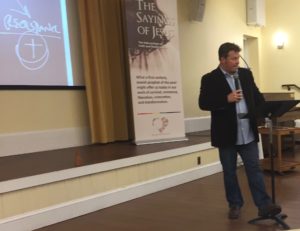 Jesus from the Edges
The relevance of social location and learning how to listen to the voices, stories and perspectives of those on the undersides and margins of our society, including the poor, and also the virtue found in the voices of women, people of color, and our LGBTQ siblings.
Featured Text:
"Looking at his disciples, he said: 'Blessed are you who are poor, for yours is the kingdom of God.'" Luke 6.20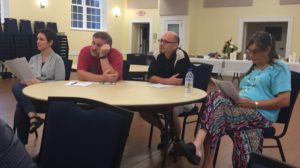 Jesus and Nonviolence
Far from being a doormat, Jesus's teachings on nonviolent resistance offer us creative and tangible examples of how to reclaim our own humanity, to affirm ourselves when our self is already being sacrificed, as we resist dehumanization of both oppressed and oppressors.
Featured Text:
"You have heard that it was said, 'Eye for eye, and tooth for tooth.'  But I tell you, do not resist an evil person. If anyone slaps you on the right cheek, turn to them the othercheek also. And if anyone wants to sue you and take your shirt, hand over your coat as well. If anyone forces you to go one mile, go with them two miles." Matthew 5.38-41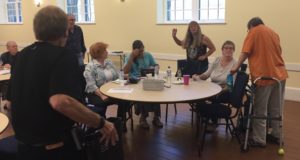 Jesus and the Way
How the resurrection at end of the Jesus story gave rebirth to the hopes of the dispossessed and marginalized in the first century, and inspired them to the actions of righting their relationship between themselves and their self, between themselves and others, between themselves and God as taught in the sermon on the mount, in the golden rule and in the teaching to show love above all else.
Featured Text:
"In their fright the women bowed down with their faces to the ground, but the men said to them, 'Why do you look for the living among the dead? He is not here; he has risen!'" Luke 24.5-6
We received a lot of fantastic feedback from those who attended this first event.  If you'd like to support these events please go to:
http://bit.ly/RHM500Support
Every amount helps.
Thank you to all who attended. We are already looking at the possibility of doing this next fall again in the Asheville area.
And to those who are supporting these events, I just can't thank you enough.  Your support and partnership with Renewed Heart Ministries makes all of this possible. Without you we could not continue to exist, and be a positive voice for change in our world today. Together we are making a difference.
Remember, we are in this together. You are not alone. We are connected. We belong to each other. We are part of one another. We not only share each other's fate, we are each other's fate. Wherever this finds you this week, keep living in love, keep following Jesus, and keep engaging, actively doing your part to shape our world into a safe, compassionate, just home for us all. Till the only world that remains is a world where only love reigns.
I love each of you dearly.
Thank you.
Herb Montgomery
Director | Speaker | Author
Renewed Heart Ministries