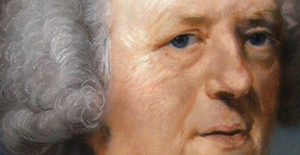 "The Spirit of the Lord is on me…to set the oppressed free." — Jesus (Luke 4.18)
I want to thank all of you for the overwhelmingly positive feedback I received from last week's eSight.
I also want to thank Keisha McKenzie for her timely correction of my comments regarding John Newton.  For those who missed our exchange on Facebook, let me share it here.
Keisha pointed out:
"John Newton didn't turn away from slaving 'immediately' after his conversion. He didn't confess support for abolition for another 40 years. He converted to evangelicalism in 1748. Stopped active trading in 1754 (but only for medical reasons—he had a stroke). And he did not write against the slave trade until 1788. In other words, his private conversion had no impact on his relationship to the slave trade for 4 decades. Christianity switched no lights on for him regarding the relationship of white people and black people. For 40 years."
Keisha went on to say, "we don't have that kind of time to wait for the privately pious to become publicly concerned."
And I agree.
According to historians, John Newton gave up profanity, gambling, and drinking after converting to evangelical Christianity in 1748, but continued to work in the slave trade. Although Newton did say, "I cannot consider myself to have been a believer in the full sense of the word, until a considerable time afterwards" (Out of the Depths, John Newton), what I want you to notice is that while he saw nothing fundamentally wrong with the slave trade for another forty years, the first fruit of his Christian life was in giving up swearing, gambling, and alcohol.I do not fault Newton for this; I fault the type of Christianity that Newton became a convert of. Notice, Newton applied to be ordained as a priest in 1757; studied Greek, Hebrew, and Syriac; was a lay minister, and was finally accepted and ordained in 1764.  Mind you, he still would not publicly speak out against the slave trade, of which he had been a part, for another twenty years.
In 1788, Newton published Thoughts Upon the Slave Trade (almost a decade after Newton's famous hymn, Amazing Grace, was published).  He also apologized for "a confession, which … comes too late … It will always be a subject of humiliating reflection to me, that I was once an active instrument in a business at which my heart now shudders" (Bury the Chains, The British Struggle to Abolish Slavery, Adam Hochschild).
Newton later joined William Wilberforce in publicly working to end the African slave trade for the next twenty years. Still, he had privately been a "Christian" in the forty years leading up to this.
In last week's eSight, I made the statement, "If one is privately a follower of Jesus, then one should publicly be involved in ending systems of oppression and privilege". How does one privately become a Christian, publicly become a priest in the Church of England, but it takes twenty more years of being exposed to Jesus to publicly come out as believing that there is something fundamentally wrong with treating other humans as lesser beings or items of property?
I can speak somewhat to this, for this, to a degree, is my story too.
Before the night of August 27, 2010, when I encountered Jesus' Sermon on the Mount, I too was reading the Bible through the conventional, domestic lens that had been handed to me by white, evangelical, male-dominated, Christian culture. It was this encounter that marked a beginning for me. There I was, encountering Jesus' Sermon on the Mount alone in a hotel room after a radio interview on the second largest Christian radio station in America, and feeling as if I was meeting Jesus for the very first time. I want to be clear: This was only a beginning. I'm still discovering ways in which I think and interpret the world around me, ways of reading the Jesus story, that are the product of a conventional, domestic Christianity that serves the purposes of a privileged class rather than Jesus' New World.
This is a Christianity focused more on post-mortem destinations than on healing the world around us in the here and now. [1]
This is a Christianity intent on escaping this world, judging it as too far gone, instead of following a Jesus who is "making everything new".[2]
This is a Christianity that directs its devotees toward a private, personal, individual, "spiritual" relationship with God, while neglecting the need to be publicly engaged in confronting oppressive systems and cleansing the modern day "temples" of the privileged.
It's a Christianity that allows its adherents to live respectable, religiously pious lives, rather than be put on crosses or lynched for standing against the status quo.
It's a Christianity that doesn't need the resurrection, because it will never find itself upon a cross.
It will never find itself on trial before the economic (Herod), political (Pilate), or religious (Caiaphas) social structures of the day, in danger of an execution that is being demanded by the democratic majority (the crowd).[3]
It has very little to do with changing the world around us, for it is too preoccupied with "getting off this rock". It fails to embrace the life-giving truth found in an old Spiritual sung by African slaves under the yoke of their white owners, "I gotta home IN that rock".
In short, what I'm discovering daily is that I've been wrong. As I listen to the theological voices of those who read the Jesus narrative through the lens of oppression (whether it be in matters of race, economics, gender, or orientation), I'm discovering that I've been wrong. The Jesus I was worshiping was very different from the one I'm encountering and learning to follow in the stories of Matthew, Mark, Luke, and John. The Jesus I was worshipping conveniently never changed the world of the oppressors who hold their tickets to heaven in one hand and their oppression in the other. In the end, it will not be my white, evangelical background that I will be able to credit. Just like John Newton, this background did not "turn the lights on" for me.  When I one day take my place at the Creator's table, it will be the intersectional lenses of black stories, female voices, queer theologians, and the wisdom of those who walk in our societies without two pennies to rub together, that I will be able to thank for introducing this straight, white, cisgender male preacher to the Jesus of the Jesus narrative.
I still believe that a New World began in the first century.
I still believe that those to whom the announcement of this New World was entrusted allowed themselves to experience a radical change.
To this day, many of their progeny are still unaware that their course has even changed.
Others, while feeling strangely out of place in their own spiritual communities, sense that something has gone wrong and spend their lives trying to rediscover what has been lost.
Others simply feel that it's all too far gone.
Yet, undeterred, the Spirit has continued to speak in every generation. The New World grows—regardless of creed, race, gender, or orientation—in those who were willing to listen to its whispering.
This holiday season, it strikes me that although much of what I'm discovering in the Jesus narrative is revolutionary to me personally, it is a narrative with a long history among this world's oppressed. I am discovering a path that not only stretches far ahead of me, but far behind me as well (this is not a path we are called to blaze). This is a pathway that reaches all the way back to the Gospels and has woven its way, not through Imperial Christendom, but along its societal fringes instead. It is also a path that we (especially white Christian males like myself) are being invited to step onto today, so that in humility, we may be taught by those already on this path what it has always, truly meant to follow a liberating Jesus: a Jesus who has been standing all along in solidarity with those at the bottom of our societies.[4]
Happy holidays to each of you this week.
Till the only world that remains is a world where Love reigns;
I'll see you next week.
1. Luke 9:2—"And he sent them out to proclaim the kingdom of God and to heal the sick."
2. Rev. 21:5—"He who was seated on the throne said, 'I am making everything new!'"
3. Mark 15.15—Wanting to satisfy the crowd, Pilate released Barabbas to them. He had Jesus flogged, and handed him over to be crucified.
4. Luke 6:20-26—"Looking at his disciples, he said: 'Blessed are you who are poor, for yours is the kingdom of God. Blessed are you who hunger now, for you will be satisfied. Blessed are you who weep now, for you will laugh. Blessed are you when people hate you, when they exclude you and insult you and reject your name as evil, because of the Son of Man. Rejoice in that day and leap for joy, because great is your reward in heaven. For that is how their ancestors treated the prophets. But woe to you who are rich, for you have already received your comfort. Woe to you who are well fed now, for you will go hungry. Woe to you who laugh now, for you will mourn and weep. Woe to you when everyone speaks well of you, for that is how their ancestors treated the false prophets.'"