by Herb Montgomery | December 14, 2018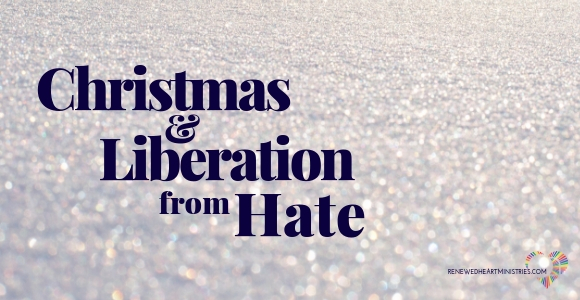 ---
"Beauty is about how different shapes, colors, lines, or objects are arranged together. Humanity is varied and richly diverse. We can hold our differences in relationships that are beautiful or in ways that are destructive. We have a choice . . . Let's spend this holiday season choosing a world where one day, regardless of race, gender, class, creed, orientation, identification or expression, all may positively affirm they have been saved 'from our enemies and from the hand of all who hate us.'"
---
"Salvation from our enemies and from the hand of all who hate us." (Luke 1:71)
This month for RHM's annual reading course, we have chosen Saving Paradise: How Christianity Traded Love of This World for Crucifixion and Empire by Rita Brock and Rebecca Parker. In the section on the power that rituals of beauty have to shape us into more compassionate, safe and just people, the authors tell stories of witnessing the life-shaping quality of the Eucharist ritual. I was so moved when I read this passage that I want to share it with you this week.
"In the mid-1980s, a minister in a small Seattle church preached a sermon one Sunday morning about how Christians had once believed that the earth was flat, that women should be kept in their place, and that slavery was ordained by God. But they had been open to the leading of the Spirit of God. When that Spirit challenged traditional interpretations of the Bible, the church had been willing to listen to new ideas. Without openness to truth unfolding through the guidance of the Spirit, the church would become a relic and die. The minister said that the next truth facing the church was that homosexuality was not a sin, not wrong, but one of the many ways human beings loved each other. It was a gift, therefore, of God.
The elder assigned to give the first prayer at the Eucharist table that Sunday was a middle-age woman named Violet, who dyed her hair jet black and was very careful and conscientious about preparing for her church duties. She did not like surprises and left nothing to chance. She always wrote out her prayers ahead of time. As the minister preached, Violet's face grew angrier and angrier. After the sermon, the congregation sat in shocked silence. Finally, the organist played the scheduled music, during which the elders came to the table. People stood and weakly warbled a hymn. When Violet rose for the hymn, it was not clear whether she would walk up to the chancel or out the rear door.
On the last verse, Violet strode angrily to the altar, a ball of paper in her right fist. As all sat and bowed their heads, she uncrumpled the paper and sputtered her prayer through clenched teeth, "Our heavenly Father, we come before your table this morning to give thanks for the gift of life you have given to us. In partaking of this bread, we are grateful for all it represents, both earthly and spiritual nourishment given to us. We affirm that no one is stranger or alien to you, that all are welcome. Just as you welcome everyone to this table, we too must welcome all who come in faith. For this food of life and for your presence with us at this table, we give eternal thanks. Amen." After the elements were served and the elders returned to their seats, Violet did not sit down. She picked up her purse and coat and walked out the door.
Two months later, the church board responded to the controversies by voting to affirm the minister's position. Those who wanted the minister fired left the church, and for the next few months, the church struggled to survive. Not all who remained were comfortable with what the minister had preached, but they chose to stay in their church and grapple with their faith. Slowly, the church grew as gays, lesbians, bisexuals, and parents of gays and lesbians found a welcoming community. The congregation took on the character of a community of people who had stayed at the table with each other, people who were committed to being together in their differences. A few months after the board vote, Violet returned to the church. When the service was over, she stopped on her way out to tell the minister that she had wrestled for a long time with her faith. She had finally decided that what she had written on that wad of paper and prayed to God over the Communion table was what she really believed. She did not understand homosexuals and was uncomfortable with them, but her faith required her to welcome them. As she settled back into church life, she began to ask for prayers for her alcoholic son, something she had never done before. She found herself supported by her pastor and others in the church. She seemed less tense and more open, as if something deep within her had relaxed a little. Members who had previously not much cared for Violet began to reach out to her and added her son to their prayer lists. Other members began to share their personal struggles with depression, fear, addiction, and failure. The community slowly knitted itself together through bonds of honesty about their lives and their willingness to care about each other as members of one diverse community. They became a welcoming community, gathered around the Eucharist table as members of one another. They embraced, with respect and honesty, the disagreements in their midst and their efforts to understand each other. In their willingness to be together in struggle, they achieved a greater openness to the diversity of the world in its heartbreaks and its goodness."
(Brock and Parker, Saving Paradise: How Christianity Traded Love of This World for Crucifixion and Empire, p.156-158)
As I'm re-reading portions of this volume, I'm also reading through the Christmas narratives in the gospels. The same morning that I read the story above, I was also reading the prayer of Zechariah, John the Baptist's father, as written in Luke. I was struck by the juxtaposition of his prayer with the story in Saving Paradise. See if you catch the connections too:
"Praise be to the Lord, the God of Israel, because he has come to his people and redeemed them. He has raised up a horn of salvation for us in the house of his servant David (as he said through his holy prophets of long ago), salvation from our enemies and from the hand of all who hate us—to show mercy to our ancestors and to remember his holy covenant, the oath he swore to our father Abraham: to rescue us from the hand of our enemies, and to enable us to serve him without fear in holiness and righteousness before him all our days. And you, my child, will be called a prophet of the Most High; for you will go on before the Lord to prepare the way for him, to give his people the knowledge of salvation through the forgiveness of their sins, because of the tender mercy of our God, by which the rising sun will come to us from heaven to shine on those living in darkness and in the shadow of death, to guide our feet into the path of peace." (Luke 1:68-79, emphasis added.)
This passage speaks of redemption and salvation in terms of liberation. There is nothing in this prayer of being thankful for being saved from God or devils. Rather, this is a prayer of gratitude for humans being redeemed, saved, or liberated from other humans "who hate us."
The Jewish people in Zechariah's time were a subjugated and deeply marginalized people within the Roman empire. Their great hope was that their social injustice, exploitation of the poor, denial of justice toward the fatherless and widows, and mistreatment of the foreigners—all which many believe they were being punished for—would be forgiven and that they would be liberated from the empire oppressing them.
This is a very different vision of forgiveness and redemption than many Christians have today. Today forgiveness is typically privatized and about one's individual, personal sins. Yet in Zechariah's prayer, and in Violet's prayer, we encounter the idea of a collective, shared forgiveness for shared, social sins. This echoes back to the collective forgiveness the Hebrew prophets spoke about. Here are a few examples from the prophet Jeremiah:
"Go up and down the streets of Jerusalem, look around and consider, search through her squares.If you can find but one person who deals honestly and seeks the truth, I will forgive this city." (Jeremiah 5:1, emphasis added.)
In Jeremiah's opinion, this honesty and justice would not be found and empires would subjugate the nation. But he also saw a future hope: one day liberation would come.
"No longer will they teach their neighbor, or say to one another, 'Know the LORD,' because they will all know me, from the least of them to the greatest," declares the LORD. "For I will forgive their wickedness and will remember their sins no more." (Jeremiah 31:34, emphasis added.)
"I will cleanse them from all the sin they have committed against me and will forgive all their sins of rebellion against me." (Jeremiah 33:8, emphasis added.)
"Perhaps when the people of Judah hear about every disaster I plan to inflict on them, they will turn from their wicked ways; then I will forgive their wickedness and their sin." (Jeremiah 36:3, emphasis added.)
"'In those days, at that time,' declares the LORD, 'search will be made for Israel's guilt, but there will be none, and for the sins of Judah, but none will be found, for I will forgive the remnant I spare.'" (Jeremiah 50:20, emphasis added.)
You'll find this hope for collective forgiveness and liberation in the other Hebrew prophets' writings as well.
In Jesus' teachings, the gospel authors perceived a set of values, ethics, and principles that had the potential to totally reshape human community, deconstructing societal domination and subjugation and replacing those harmful social forms for everyone with more egalitarian and distributively just forms of relating to one another. They saw in Jesus a path toward that liberation, even for those being marginalized in Jewish society. (see Matthew 11:19)
The gospel authors believed that not only would Jesus' ethical teachings guide his fellow Jewish people's feet into the way of peace, but that they could also guide gentile people's feet into the way of peace as well. We could learn to stop fearing and hating one another for our differences. We would stop dominating and being subjugated by one another, and follow a path of love, compassion, mutual aid, resource sharing, wealth redistribution and taking care of one another instead. Jesus' vision was one where everyone had enough and no one had too much while someone else went without. It was an inclusive vision of paradise on earth as it is in heaven and our world as a safe home for all.
As we read in the book of Isaiah,
"The fruit of that righteousness [or distributive justice] will be peace; its effect will be quietness and confidence forever." (Isaiah 32:7)
Today we still need saving from hate. We need saving from those who hate us and/or we need saving from hating someone else. Hatred can manifest as misogyny, racism, or classism. In the story I retold earlier, Violet was saved from her hatred of those born with a different sexual orientation than she was. Hatred can also manifest itself in hatred or fear of someone who practices another religion. (All religions nonetheless include a strand of adherents who seek to shape a nonviolent, compassionate, distributively just world.) And we are presently witnessing first-hand here in America our desperate need to be saved from some people's deep hatred of "foreigners."
Beauty is about how different shapes, colors, lines, or objects are arranged together.
Humanity is varied and richly diverse. We can hold our differences in relationships that are beautiful or in ways that are destructive. We have a choice.
I belong to a tradition that celebrates the holiday of Christmas each December. Whichever holiday your tradition celebrates this time of year, celebrate this festive season by participating in some kind of work to end the forms of hatred that we still need to be saved from.
For those who do celebrate Christmas, do so in the spirit of the Christmas carol O Holy Night, whichin the John Sullivan Dwight version reads,
"Truly He taught us to love one another;
His law is love and His gospel is peace.
Chains shall He break for the slave is our brother;
And in His name all oppression shall cease"

Another world is possible.
Let's spend this holiday season choosing a world where one day, regardless of race, gender, class, creed, orientation, identification or expression, all may positively affirm they have been saved "from our enemies and from the hand of all who hate us." (Luke 1:71)
Happy Holidays to each of you.
A Special Request
This is the time of year when most nonprofits receive the majority of their annual contributions for the year.
Renewed Heart Ministries has been in existence for over a decade now, but over the last four years we have gone through transition. We have become a "welcoming and affirming" ministry. We have also become more intentional and passionate about the intersection of the teachings of Jesus in the gospels and our work today of love, compassion, action and justice in our larger society. It's been a time of rebirth and rebuilding here at RHM, and we believe we are a much healthier ministry with a much healthier focus, as a result.
Yet these changes have not been without deep loss. We're asking you to help us avoid a budget shortfall for 2018 and be able to plan for 2019. We have many projects in the works for next year that we would love to see come to fruition. We would love to be able to expand both our online presence, as well as the number of free, teaching seminars we conduct across the nation. An initial edit has also been completed for my upcoming book that will be a sequel to Finding the Father. The title for this new, second book will be Finding Jesus. We would love to see this manuscript be able to go through its final stages and go on to publication this next year.
As many of you already know, to help RHM this year, a very generous donor has pledged to match all donations to this ministry for both this past November and this present December.
If you have been blessed this year by RHM's work, take a moment this holiday season and support our work.
You can do so by going to our website at renewedheartministries.com and clicking "donate" or you can mail your contribution to:
Renewed Heart Ministries
P.O. Box 1211
Lewisburg, WV 24901
If you would like your donation to be matched just make sure it's postmarked by December 31.
Help us continue to grow this ministry in 2019 as we, together, follow Jesus more deeply in the healing work of love, compassion, action and justice for the marginalized.
Thank you in advance.
I love each of you dearly.
I'll see you next week.