Herb Montgomery | December 7, 2018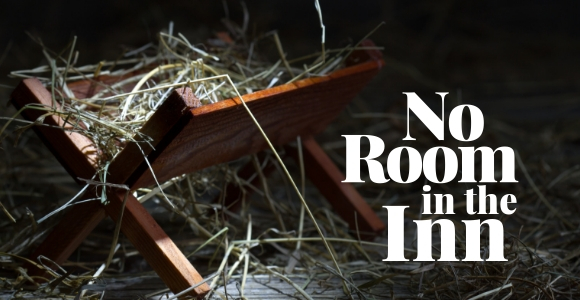 ---
"In the Hebrew sacred text we read an ancient story of a town's xenophobic refusal to show hospitality out of a desire to protect it's own affluence from the threat of having to be shared with others . . . The laser beam of convicting story truth possessed in these ancient tales should rather be directed toward the kinds of actions being chosen on our southern border presently."
---
"Joseph also went from the town of Nazareth in Galilee to Judea, to the city of David called Bethlehem, because he was descended from the house and family of David. He went to be registered with Mary, to whom he was engaged and who was expecting a child. While they were there, the time came for her to deliver her child. And she gave birth to her firstborn son and wrapped him in bands of cloth, and laid him in a manger, because there was no place for them in the inn." (Luke 2. 4-7)
Last week, I witnessed many of my friends argue the wrongness of tear gassing women and children at the U.S.'s southern border. I watched online as many of the people they attend church with argued the rightness of the U.S.'s actions as such. I read thin arguments which did little to veil the bigotry from which those arguments flowed. At the same time many of those arguments are being made by people who will put up nativities soon to celebrate the birth of their Jesus whom the Inn Keeper also turned away. They will celebrate a narrative that also later speaks of Jesus as a child and his parents escaping violence in their own region to seek asylum in a foreign county. The irony this time is painful. The recent acts by the U.S. at it's southern border not only should not be defended by Christians or any person of goodwill, the acts themselves are deeply inhumane.
"Tear gas has been outlawed as a method of warfare on the battlefield by almost every country in the world, that prohibition does not apply to domestic law enforcement officers using tear gas on their own citizens. The use of this chemical agent, which can cause physical injury, permanent disability and even death, is often excessive, indiscriminate and in violation of civil and human rights. Studies suggest that children are more vulnerable to severe injuries from chemical toxicity: Infants exposed to tear gas can develop severe pneumonitis and require weeks of hospitalization. Using it on a crowd of people who were exercising their right to seek asylum at an international border indeed violated human rights norms." (See Tear gas should never have been used at the border. It doesn't belong at protests, either.)
In the Hebrew sacred text we read an ancient story of a town's xenophobic refusal to show hospitality out of a desire to protect it's own affluence from the threat of having to be shared with others. The city of Sodom was located in a coveted region because of its agricultural fertility. They, also as the U.S. is presently attempting, soon developed an effective strategy of terror to keep foreigners away.
For those familiar with the story, Lot, by contrast, saw the two foreigners in his town and invited them to his home for the evening to keep them safe, hoping to send them secretly send them on their way at the first light of dawn the next day. What happened that night was terrifying and intentional to send the message to all foreigners to stay away!
"The two angels arrived at Sodom in the evening, and Lot was sitting in the gateway of the city. When he saw them, he got up to meet them and bowed down with his face to the ground. "My lords," he said, "please turn aside to your servant's house. You can wash your feet and spend the night and then go on your way early in the morning." "No," they answered, "we will spend the night in the square." But he insisted so strongly that they did go with him and entered his house. He prepared a meal for them, baking bread without yeast, and they ate. Before they had gone to bed, all the men from every part of the city of Sodom—both young and old—surrounded the house. They called to Lot, "Where are the men who came to you tonight? Bring them out to us so that we can have sex with them." (Genesis 19.1-5)
Typically, Christians use this story to marginalize those who are born with same sex attraction/orientation or same sex loving relationships. I believe these interpretations miss the mark in a most destructive way for those who identify as LGBTQ. This story has nothing to do with sexual orientation and instead is about responding to strangers with violence, in this case sexual violence, in times where their lives depend on your welcome and hospitality. (See Judges 19:11-30; Ezekiel 16.49, see also "Rape of Men" in Wartime Sexual Violence) In this story/culture male rape was intended to inflict the worst possible humiliation rooted in the social constructs of their ingrained, patriarchal gender roles. The laser beam of convicting story truth possessed in these ancient tales should rather be directed toward the kinds of actions being chosen on our southern border presently.
The tradition of hospitality toward strangers is carried on by the Jewish followers of Jesus in the New Testament scriptures. There we find the call to hospitality toward migrant strangers, too:
"Do not forget to show hospitality to strangers, for by so doing some people have shown hospitality to angels without knowing it." (Hebrews 13.2)
In Matthew's gospel, Jesus, too, names hospitality toward strangers as a mark of distinction between those who are genuinely following him and those who do so in name only.
"For I was hungry and you gave me something to eat, I was thirsty and you gave me something to drink, I was a stranger and you invited me in." (Matthew 25.35)
Jesus here is standing in the Jewish, hospitality-to-strangers tradition of both the Torah and the Hebrew prophets.
"When you have finished setting aside a tenth of all your produce in the third year, the year of the tithe, you shall give it to the Levite, the foreigner, the fatherless and the widow, so that they may eat in your towns and be satisfied." (Deuteronomy 26.12, emphasis added.)
"When you are harvesting in your field and you overlook a sheaf, do not go back to get it. Leave it for the foreigner, the fatherless and the widow, so that the LORD your God may bless you in all the work of your hands. When you beat the olives from your trees, do not go over the branches a second time. Leave what remains for the foreigner, the fatherless and the widow. When you harvest the grapes in your vineyard, do not go over the vines again. Leave what remains for the foreigner, the fatherless and the widow." (Deuteronomy 24.19-21, emphasis added.)
"At the end of every three years, bring all the tithes of that year's produce and store it in your towns, so that the Levites (who have no allotment or inheritance of their own) and the foreigners, the fatherless and the widows who live in your towns may come and eat and be satisfied, and so that the LORD your God may bless you in all the work of your hands." (Deuteronomy 14.28-29, emphasis added.)
"And you are to love those who are foreigners, for you yourselves were foreigners in Egypt." (Deuteronomy 10.19, emphasis added.)
Today, many in the U.S. (not all) are participating in the same irony of being decedents of immigrants themselves, while participating in present day xenophobia toward contemporary immigrants, including those seeking asylum.
"The foreigner residing among you must be treated as your native-born. Love them as yourself, for you were foreigners in Egypt. I am the LORD your God." Leviticus 19.34, emphasis added.)
Even the cherish Sabbath commandments include the foreigner. (As well as the problematic mention of those born slaves.):
"Six days do your work, but on the seventh day do not work, so that your ox and your donkey may rest, and so that the slave born in your household and the foreigner living among you may be refreshed." (Exodus 23.12, emphasis added.)
"Do not oppress a foreigner; you yourselves know how it feels to be foreigners, because you were foreigners in Egypt." (Exodus 23.9, emphasis added.)
"Do not mistreat or oppress a foreigner, for you were foreigners in Egypt." (Exodus 22.21, emphasis added.)
"Do not oppress a foreigner." (Exodus 23.9, emphasis added.)
"Do not mistreat or oppress a foreigner." (Exodus 22.21, emphasis added.)
"'Cursed is anyone who withholds justice from the foreigner, the fatherless or the widow.' Then all the people shall say, 'Amen!'" (Deuteronomy 27:19, emphasis added.)
"Do not deprive the foreigner or the fatherless of justice, or take the cloak of the widow as a pledge." (Deuteronomy 24:17, emphasis added.)
"YHWH defends the cause of the fatherless and the widow, and loves the foreigner residing among you, giving them food and clothing." (Deuteronomy 10:18, emphasis added.)
"The people of the land practice extortion and commit robbery; they oppress the poor and needy and mistreat the foreigner, denying them justice." (Ezekiel 22.29, emphasis added.)
Those who are presently migrating from Honduras are trying to escape a destabilized society that we created. The U.S. has a long history of destabilizing any society that leans toward either socialism or possesses resources we desire. These people are migrating away from a horrific societal state that we helped create.
On top of this, we also have a long history creating immigration policies out of the intent of maintaining a White majority, a concern born from the myth of White supremacy. (Or rather, the Anglo-Saxon Mythology.) In Rev. Dr. Kelly Brown Douglass' book Stand Your Ground; Black Bodies and the Justice of God, Dr. Douglass rightly shows how the same stand your ground values that lead to the murder of citizens of color (like Trevon Martin) is the same set of values that is at the heart of our racist immigration policies as well. She quotes those in our history like President Theodor Roosevelt who "became so obsessed with the number of 'new stock' immigrants compared to the low birthrate of 'old stock' Anglo-Saxons that he feared 'race suicide.'" And President Woodrow Willson who wrote "our Saxon habits of government" are threatened by the "corruption of foreign blood." In 1882, Henry Cabot Lodge, addressing the panic immigration was causing wrote, "The question of foreign immigration has of late engaged the most serious attention of the country, and in a constantly increasing degree. The race changes which have begun during the last decade among the immigrants to this country, the growth of the total immigration, and the effects of it upon . . . the quality of our citizenship, have excited much apprehension and aroused a very deep interest."
Dr Douglass continues,
"In an article titled "Whose Country Is This?" President Calvin Coolidge provided a lengthy rationale for restrictive immigration laws. He argued that even though America was an immigrant nation, it could not allow sentimentality to get in the way of it accepting the 'right kind' of immigrant. He explained that it was in the nation's best interest 'to require of all those aliens who come here that they have a background not inconsistent with American institutions.' By now we know, as Coolidge's readers surely knew, that 'American' meant Anglo-Saxon. Coolidge made this clear when he said, 'Such a background might consist either of a racial tradition or national experience.' He went on to say that just as there was no room in the country for the importation of cheap goods, there was 'no room either for cheap men.' Thus, America was obliged 'to maintain that citizenship at its best.' This meant, for Coolidge, erecting some kind of quota system. He substantiated his bigotry with science. He said, 'Biological laws tell us that certain divergent people will not mix or blend. The Nordics propagate themselves successfully. With other races, the outcome shows deterioration on both sides . . . Observance of ethnic law is as great a necessity to a nation as immigration law.' The argument put forth by President Coolidge reflected the longstanding fear that was sweeping across the country, one expressed by presidents before him. It was the fear that the Anglo-Saxon would be wiped out in America.
(From Brown, Kelly Brown Douglas, Stand Your Ground; Black Bodies and the Justice of God, pp. 29-30.)
Racist xenophobia is at the heart of what we are presently witnessing on the southern border of the United States. And yet we are about to celebrate a holiday centered around the narrative of a baby boy born in a dirty stable out back, because an inn keeper took one look at a poor man and his wife seated on a ragged donkey, strangers, and even though she was nine months pregnant, would not so much as give up his own bed to her for only one night, and instead looked at their state and inhospitably said, "We have no room." Thank goodness he didn't have any tear-gas.
"And she gave birth to her firstborn son and wrapped him in bands of cloth, and laid him in a manger, because there was no place for them in the inn." (Luke 2.7)
HeartGroup Application
You don't have to live on the southern border of the U.S. to welcome the stranger, include those who are marginalized, or provide community for those in need of a little love this holiday season.
1. Wherever your HeartGroup is located, wherever you meet, find was to practice hospitality this week.
2. Journal your experiences.
3. Next week, share what you've learned with your group.
Thank you for checking in with us. We here at RHM are thankful to be journeying alongside you.
And remember, right now we have an anonymous and very kind supporter who wants to extend the rare opportunity of matching each contribution made to support RHM's work throughout the rest of December, including all year-end contributions. As we approach the end of 2018, all contributions through December 31 are continuing to be matched. Help us reach our budget goals for 2018, avoiding a potential budget shortfall for this year, and be able to plan for 2019.
Yes, I want to help RHM's work continue to grow.
We are beyond thankful for every one of you who support our work.
Right where you are, keep living in the beauty of love, compassion, action and justice.
I love each of you dearly,
I'll see you next week.