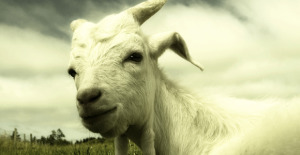 "'Abraham is our father,' they answered. 'If you were Abraham's children,' said Jesus, 'then you would do what Abraham did. As it is, you are looking for a way to kill me . . . Abraham did not do such things. You are doing the works of your own father'"—Jesus, John 8.39–41.
This week, by request, I'd like to take a look at what I call Jesus' "anti-sacrifice" portrayal of God. I'll explain what I mean by this later on, but in order to get there, we are going to have to go as far back as we can and look at "sacrifice" not religiously, but sociologically.
Anthropologists have recognized a repeating pattern throughout human civilizations. Whenever we believe we are competing with one another for a limited amount of resources (as opposed to cooperating with one another where we believe there is enough for all), eventually the unity and cohesiveness of that society begins to pull apart. Competition and rivalry begin to threaten the health and longevity of that society.
What anthropologists have also noticed—and this they cannot explain—is that almost mysteriously, but very predictably, that society will then, instinctively, begin turning on its most vulnerable members and blaming them for the tension and trouble the society is beginning to encounter. This can either be a group or an individual person. Then something almost magical happens.
The unity of the society is instantly restored as everyone now coalesces around a common enemy. The tensions and trouble that were just previously threatening the cohesiveness of their society evaporate into thin air as this society discovers a new-found comradery and previous enemies become friends, as they all unite together around this group or person as their common enemy.
Typically this group or person is expelled from the community (either by being sent away or by being "lynched" via the angry mob) and life for the community goes on as usual. But before long, the tensions that once plagued the group through their rivalry with one another resurface and a new sacrifice is required. This unity that comes through sacrificing a common enemy is temporary and must be continually rekindled.
This is where many anthropologists believe religion was born. Rather than finding another victim to scapegoat, elders within a society sought to recreate and relive the original lynching through "ritual" rather than repeating the social mechanism of finding a common enemy in real life. Either another person was used (human sacrifice) to reenact the historical event or an animal was used. In either case, the story of the original lynching was reenacted and the community found unity here in coming together to celebrate together their sacred victory over the group or person they believed was their enemy. It would be well to remember that in reality the original victim was never truly guilty, but innocent, and was only perceived as being guilty by the hysterical or angry mob.
Thus, sacrifice in human history was born. Religious or ritual sacrifice, whether human or animal, was an attempt by the community to recreate the original unifying event. Whether a society sacrifices an animal or a human is not relevant. Those societies that sacrifice animals will soon sacrifice humans and eventually need to relive the event in real life through finding another enemy for the society to rally together against.
This is the way of sacrifice. Ritual animal leads to ritual human, which leads to actual human. It is the reversal of this trajectory that the God of the Hebrew and Christian scriptures has always sought to accomplish, though few have noticed this.
From the innocence of Abel, the nomadic herdsman, who was slain by his brother Cain, the tiller of the soil, all the way down to Zechariah the prophet, God has been seeking to cure humanity's need for "sacrificing" others.
Now let's take a look at Jesus.
Twice in the Gospel of Matthew Jesus uses this phrase.
"Go and learn what this means, 'I desire mercy, not sacrifice' (Matthew 9.13); But if you had known what this means, 'I desire mercy and not sacrifice,' you would not have condemned the innocent" (Matthew 12.7).
A point that we must take the time to note is that Jesus in Matthew 12 goes further than Matthew 9 saying that if we had understood that sacrifice is not of Divine origin but human, we would not have condemned the "innocent."
Once sacrifice became ritualized, in other words, once it became religious, it was believed that God or the gods actually demanded or required this sacrifice to be done. This is the picture of God Jesus tirelessly seeks to refute. Remember, ritual animals lead to ritual humans leads to actual humans. This is the trajectory the God we see in Jesus is seeking to heal.
Jesus actually saw this in his unique reading of the Old Testament narratives. Jesus came to the conclusion that sacrifice is not of Divine origin, but human. Jesus teaches that God had never actually required sacrifice but had always been seeking to lead humanity away from it. Notice the following passages. We'll start with the one Jesus actually quotes.
Hosea 6.6—"For I desire mercy, not sacrifice, and acknowledgment of God, rather than burnt offerings."
Isaiah 1.11–12—"'What to me is the multitude of your sacrifices?' says the LORD; 'I have had enough of burnt offerings of rams and the fat of fed beasts; I do not delight in the blood of bulls, or of lambs, or of goats. When you come to appear before me, who asked this from your hand?'"
Note this last question. God is actually implying that the origins of this practice are not to be found in Divine requirement. "Who asked you to even do this?" God says.
Psalms 40.6—"Sacrifice and offering you did not desire—my ears you have opened—burnt offerings and sin offerings you did not require."
Jeremiah 7.22—"For in the day that I brought your ancestors out of the land of Egypt, I did not speak to them or command them concerning burnt offerings and sacrifices."
This passage from Jeremiah is the most puzzling for many because it contradicts the entire book of Leviticus. Obviously God did command them concerning burnt offerings and sacrifices. How can Jeremiah's God say He did not? The answer, I believe, can possibly be found in Leviticus 17.7:
Leviticus 17.7—So that they may no longer offer their sacrifices for goat-demons, to whom they prostitute themselves.
Just as with patriarchy, misogyny, slavery, racism and violence, the Hebrews were already practicing sacrifice when they came out of Egypt. The Egyptian sanctuaries even had a dual apartment structure of holy and most holy places. God is meeting the Hebrews where they are, and subversively, from within their own sacrificial practices seeking to lead them away from sacrifice. Remember, the sociological trajectory is ritual animal leads to ritual human, which leads to actual human. Within Leviticus, yes, God is giving instruction regarding sacrifices, but we have to ask ourselves, is this because there is a desire for sacrifices in the heart of God or is God making a concession and risking using sacrifice to try and reverse the trajectory away from actual human, away from ritual human, to ritual animal, and eventually no sacrifice at all?
Notice the author of Hebrews' words about Christ:
Hebrews 10.5—"Therefore, when Christ came into the world, he said: 'Sacrifice and offering you did not desire . . . with burnt offerings and sin offerings you were not pleased.'"
Some will ask, "What about Genesis? Didn't God originate Sacrifice in Genesis?" You will be hard pressed to find one single verse where God originates and commands sacrifice. It's just not there. It is true that Cain and Abel were making sacrifices, but this only proves that enough time had transpired for humans to have begun practicing sacrifice. Remember, when Cain departs after killing Abel, the earth is well populated (see Genesis 4.14, 16–17).
Some will say, "But didn't God make clothing for Adam and Eve out of animal skins?" But the types of animals one uses to produce clothing from their skins are not the animals typically used in ritual sacrifices. You would not sacrifice a lamb to get clothing. You would simply shave its wool. In other words, there is no intrinsic connection between ritual sacrifice and the production of clothing. One does not imply the other.
Others will ask, "What about God's acceptance of Abel's sacrifice and God's rejection of Cain's?" Much is lost when we read stories from our context rather than the context of the original audience. This story was originally told within the context of Mesopotamian land owners (tillers of the ground) and nomadic herdsmen. Those in positions of privilege in this society were the "tillers of the ground." They, for agricultural reasons, looked at land very differently than the nomadic herdsmen. The herdsmen believed the land belonged to everyone and was not to be privately owned. The herdsmen, being nomadic, were also the weaker of the two. The tillers of the ground were more permanent, thus more fortified and stronger. They were the more stable and they oppressed the migrant nomadic herdsmen as intruders on their property.
In the Cain and Abel story we find God taking the side of the oppressed, once again. We see God cursing the ground for Cain's sake, turning Cain from a tiller of the ground, to a nomadic wanderer so that he too can learn to view life through the lens of being marginalized and oppressed.
Those who claim that Abel's sacrifice was accepted because it contained blood and Cain's didn't must remember that Cain's sacrifice would have been completely acceptable under the Levitical rules for grain, wine, and food offerings where there was no blood involved either. This was not a matter of "blood" being present or not, required by a God who required sacrifice. This is a story about the way of mercy rather than sacrifice. This is a story concerning liberation from oppression, about sacrifice, both ritual and sociological, and about societies being founded on the way of mercy rather than mutual hatred of a common enemy (tillers of the soil united against nomadic herdsmen).
This leads us to our featured passage this week.
John 8.39–41—"'Abraham is our father,' they answered. 'If you were Abraham's children,' said Jesus, 'Then you would do what Abraham did. As it is, you are looking for a way to kill me . . . Abraham did not do such things. You are doing the works of your own father.'"
Here Jesus is pulling back the veil, and showing the two trajectories side by side.
The human trajectory is this:
A) Actual lynching/sacrifice of common societal enemy
B) Ritual sacrifice of animal or human as an attempt to recreate the unity produced by original lynching.
C) Eventual need to find a common enemy again
This is the course of the escalating need for the ritual animal that becomes the need for a ritual human that eventually becomes the need for another actual human enemy for society to unify against.
The Abraham Trajectory is the exact opposite:
From ritual human sacrifice back to ritual animal sacrifice.
Jesus came to conclude this trajectory by leading the Hebrew people now away from even ritual animal sacrifice to no sacrifice whatsoever either ritually or sociologically. It is an anti-sacrifice understanding of God and each other, entirely.
If those to whom Jesus was speaking in John 8 would truly have been children of Abraham, they would have been on the trajectory away from ritual human, to ritual animal, with the aim of no sacrifice at all. But being children of the accuser, they then were moving in the opposite direction of Abraham. They were moving from ritual animal all the way down the trajectory to human sacrifice/lynching, i.e. the murder of Jesus.
It would also be well to note that there were those in a unique position of privilege that had everything to lose if Jerusalem embraced this revolutionary anti-sacrifice picture of God. Who were they? The priests, and especially the chief priest—Caiaphas. These were the ones who economically, socially, and politically benefitted from ritual sacrifices.
"The CHIEF PRIESTS and the teachers of the law heard this and began looking for a way to kill him, for they feared him, because the whole crowd was amazed at his teaching" (Mark 11.18, emphasis added).
So the CHIEF PRIESTS and the Pharisees called a meeting of the council. "If we let him go on like this, everyone will believe in him, and the Romans will come and destroy both our holy place and our nation." [The favor of God and thus God's protection of Jerusalem against Rome, they believed, was dependent on the sacrifice continually burning on the altar; see Josephus, War of the Jews, on the ceasing of the daily sacrifices.) But one of them, Caiaphas, who was high priest that year, said to them, "You know nothing at all! You do not understand that it is better for you to have one man die for the people than to have the whole nation destroyed" (John 11.47–50, emphasis added).
Here it is again. Here we see the human sacrificial trajectory of ritual animal, leading to ritual human, culminating in an actual human enemy that must be expelled. In this case it was Jesus who must now be killed.
Thus Luke tells us that it was "the officers of the TEMPLE POLICE" who came to arrest Jesus (Luke 22.52). Jesus' interruption of the continual daily sacrifices in the temple would not be tolerated. It would also be well to remember, Jesus was not "cleansing the temple" so that sacrifices could continue in a purer from. No, Jesus was overturning tables and driving out the ritual sacrificial animals because "God desired mercy, not sacrifice." This anti-sacrifice element to Jesus' ministry was therefore anti-temple [where the sacrifices were made] as well as anti-priest [the ones who performed the sacrifices in the temple].
This would not be tolerated. This threat would be extinguished.
Just as a side note in recognizing the hints the Jesus story gives us so we will notice what is happening sociologically, we must not miss these two passages.
Luke 23.12—That day Herod and Pilate became friends—before this they had been enemies. (Emphasis added.)
This is the way of sacrifice, sociologically. Jesus has become not the ritual sacrifice, but the actual sociological one, the enemy around which even rival enemies within this society are now experiencing newfound unity and friendship.
Mark 15.15—"Wanting to satisfy the crowd, Pilate released Barabbas to them. He had Jesus flogged, and handed him over to be crucified" (emphasis added).
That which drives sociological sacrifice or lynching is always the angry mob, which gets swept up in the scapegoating mechanism.
Yet the story does not end in yet another lynching by yet another human society. Yes, on the evening of the "preparation day," it looks as if the world will never change. But there is more to come. On the first day of the new week, God would stand in solidarity with Jesus as the lynched victim and inaugurate not just a new week, but a new world. God, in the Resurrection, would undo and reverse all that was accomplished through the crucifixion.
Paul would later say it like this:
"We tell you the Gospel: What God promised our ancestors [a world where all injustice, oppression, and violence is put right], he has fulfilled for us, their children, by raising up Jesus" (Acts 13.32–33).
In the resurrection, a new world had begun.
A world not founded on the way of sacrifice, but on the way of mercy. This was a new way of arranging human life, a way that Jesus had been modeling for the previous three years.
There is one final point that I'd like to point out this week before we close.
"At that moment the curtain of the temple was torn in two, from top to bottom" (Matthew 27.51).
I can't end this week without drawing your attention to the contrast here.
The Priests claimed God dwelt at the heart of their temple, at the heart of their way of sacrifice. But when Jesus died at the hands of this system, the entire way of sacrifice was unmasked as being not of Divine origin, but actually being capable of sacrificing/lynching God too if God were to be viewed as an intrusive threat as well to society.
The resurrection placed alongside the torn curtain speaks to humanity that God is not at the heart of that system at all. We have mistaken where God actually is. When the temple veil was torn in two, there was no ark of the covenant (that had been long lost), there was no Shekinah Presence (that had long since departed). What was seen was the stark absence of God. Where was God? The resurrection reveals that God was, at that moment of sacrifice, in the One being sacrificed. The event marks the end of sacrificial systems that demand the death of those who are innocent, whether political relying on violence [Pilate], religious based on fear [Caiaphas], or economic driven by greed [Herod]. The Jesus story puts on display that the Presence of God is not found within the most exclusive holy places belonging to sacrificial systems. The true dwelling place of the Presence is found in the One shamefully suspended and sacrificed on a cursed tree at the orders of those sacrificial systems. In other words, God is standing, and always has stood, in solidarity with those our societies sacrifice.
HeartGroup Application
In the Book of Revelation, John looks and sees: "I saw no temple [the place of sacrifice] in the city . . ." (Revelation 21.22). When Heaven and Earth become reunited again, there will be no more sacrifice, whether ritual or actual, political, economic, or religious. The Resurrection is the start of this whole new world where, just like Jesus, we need not fear the consequences of our engagement against the sacrificial systems of our present societies. We stand in the victory of the Christ over all sacrifice, a victory that has already been won.
1. This week, spend some time contemplating with Jesus where you may be still participating in sociological sacrifice. Hardly anyone in the West still practices ritual sacrifice. Yet we practice sociological sacrifice every day. Ask Jesus to show you where you may be doing this as well.
2. Ask Jesus to give you the courage to no longer participate in the injustice, violence, and oppression of the way of sacrifice and follow the way of mercy instead. (Jesus' clearest demonstrations on what this way of mercy actually looks like is found in the entire body of the Jesus stories of Matthew, Mark, Luke, and John. It is my belief that these stories are centered on Jesus' radical teachings in Matthew 5–7.)
3. Share what Jesus shows you this week with your HeartGroup this upcoming week.
Till the only world that remains is a world where Christ's love, and no more sacrifice, reigns, keep living in Love. A new world has begun. Let's go enlarge its radically inclusive borders, through humble, servant, nonviolent, co-suffering, injustice-resisting, liberating love, one heart at a time.
I love each of you, and remember, the God we see in Jesus does too.
See you next week.
Herb