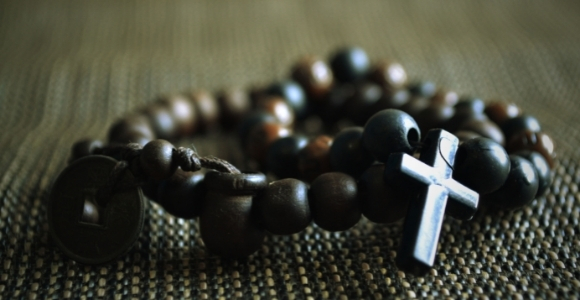 Herb Montgomery | September 10, 2021
[To listen to this week's eSight as a podcast click Episode 388:Taking Up Our Crosses, Injustice, and Abuse]
---
"Oppressors throughout history have used the concept of 'taking up one's cross' to prioritize themselves over survivors and to encourage oppressed people to passively and patiently endure violence rather than resist . . . This story is, on the other hand, encouraging Jesus' followers to resist as he did flipping tables in the temple courtyard, even though it resulted in the state violence of a cross."
---
Our reading this week is from the gospel of Mark:
Jesus and his disciples went on to the villages around Caesarea Philippi. On the way he asked them, "Who do people say I am?" They replied, "Some say John the Baptist; others say Elijah; and still others, one of the prophets." "But what about you?" he asked. "Who do you say I am?" Peter answered, "You are the Messiah." Jesus warned them not to tell anyone about him. He then began to teach them that the Son of Man must suffer many things and be rejected by the elders, the chief priests and the teachers of the law, and that he must be killed and after three days rise again. He spoke plainly about this, and Peter took him aside and began to rebuke him. But when Jesus turned and looked at his disciples, he rebuked Peter. "Get behind me, Satan!" he said. "You do not have in mind the concerns of God, but merely human concerns." Then he called the crowd to him along with his disciples and said: "Whoever wants to be my disciple must deny themselves and take up their cross and follow me. For whoever wants to save their life will lose it, but whoever loses their life for me and for the gospel will save it. What good is it for someone to gain the whole world, yet forfeit their soul? Or what can anyone give in exchange for their soul? If anyone is ashamed of me and my words in this adulterous and sinful generation, the Son of Man will be ashamed of them when he comes in his Father's glory with the holy angels." (Mark 8:27-38)
In this week's reading, we encounter Jesus' admonition to his followers that they also "take up their cross." This saying has a long history of religious abuse, so I want to give a word of caution about it.
Years ago now, I was invited to a conference on nonviolence and the atonement. I chose to speak on the violence of interpreting the cross event itself as salvific—how atonement theories that treat the violent death of Jesus as salvific have borne death dealing fruit to oppressed communities and/or those who belong to marginalized communities. I explained how the atonement theory of penal substitution has historically produced various forms of social abuse, and how abuse has also been the fruit of alternative atonement theories such as moral influence theory and Christus Victor.
Oppressors throughout history have used the concept of "taking up one's cross" to prioritize themselves over survivors and to encourage oppressed people to passively and patiently endure violence rather than resist. This interpretation has proven very convenient for oppressors and those who don't want to disrupt the power imbalance of the status quo. It also impacts intimate relationships as well. When one spouse suffers physical or emotional abuse at the hands of another, for example, how many times have Christian pastors counseled the abused spouse to "bear their cross," be "like Jesus," and simply "turn the other cheek"? I have written at length on other ways to interpret Jesus' turning of the other cheek as a call to creative, nonviolent forms of disruption, protest, and resistance (see A Primer on Self-Affirming Nonviolence Parts 1-10). I interpret the turn-the-other-cheek passages as did the late Walter Wink, who understood them to give those pushed to the undersides and edges of Jesus' society a way to reclaim and affirm themselves despite being dehumanized.
This week, alongside the feminist and womanist scholars who have deeply influenced my thinking, I want to suggest that "taking up one's cross" is not a call to patiently, passively endure the violence of systemic or relational oppression and abuse, but rather is a call to take hold of life and stand up against injustice even if there is a threat for doing so. This saying is not a call to passively suffer, but to protest even if the status quo threatens suffering if you speak out.
The implications are huge. What we are discussing this week is called the myth of redemptive suffering. I have often repeated Joanne Carlson Brown's and Rebecca Parker's statement in their essay God So Loved The World?:
"It is not acceptance of suffering that gives life; it is commitment to life that gives life. The question, moreover, is not, Am I willing to suffer? but Do I desire fully to live? This distinction is subtle and, to some, specious, but in the end it makes a great difference in how people interpret and respond to suffering. If you believe that acceptance of suffering gives life, then your resources for confronting perpetrators of violence and abuse will be numbed." (also in Christianity, Patriarchy, and Abuse, p. 18)
So what did Jesus mean, then, when he said "take up your own cross?"
First, Borg and Crossan correctly remind us that Jesus' cross in the gospels was about participation, not substitution:
"For Mark, it is about participation with Jesus and not substitution by Jesus. Mark has those followers recognize enough of that challenge that they change the subject and avoid the issue every time. (Marcus J. Borg and John Dominic Crossan. The Last Week: What the Gospels Really Teach About Jesus's Final Days in Jerusalem; Kindle Locations 1589-1593)
While I agree with Borg and Crossan about the theme of participation rather than substitution, I disagree with their interpretation that suffering on a cross was intrinsic to following Jesus, and I don't subscribe to the idea that suffering is an intrinsic precursor to triumph or success. Suffering only enters the story of following Jesus if those benefitting from the status quo feel threatened by changes that Jesus' new social vision would make, and threaten his followers with a cross. Being willing to take up one's cross is not a call to be passive in the face of suffering, but a call to protest and resist even in the face of being threatened with a cross.
"Taking up one's cross" in this context means being willing to endure the results of disrupting, confronting, resisting, and protesting injustice. The cross in the Jesus story is a symbol of the state violence that those in power threaten protestors with to scare them into remaining passive. Remember, as Carlson Brown and Parker wrote, the question is not how much am I willing to suffer, but how badly do I want to live!
If those in power threaten you with a cross, then and only then it becomes necessary for you to "take up a cross" and stand up against injustice. Protesting, for instance, does not always involve being arrested, but if it does, protest anyway!
The goal in scenarios like these is not to suffer, but to refuse to let go of life.
How one interprets taking up one's cross has deep implications for survivors of relational violence, and for all who are engaging any form of social justice work. When those who feel threatened try to intimidate and silence your voice through fear of an imposed "cross," this week's reading calls us to count the cost and refuse to let go of life. Do not be silenced! Though it may sound like an oxymoron on the surface, speaking out in the face of a threat is a form of rejecting death.
Let's take relational violence as an example. First there is the relational violence itself. Then we have a choice in our response:

Too often, Jesus' teaching of taking up the cross is interpreted so that the abuse itself is the cross.

But the abuse is not the cross but an initial injustice, and the cross is the threats one receives for standing up to or resisting injustice.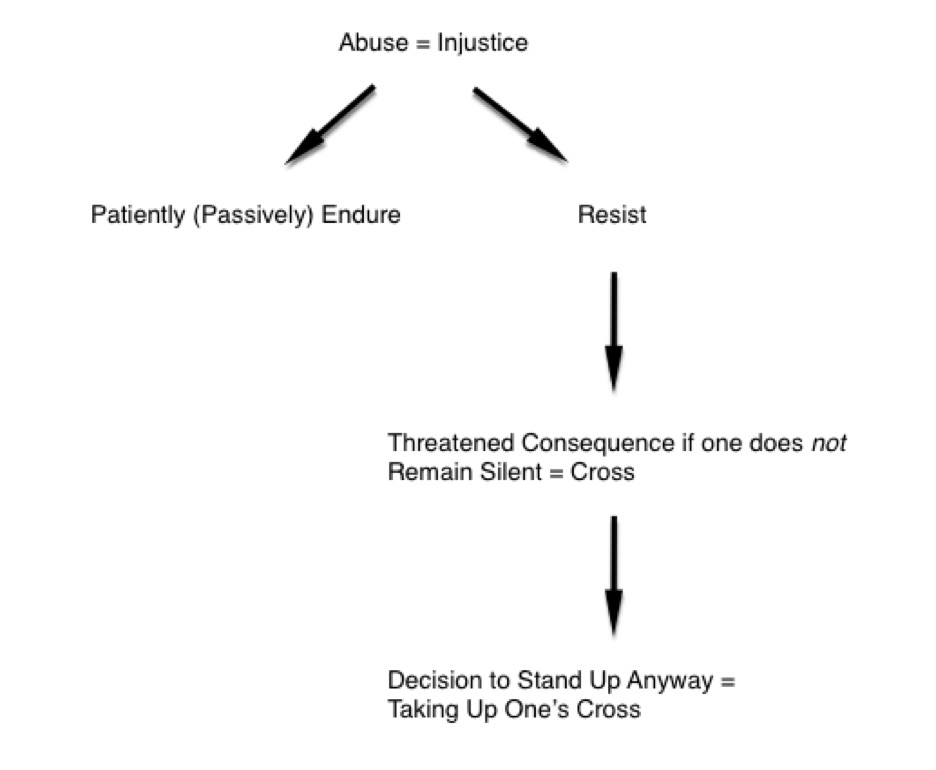 Jesus is encouraging his followers to resist as he did flipping tables in the temple courtyard, even though it resulted in the state violence of a cross.
If a cross comes into the picture, then resist anyway. Jesus' nonviolence was rooted in resistance, and sometimes change happens before oppressors send a cross. At other times, change happens after the cross. In both cases, suffering may come, but it is not redemptive.
Jesus emerged in his Jewish society as someone calling for the just distribution of food and land and the inclusion of those presently marginalized. His way of structuring human community threatened imperial Roman society and those who most benefited from the Roman system. And the early Jesus movement that grew out of an encounter with this Jesus resulted in a way of doing life together that was also seen as a threat to those in positions of power and privilege.
When those in power choose to threaten crosses for those standing up to systemic injustice, don't let go. Keep holding on to the hope of change even in the face of impossible odds. Keep holding on to life! For, Jesus says, what does it profit if you gain the whole world by your silence and yet lose your humanity?
Whoever wants to save their life through remaining silent in the face of injustice will actually be letting go of life. But whoever is willing to fight for life, for equity and equality, for love and compassion, for inclusion, for a just and safe world that is home for everyone, even if you're threatened with death and death-dealing for doing so—all who refuse to let go of life and those things that are life-giving are the ones through whom life is saved, life is found, and another world is not only seen as possible but created in those moments of refusal.
HeartGroup Application
1. Share something that spoke to you from this week's eSight/Podcast episode with your HeartGroup.
2. What difference does it make for you to define 'taking up your cross' as a possible response to your speaking out and resistance, rather than passively bearing abuse and injustice? Discuss with your group.
3.  What can you do this week, big or small, to continue setting in motion the work of shaping our world into a safe, compassionate, just home for everyone?
Thanks for checking in with us, today.
Right where you are, keep living in love, choosing compassion, taking action, and working toward justice.
I love each of you dearly,
I'll see you next week
---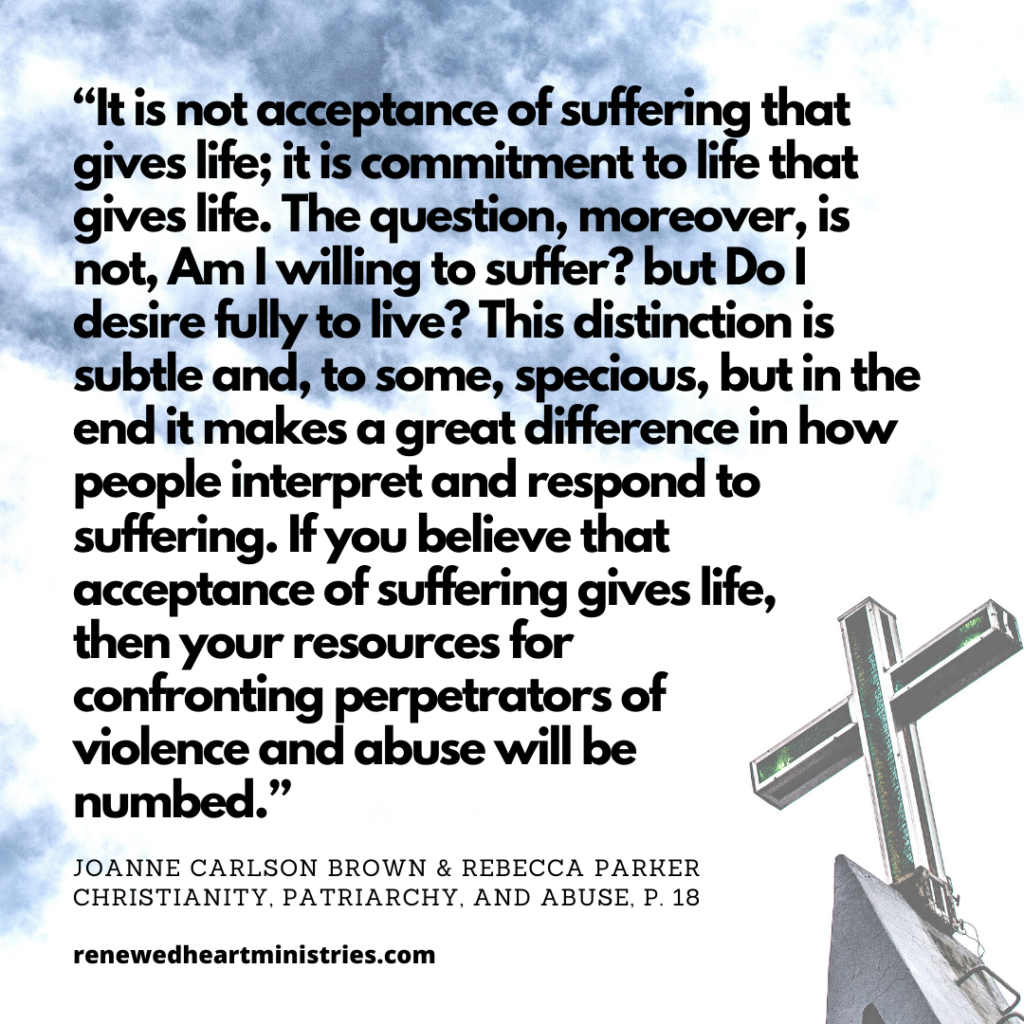 ---

Renewed Heart Ministries is a nonprofit organization working for a world of love and justice.
We need your support to offer the kind of resources RHM provides.
Helping people find the intersection between their faith, compassion, and justice is work that continues to prove deeply needed.
Please consider making a donation to support Renewed Heart Ministries' work, today.
You can donate online by clicking here.
Or you can make a donation by mail at:
Renewed Heart Ministries
PO Box 1211
Lewisburg, WV 24901
And to those of you out there who already are supporting this ministry, we want to say thank you.
We continue being a voice for change because of you.