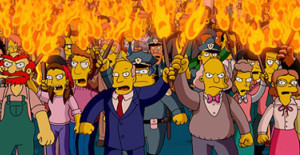 Then Jesus asked him, "What is your name?" "My name is Legion," he replied, "for we are many." (Mark 5:9)
I must confess that this is one of the most bizarre and difficult sections of the four Jesus narratives. In our naturalistic worldview, most of us struggle to entertain this story long enough to perceive and understand its point. The demonology framework prompts kneejerk reactions in those whose outlook is more scientific. But don't chuck the story yet. Demonology certainly is present in this story. It points to this story having a very early origin in the Jesus revolution of the first century. When we understand the point of the story and its early dating, we gain a window into what the early Jesus community was really about. It calls us to rediscover this point again for ourselves today. Let's jump in. This story is found in both Mark 5:1–20 and Luke 8:26–29. We'll look at Mark's version.
They went across the lake to the region of the Gerasenes. When Jesus got out of the boat, a man with an evil spirit came from the tombs to meet him. This man lived in the tombs, and no one could bind him anymore, not even with a chain. For he had often been chained hand and foot, but he tore the chains apart and broke the irons on his feet. No one was strong enough to subdue him. Night and day among the tombs and in the hills, he would cry out and cut himself with stones. When he saw Jesus from a distance, he ran and fell on his knees in front of Him. He shouted at the top of his voice, "What do you want with me, Jesus, Son of the Most High God? In God's name, don't torture me!" For Jesus had said to him, "Come out of this man, you evil spirit!" Then Jesus asked him, "What is your name?" "My name is Legion," he replied, "for we are many."
We cannot miss three details if we are to understand what has taken hold of this man.
1. No one was strong enough to subdue him.
2. He cut himself with stones.
3. Its name was Legion.
Let's start by putting the puzzle pieces on the table and turn to point number 2 first. This man cut himself with stones. Scholars have seen this as what they call auto-lapidation. Lapidating is the act of pelting or killing someone with stones. What cannot be missed is that the gospels always attribute this activity to a crowd stoning a victim (Matthew 21:35, 23:37; Luke 20:6; John 8:7, 59, 10:31–33, 1:8) What this man does to himself is auto-lapidation or self-lapidation. Self-stoning. Why would this man do this to himself? The answer is found in point number three. Whatever has taken over this man, its name is "Legion, for we are many." This story fits perfectly with the pattern running through the gospels that it is always the many—always the majority, always the crowd—that engages in this form of capital punishment, in which a group throws stones at a person until the victim dies. This man embodies the crowd's collective violence. The crowd, the many, is embodied in one person. And this story in front of us is how Jesus delivered this man from legion.
Before we can move on, we must understand point number 1, too. Legion, the crowd, the many within this man, cannot be subdued. It might help to realize that what is true of the crowd many times in the gospels is also true of this man right now. This man embodies the crowd or legion, so in order to understand what's going on inside him, we have to pause and ask how crowds or the many actually work.
The Mechanics of the Crowd/Many/Legion 
Throughout history, societies have faced moments that threaten their coherence and unity. Scholars have observed that, to keep society from coming apart at the seams in the times of conflict, a strange phenomenon often takes place. A society will regain its unity and solidarity by finding a common enemy around which to unite in blaming for its struggles. The many historically have managed their societal rivalries, competition, and disunity, not by turning their violent tendencies on one another, but by coming together and transforming what would be their violence toward one another into collective violence against an Other. In short, a society finds unity in finding a common enemy.
Collective Violence
Violence in a society becomes collective when it chooses someone all its members can come together against. They find unity in agreeing on who they are against. If violence is not channeled together and directed toward a common enemy (which is the way of sacrifice), the violence will turn on the society itself and will destroy it. More on this in a moment.
The Demoniac 
This man is the embodiment of the crowd (i.e., legion/we are many). And whatever it is inside of this man cannot be subdued. It cannot be bound or chained. Yet again, this man simply contains "the crowd" within one individual. The violence of the crowd cannot be overcome. A crowd can never collectively free itself from its own violence. It can manage, or direct that violence, but it needs someone outside of that community to set it free.  A society, in all actuality, only has three options: a) The society can allow the violence to escalate until it tears apart the society; b) The society can unconsciously but collectively direct its violence against a minority whose absence would least diminish the overall whole, thus restoring unity in action against this minority; or c) Someone from the outside the society (in this story, Jesus) can intervene and remove the violence from the society one person at a time.  This makes perfect sense when laid along side of what we just said about number 2. While the crowd can collectively redirect its violence against an Other,this man is alone, there is no Other, so the crowd inside of him turns the violence on itself. (This is why we see this man cutting himself in auto-lapidation. We'll see this more clearly in a moment when we get to the pigs.)
To illustrate how we, in following Jesus, become free of this mechanism within our society is exactly why we have this story. What many miss is that what is going on inside this man happens on a larger scale between this man and the society in this region. (Think of the medieval icons of angry mobs carrying pitch forks and flaming torches against a monster.) This region manages its societal rivalries, competition, and disunity (a) not by turning its violence on one another but by coming together and transforming its violence into collective violence against this man (b). Jesus came to create a new humanity (a new crowd, so to speak) that united around mercy (c) instead of sacrifice, mercy and love toward enemies (or Others) instead of common hatred. Jesus came to end humanity's paradigm of us vs. them. And He began His work of saving this society, turning this region away from the way of sacrifice to the way of mercy, by first rehumanizing (I know that's not a word; I just made it up) the one the crowd had sacrificed or purged. In this case, the demoniac. Jesus's actions cause them to fundamentally reassess their entire way of life.
Let's proceed through the rest of the story and see if we are on the right track.
And he begged Jesus again and again not to send them out of the area. A large herd of pigs was feeding on the nearby hillside. The demons begged Jesus, "Send us among the pigs; allow us to go into them." He gave them permission, and the evil spirits came out and went into the pigs. The herd, about two thousand in number, rushed down the steep bank into the lake and was drowned. Those tending the pigs ran off and reported this in the town and countryside, and the people went out to see what had happened. When they came to Jesus, they saw the man who had been possessed by the legion of demons, sitting there, dressed and in his right mind; and they were afraid. Those who had seen it told the people what had happened to the demon-possessed man—and told about the pigs as well. Then the people began to plead with Jesus to leave their region.
In this mostly Greek region (Gentile with very few Jews), pigs were a farming commodity. But why do we have this bizarre detail about the pigs running off a cliff? The pigs (animals) become infected with the legion/crowd and the violence that had just been in this man, and with no one against whom to turn that violence (they are just pigs), the herd runs and hurls itself off a cliff. It is self-destruction. It is the crowd/legion that comes out of this man, and goes into these pigs, and throws itself off the cliff. The point? If people are not freed from that which lies at the heart of this demon, the crowd which temporarily finds peace and unity by purging a victim from its homogenous society eventually runs itself off a cliff, just like these pigs. The same demon that causes the crowd to throw stones at others stones/destroys itself if it does not find a victim for the crowd to come together against instead. If not remedied, that which drives the crowd to collective violence against a minority destroys that society in the long run.
Now let's finish the story.
How did Jesus begin to turn things around in this story?  Jesus began with restoring the one within this narrative the crowd had been collectively against. When Jesus restores this man they had been sacrificing and reintegrates him into society, He threatens the unity and peace the society had found by coming together against this man. He, in effect, turns their way of life, their stability, their worldview, their "sacrifice" on its head. They are forced to see the one they had collectively been sacrificing as a fellow human being, like themselves. Jesus un-objectifies the man. Jesus de-dehumanizes him. Jesus de-degrades him. Jesus lifts this man up and returns him to a place of belonging within the very society that had found unity and coherence by purging him. Jesus challenges the entire arrangement of this society, calling its members to no longer find unity in the practice of societal sacrifice but in coming together in the way of mercy (cf. Matthew 9:13, 12:7; Hosea 6:6).
Do they follow this Jesus? Do they follow this radical social revolutionary?
Sadly, no. Now, they simply find a new sacrifice. They need a new person to purge. They need a new victim through which to find unity by being against. Whom do they choose? You guessed it. Jesus Himself. The way of sacrifice is so ingrained in them that they unconsciously, without missing a beat, simply switch victims, putting Jesus in the place of the man, and go on as if nothing ever changed. They purge Jesus now, instead.
As Jesus was getting into the boat, the man who had been demon-possessed begged to go with him. Jesus did not let him, but said, "Go home to your own people and tell them how much the Lord has done for you, and how he has had mercy [as opposed to sacrifice] on you." So the man went away and began to tell in the Decapolis how much Jesus had done for him. And all the people were amazed.
The man is sent back to teach this society about the way of mercy, rather than sacrifice. Set free from legion himself, perhaps he can help his society get free of the same demon.  It could be said that the only thing that was wrong with this man was that he had become infected with the crowd.  He had allowed how the crowd defined him to become the way he defined himself as well.  And when he, inside of himself, got free from what was also inside the crowd, he could now go back, "rehumanized," to lead the community in a better way, the way of mercy.
When people get free of collective violence toward a non-normative minority, (whether in themselves toward others, or within themselves toward themselves) they are not becoming possessed by demons but, in a very real sense, they are being freed from them. THIS is the point of the story.  Embracing someone (or a group) that is accused by the crowd of being demon possessed isn't to become possessed oneself. It's called "following Jesus."  And it is becoming free from the demon (the demon of scapegoating) that is actually possessing the crowd (legion) which was seeking to purge or sacrifice the minority to begin with.
This is my story. I am both the demoniac and the crowd, all in one. As the crowd, I have seen the humanity of the ones I once sacrificed, and it has turned my world upside down. As the demoniac, I have been set free from the legion, or rather, the crowd—the collective violence at the heart of the crowd's unity—in order to follow the way of mercy instead. I wish I could claim some credit for this transformation, but I did not go looking for it. It was done to me, and for me, by others. Now, I, humbly and repentantly, simply want to bring others with me. The way of mercy truly is the better way. In fact, it's the way of God.
What would happen if we saw the ones placed on society's altars as our brothers and sisters? Maybe this is where Jesus starts with all societies that find unity in collective violence against minorities. If this is true, then Jesus' work today is no different than it was in the gospels. Jesus today calls us to once again see those whom we have labeled indecent, different, other, non-normative, deserving of being purged from within our circles as . . . human. He calls us to embrace the reality that they are our brothers and sisters and have a place beside us at the table, too (cf. Luke 19:9).
"[In the story of the demoniac,] we're witnessing the birth of an individual capable of escaping the fatal destiny of collective violence." — Rene Girard, When These Things Begin, Conversations with Michel Treguer
"If you had known what these words mean, 'I desire mercy, not sacrifice,' you would not have condemned the innocent." — Jesus, Matthew 12:7
HeartGroup Application 
1. Where are you still participating with the crowd in sacrificing others? Spend some time this week with Jesus in contemplation of this question, and ask Him to show you if you are sacrificing or scapegoating someone. My 11 yr old daughter recently confessed to my wife Crystal, that she caught herself speaking poorly of a third person to become friends with another. "I think I might have been 'scapegoating' mom, and I don't want to do that."
Who might it be for us? Maybe it's another family member we must join in and be against in order to fit in with the rest of the family. Maybe it's someone at the office whom everyone hates, and we feel we must join in the collective disdain and ridicule. Maybe it's at church where, in order to fit in, we feel pressured to label someone as less than a child of God, less than our fellow brother or sister. Or maybe it's someone within society who we feel deserves retribution, not redemption. People we feel deserve punitive justice instead of justice that restores to them a humanity of which, in our hearts, they have been deprived. Whoever it is, ask Jesus to show you, and He will.
2. Ask Jesus to show you how He thinks and feels toward those being sacrificed. Invite Him to help you see them the same way He does, and then ask Him to give you the courage to follow the way of mercy, rather than sacrifice.
3. Share with your HeartGroup what you experience this week.
Till the only world that remains is a world where love reigns, where love is shed as indiscriminately as the sunshine and the rainfall. The new creation has come. Let us enlarge its radically inclusive and restorative perimeter one human heart at a time.
I love each and every one of you, and God does, too.
See you next week.