by Herb Montgomery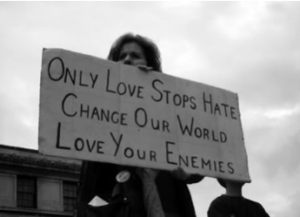 "Love your enemies and' pray for those persecuting you so that you may become sons of your Father, for he raises his sun on bad and good and rains on the just and unjust." (Sayings Gospel Q 6:27-28, 35c-d)
The saying we'll look at today from Sayings Gospel Q builds on the passage we looked at last week. The last saying blessed those being persecuted while working toward the social changes Jesus imagined and invited us to imagine as well. This week's saying goes one step further and addresses how we are to respond to our persecutors.
Let's look at how this saying is written in our companion gospel texts.
Luke 6.27-28: But to you who are listening I say: Love your enemies, do good to those who hate you, bless those who curse you, pray for those who mistreat you.
Luke 6.35: But love your enemies, do good to them, and lend to them without expecting to get anything back. Then your reward will be great, and you will be children of the Most High, because he is kind to the ungrateful and wicked.
Matthew 5.44-45: But I tell you, love your enemies and pray for those who persecute you, that you may be children of your Father in heaven. He causes his sun to rise on the evil and the good, and sends rain on the righteous and the unrighteous.
Arguably, the most prominent American champion of enemy love in a context of working toward social change in the last century was Dr. Martin Luther King, Jr.
On November 17, 1957, King stood before the Dexter Avenue Baptist Church in Montgomery, Alabama and delivered an sermon titled Loving Your Enemies. In that sermon, he said:
"I've seen too much hate to want to hate, myself, and every time I see it, I say to myself, hate is too great a burden to bear. Somehow we must be able to stand up against our most bitter opponents and say: 'We shall match your capacity to inflict suffering by our capacity to endure suffering. We will meet your physical force with soul force. Do to us what you will and we will still love you. We cannot in all good conscience obey your unjust laws and abide by the unjust system, because non-cooperation with evil is as much a moral obligation as is cooperation with good, so throw us in jail and we will still love you. Bomb our homes and threaten our children, and, as difficult as it is, we will still love you. Send your hooded perpetrators of violence into our communities at the midnight hour and drag us out on some wayside road and leave us half-dead as you beat us, and we will still love you. Send your propaganda agents around the country and make it appear that we are not fit, culturally and otherwise, for integration, but we'll still love you. But be assured that we'll wear you down by our capacity to suffer, and one day we will win our freedom. We will not only win freedom for ourselves; we will appeal to your heart and conscience that we will win you in the process, and our victory will be a double victory.'"
Last summer, I spoke at a convention, and sat in the audience during another speaker's session. At the end of that session, a participant asked the speaker the question, "What is it that prevents the present hegemony from simply being replaced by another hegemony when it is overthrown?"
(As we've shared before, a hegemony is another word for a domination system in which one group holds hierarchical dominance over a group it has subjugated.)
Jesus' vision is not a hegemony. It is a world where there is no more domination, and no more subjugation, a world where every person has treated with the same indiscriminate egalitarianism that is expressed in the shining of the sun and the falling of the rain.
But the audience member's question about replacing one hegemony with another is a serious and important one. The challenge with most revolutions is that the revolution's "enemy" is framed as someone to be defeated and then subjugated as they had subjugated others. This approach doesn't remove pyramids of oppression but simply replaces them with a different pyramid of oppression founded on a different set of values. And this is not the vision of either Martin Luther King or the Jesus of the gospels.
The answer to the problem is in King's concept of "double victory." Not only can we win liberation from oppression, but we can also win our oppressors to join us in this liberation work. The goal, again, is that everyone gets to enjoy the sunshine: everyone is equal.
And this paradigm of a double victory is rooted in Jesus's enemy love. Rather than seeking retributive justice against the revolution's enemies, which too often becomes an attempt to extract an eye-for-an-eye, Jesus's enemy love is rooted in restorative, transformative, liberative justice, justice that frees all parties involved.
Enemy love requires us to see our enemies as in need of liberation from a system of injustice as much as we are. Their liberation is of a different character than ours, yet they still have a need.
I do want to say a word of caution though, about this teaching. Jesus was a poor Jewish teacher in first century Palestine and lived under Roman rule. He was not, as many of us are, a citizen of any of the most powerful nations in the world. To illustrate this difference, Howard Thurman once wrote, "Jesus was not a Roman citizen. He was not protected [like Paul] by the normal guarantees of citizenship—that quiet sense of security which comes from knowing that you belong and the general climate of confidence which it inspires. If a Roman soldier pushed Jesus into a ditch, he could not appeal to Caesar [as Paul did]; he would be just another Jew in the ditch . . . Unless one lives day by day without a sense of security, he cannot understand what worlds separated Jesus from Paul at this point." (Jesus and the Disinherited, p. 33)
In Luke's gospel, Jesus was not part of the Jewish wealthy elite. Jesus belonged to the community of the poor (Luke 2.24 cf. Leviticus 12.8). Jesus did not tell wealthy people, "Listen, we need to be charitable toward the poor impoverished people around." No, when Jesus spoke of generosity, he was speaking to his fellow poor craftsmen and rural peasant farmers in Galilee, giving them teachings on how we can create an alternate society where each of us trusts God to send people to take care of us to the degree that we let go of what we may be hoarding out of insecurity, and instead listen to the God that sends us to go and take care of them. Jesus called this alternate society "the rule of God".
In the same way, when Jesus spoke about loving one's enemies, just as he was not part of the wealthy elite speaking about the poor, he was also not part of the wealthy Jewish elite telling the oppressed and poor Jewish craftsmen and rural farmers they needed to love wealthy oppressors in spite of the hardship and injustice the elite had caused them. Let me explain why this is important.
First, Jesus was speaking to his fellow impoverished Jews, inspiring them with an approach that, rather than destroying their enemies, had the potential to transform their enemies. And although Jesus did not use the language King used two thousand years later, what he taught was in essence, King's "double victory."
Recently, a police officer who was attending one of my presentations objected to my support of the Black Lives Matter movement.  His objection was based on his perception that a sector of that movement sees using more violent means, in order to be heard, as a viable option.  (Being a police officer, the irony of his concern over the use of violence was lost on him.)
The important difference I want you to consider is that Martin Luther King, Jr. had to be a man of color telling other Black men to work toward transforming their White enemies. Gandhi had to be a brown-skinned Indian inspiring his fellow Indian citizens to seek the transformation of their British oppressors. Had King been White, or Gandhi been a British Colonialist, a message of enemy love would have been a subtle form of self-preservation and violence toward the oppressed and served to continue their oppression.  The exceptions to this are when there are internal variations, within the larger groups, that we must consider.  King was Black speaking to Black people, but he was also a middle-class, highly educated Black male from the clergy class.  Gandhi was an Indian speaking to Indians, but he was also light-skinned, a Kshatriya (as opposed to the so-called "untouchables"), and a lawyer (from the 2nd top caste in their social pyramid.)  Sometimes there are intra-group variations who (within the same community) can speak to these matters less oppressively.  They may look different in other words, but they share other facets of the oppressed people's experience more than those whose appearance is the same. For example, I am in community with a person of color who upon hearing Justice Clarence Thomas speaking on race, she would not respect him, but equally feels that Jane Elliot could credibly speak on the matter.  There are ways for people who look the same to sustain the same oppression that the mainstream sustains.  The point is that commonality and solidarity can't be assessed on the basis of one characteristic alone. Intersectionality as a theory highlights these intra-group distinctions and they are important. (If you would like to explore these ideas further please read We're not all alike, and that's not a problem by my dear friend Keisha E. McKenzie, PhD.)
An Accompanying Call For Restoration
Jesus spoke powerfully and convincingly to the poorer class of Jews of his time, yet Jesus's message of enemy love to the oppressed was accompanied with a strong requirement that oppressors restore justice toward the oppressed. Like the Jewish prophets before him, he did not call this charity. He called it justice.
Luke 12.33: Sell your possessions and give to the poor.
Luke 19.8: But Zacchaeus stood up and said to the Lord, "Look, Lord! Here and now I give half of my possessions to the poor, and if I have cheated anybody out of anything, I will pay back four times the amount."
Luke 7.29: All the people, even the tax collectors, when they heard Jesus' words, acknowledged that God's way was right . . .
To only call the oppressed to love their enemies without calling for oppressors to make reparations and restore justice is a subtle form of violence to those who have been wronged. If enemy love is going to be taught, it must, with the same breath, be taught alongside emphatic calls for justice to be restored.
The goal is not to replace one hegemony with another, to place the oppressed on top instead. The goal is rather a world where every person participates in equity, where each can share abundance, enjoying the sun and rain side by side, and where there is enough for all.
One last word: loving your enemies is not "letting them off the hook." It is not ignoring what they have done, lessening its value, or pretending that it's nothing. It takes their offense seriously and also desires their transformation. Loving your enemies is the desire that they don't face mere retribution but rather encounter a new way of seeing, thinking, feeling, and choosing. It is the desire for them to experience healing and to choose to reject their place in great machines of injustice. And who knows, they might just join you in trying to transform the very ones who they used to resemble.
The question we must wrestle with is whether the radical transformation of the Zacchaeuses in our lives is enough. Do we need them to pay as a form of penance for what they have done? If they should be brought to a place where they desire to give out of a sincere wish to restore, would that be enough?
It really does come down to asking the question of intent. What do you desire for your enemies? Is it a world where now you are on top, dominating those who once wronged you? Or do you desire a "double victory," a world where your enemies have undergone radical transformation? Is your desire a world where there is no more domination, no more oppression, no more subjugation, discrimination, or injustice?. A world where the sun shines and the rain falls on all alike? Could you share a world with those who have wronged you if they were "won" rather than just defeated, transformed rather than just destroyed? Could you live in a world alongside them if they, too, were radically changed?
If your answer is yes, you are moving toward the heart of the message of the Jesus of Sayings Gospel Q as he admonishes us to love our enemies.
As we progress through  Sayings Gospel Q, we will encounter Jesus' strong words to those who need to restore the justice they have violated. That part of the message is as vital is the part we looked at today. Both messages are what we must wrestle with if we want a world that is truly safe and compassionate for everyone:
"Love your enemies and' pray for those persecuting you so that you may become sons of your Father, for he raises his sun on bad and good and rains on the just and unjust." (Sayings Gospel Q 6:27-28, 35c-d)
HeartGroup Application
Is transformation enough or do we want retribution?
This week I want you to begin with an private exercise. Picture the person on this planet that you like the least. When you have them in your mind's eye, ask yourself: Would it be enough for you if that person came to understand what they have done to you, if they were more than sorry, and if they actively sought to repair the wrong they have done to you? Not all wrongs can be undone, but if that person was transformed, could you forgive?
Jesus, in Sayings Gospel Q, calls us to pre-empt this transformation by initiating the process with enemy love. This does not mean that you accept what they have done. It means that as you imagine and interact with them, you have in view the end result of their transformation. As you ponder these questions, write down the questions, emotions, struggles, and challenges these questions present to you.
If you feel comfortable, share what you learn with your HeartGroup. Discuss with each other how, whether we belong to the party of the oppressed or the oppressors or to both parties in different ways, we can move toward a safer more compassionate world for all, where equity is as indiscriminate as the shining of the sun and the falling of the rain.  Then make some choices to act in the way of forgiveness and reparation. These steps don't have to be huge at all. You can take small steps, but take a step. Step toward either transformative forgiveness, or restorative reparation in one of the ways you discussed with you group.
Enemy love and enemy transformation was at the heart of Jesus teachings in Sayings Gospel Q. It was at the heart of Gandhi's ahimsa (love or compassion), as well as King's struggles for racial equity and his final movements in the Poor People's Campaign.
Yes, if you take these steps, there will be push back. When you call for change, there will be pushback from those ill-treating you. Keep calling, all the while, learning to love transformationally those who oppose you. And remember, as the Dalai Lama has said, "It is the enemy who can truly teach us to practice the virtues of compassion and tolerance."
Till the only world that remains is a world where love reigns.
I love each of you dearly.
I'll see you next week.