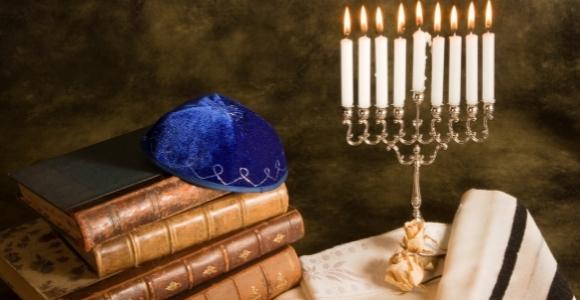 Herb Montgomery | January 28, 2022
---
"We can do better today. We don't have to disparage Jewish people, Jewish wisdom, or Judaism to value Jesus and his ethical teachings. There is so much good in the Jesus story that can benefit our communities today as we live out the golden rule and shape our world into a safe, compassionate, just home for everyone. That "everyone" genuinely means everyone, including Jewish people. And that means that we have to be honest about the harmful way Christian narratives have been told in the past and are still told today. We have to name those harmful story elements in our text. We must do better."
---
Our reading this week is from the gospel of Luke:
Then he began to say to them, "Today this scripture has been fulfilled in your hearing." All spoke well of him and were amazed at the gracious words that came from his mouth. They said, "Is not this Joseph's son?" He said to them, "Doubtless you will quote to me this proverb, 'Doctor, cure yourself!' And you will say, 'Do here also in your hometown the things that we have heard you did at Capernaum.'" And he said, "Truly I tell you, no prophet is accepted in the prophet's hometown. But the truth is, there were many widows in Israel in the time of Elijah, when the heaven was shut up three years and six months, and there was a severe famine over all the land; yet Elijah was sent to none of them except to a widow at Zarephath in Sidon. There were also many lepers in Israel in the time of the prophet Elisha, and none of them was cleansed except Naaman the Syrian." When they heard this, all in the synagogue were filled with rage. They got up, drove him out of the town, and led him to the brow of the hill on which their town was built, so that they might hurl him off the cliff. But he passed through the midst of them and went on his way. (Luke 4:21-30)
There is a lot in our reading this week. The author of Luke's gospel is elaborating on the theme of Jesus' home-town rejection by using a contemporary proverb about a doctor being admonished to cure their own ailment.
This narrative first appears in Mark. Then it is expanded in Matthew, and elaborated on even further in Luke. Here are both Mark's and Matthew's versions:
He left that place and came to his hometown, and his disciples followed him. On the sabbath he began to teach in the synagogue, and many who heard him were astounded. They said, "Where did this man get all this? What is this wisdom that has been given to him? What deeds of power are being done by his hands! Is not this the carpenter, the son of Mary and brother of James and Joses and Judas and Simon, and are not his sisters here with us?" And they took offense at him. Then Jesus said to them, "Prophets are not without honor, except in their hometown, and among their own kin, and in their own house." And he could do no deed of power there, except that he laid his hands on a few sick people and cured them. And he was amazed at their unbelief. (Mark 6:1-6) 
He came to his hometown and began to teach the people in their synagogue, so that they were astounded and said, "Where did this man get this wisdom and these deeds of power? Is not this the carpenter's son? Is not his mother called Mary? And are not his brothers James and Joseph and Simon and Judas? And are not all his sisters with us? Where then did this man get all this?" And they took offense at him. But Jesus said to them, "Prophets are not without honor except in their own country and in their own house." And he did not do many deeds of power there, because of their unbelief. (Matthew 13:54-58)
Luke's gospel adds the saying, "Doctor, cure yourself!"
So often, when Black and Hispanic people object to police brutality, White people divert the attention away from police with a "black-on-black violence" narrative or argument. This is a way of telling these communities to "cure yourself" rather than hold up law enforcement to scrutiny. When there's an effort to hold oppressors accountable, oppressors and those who support them change the subject and find fault with the victim in an ad hominem attack.
This proverb also reminds me of a Twitter conversation where I was speaking of the differences between systemic injustice and personal or private injustice. One Twitter user replied, "You change your system and let us know how that goes" and made some comment about poor people needing to be made to work.
By contrast, I saw a meme this week that said the role of prophetic Christianity is to hold society accountable. But I think Christianity needs to heal itself first in matters of justice and equity before it should speak over the rest of society. Christians have little credibility critiquing other groups when there is so much housekeeping that needs to be done inside Christianity. We do not want to be open to charges of hypocrisy.
With this story, Luke also foreshadows how Jesus would later be mocked at his execution:
And the people stood by, watching; but the leaders scoffed at him, saying, 'He saved others; let him save himself if he is the Anointed of God, God's chosen one!' (Luke 23:35)
That's not all that Luke foreshadows in this story. He also lays the foundation for tension that emerges between Jewish and Gentile Jesus followers in the early Jesus movement. By the time Luke is written, Gentile followers of Jesus already want to distance themselves from the Jewish community in the eyes of the Roman empire, and this story illustrates that.
In this story, Luke's Jesus uses two ancient Jewish folk stories (1 Kings 17:1-16 & 2 Kings 5:1-14) to justify including Gentiles in his community. Luke then paints the Jewish audience as becoming homicidally angry at even the notion that Gentiles should be included. I find this odd because usually when one group speaks ill of another in these stories, it is not Jewish Jesus followers speaking ill of Gentiles; it's Gentile Jesus followers speaking ill of Jewish people. Later on in Acts, however:
After they [local Jewish leaders] had set a day to meet with him, they came to him at his lodgings in great numbers. From morning until evening he explained the matter to them, testifying to the kingdom of God and trying to convince them about Jesus both from the law of Moses and from the prophets. Some were convinced by what he had said, while others refused to believe. So they disagreed with each other; and as they were leaving, Paul made one further statement: "The Holy Spirit was right in saying to your ancestors through the prophet Isaiah,
'Go to this people and say,
You will indeed listen, but never understand,
and you will indeed look, but never perceive.
For this people's heart has grown dull,
and their ears are hard of hearing,
and they have shut their eyes;
so that they might not look with their eyes,
and listen with their ears,
and understand with their heart and turn—
and I would heal them.'
Let it be known to you then that this salvation of God has been sent to the Gentiles; they will listen." (Acts 28:23-28)
Our story this week doesn't direct our focus to "those Gentiles" or how much "they" want to exclude Jewish people. It focuses on "those Jewish people" and how deeply and violently they hate having to share a world with Gentiles. Luke/Acts was written by Gentiles, the group of believers that won the early Jesus movement, and this week's reading paints the people sitting in the synagogue with Jesus that Sabbath day in the worst possible light. This mischaracterization of Jewish people in later versions of the Jesus story has proven to be so harmful.
Gentile Christians have committed grave harm against Jewish people throughout history because of how our Jesus story is written. As the adage goes, history is told by the conquerors. As the Jesus community became primarily Gentile, it added anti-Jewish elements to our sacred stories, subtly painting Jewish people in those stories and even Jesus himself as anti-Jewish.
In our society, whenever people call for inclusion or equity for Black or Brown people, some White and other voices allege that these efforts are somehow harmful to White people. Making the United States a multiracial democracy is not being anti-White people; it's being pro-all people. But looking back at Luke, I wonder how much of the Jewish bigotry toward Gentiles that we read in the gospels is really Greek-speaking Jesus followers seeking to paint their Jewish peers in the worst possible light to justify the distance they wanted between Christianity and Judaism.
It's been quite effective. How do you disparage a community that you are bigoted against? Accuse them of murderous bigotry toward you instead. Though there were competing Jewish voices within Jesus' own Jewish society with varied Jewish attitudes toward Gentiles (I think of the differences between the teachings of the School of Hillel and the School of Shammai, see Rabbi Harvey Falk's Jesus the Pharisee: A New Look at the Jewishness of Jesus), Judaism itself has always taught that there are those deemed "righteous" among all nations.
Unfortunately this anti-Jewish theme paved the way for the Roman empire, when it finally absorbed Christianity as Rome's official state religion, to escape being held accountable for executing Jesus. Instead, Roman Christianity scapegoated the Jewish people and blamed them for Jesus' execution. Christian anti-semitism continued to evolve.  So much so that in certain eras, we find anti-semitic Christians opposed even to the reminder that Jesus himself was a Jew.
We can do better today. We don't have to disparage Jewish people, Jewish wisdom, or Judaism to value Jesus and his ethical teachings. There is so much good in the Jesus story that can benefit our communities today as we live out the golden rule and shape our world into a safe, compassionate, just home for everyone. That "everyone" genuinely means everyone, including Jewish people. And that means that we have to be honest about the harmful way Christian narratives have been told in the past and are still told today. We have to name those harmful story elements in our text. We must do better.
Some Christians today are doing better, and not just for our Jewish friends. They are raising consciousness of how Christianity has been used to harm Indigenous people, migrant populations, non-white and non-European people, women, the LGBTQ community, and so many more.
Jesus followers today have the responsibility to make sure our own house is in order. Before we can help anyone else with the speck that may be in their eye, we have to attend the beam that has been and still is in our own.
HeartGroup Application
1. Share something that spoke to you from this week's eSight/Podcast episode with your HeartGroup.
2. What areas of injustice are you engaging within your own faith community? What changes are you working toward? Discuss with your group.
3.  What can you do this week, big or small, to continue setting in motion the work of shaping our world into a safe, compassionate, just home for everyone? 
Thanks for checking in with us, today.
Right where you are, keep living in love, choosing compassion, taking action, and working toward justice.
I love each of you dearly,
I'll see you next week
---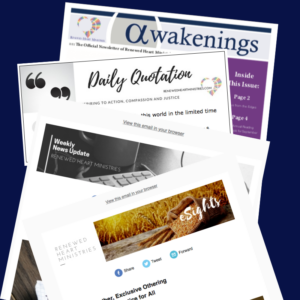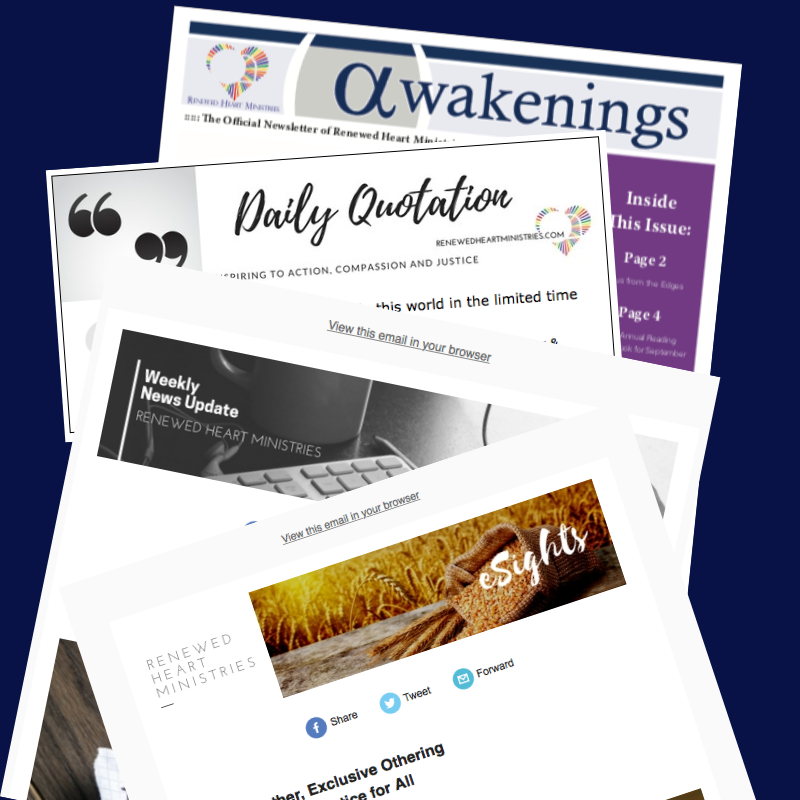 Begin each day being inspired toward love, compassion, action, and justice.
Go to renewedheartministries.com and click "sign up."
Free Sign-Up at:
https://renewedheartministries.com/Contact-forms?form=EmailSignUp