Herb Montgomery | March 29, 2019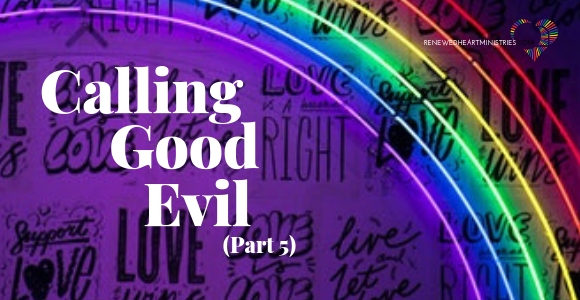 ---
"The image of God is the male-female spectrum. When we speak of a person's sex, we're describing their bodies in terms of characteristics we define as male, female, neither, or both. Wherever nature places a person on this spectrum, they are still just as much a bearer of God's image. With gender identity, a person may identify as male, female, neither, or both. They are still fully human. Whether your orientation is to be attracted to men, women, neither, or both, you are still fully human and still bearing the image of God."
---
"No good tree bears bad fruit, nor does a bad tree bear good fruit. Each tree is recognized by its own fruit." (Luke 6:43-44)
I initially thought this series would only have two parts, so whether you're still tracking with me, or joined me in the middle, I'm so glad you're here. This week we'll wrap up this series by considering the last two passages that some Christians use to harm the LGBTQ community and their allies.
The first one is in the New Testament book of Jude.
Jude
"Remember Sodom and Gomorrah and the neighboring towns; like the angels, they committed fornication and indulged in unnatural lusts; and in eternal fire they paid the penalty, a warning for all. In the same way these deluded dreamers continue to defile their bodies, flout authority, and insult celestial beings." (Jude 7, 8, REB)
Just recently, a non-affirming Christian brought up this passage in a conversation we were having. You see, in the New King James Version part of this passage reads, "having given themselves over to sexual immorality and gone after strange flesh." The person I was speaking with wanted to convince me that "strange flesh" referred to sexual activity with someone of the same sex. But nothing could be further from the context and language of this passage.
In this series we have established that the Sodom and Gomorrah story in Genesis does not address generic same-sex activity (see Calling Good Evil, Part 2). More than that, this passage is not only referring to the Sodom story in Genesis 19, but also to the less-told story in Genesis 6 where angels initiate sexual activity with humans.
"Strange flesh" isn't about sex between same-sex humans. It's not about sex between same-ness at all, but about sex across utter difference: sex between humans and cosmic beings. Matthew Vines explains:
"The other verse, Jude 7, is more frequently cited by non-affirming Christians as a potential reference to same-sex behavior. There, we read that the people of Sodom and Gomorrah 'indulged in gross immorality and went after strange flesh' (NASB). The phrase 'strange flesh' is variously translated as 'perversion,' 'unnatural desire,' and 'other flesh,' which some argue is a reference to same-sex relations. But the Greek phrase used in Jude 7 is sarkos heteras—literally, other or 'different flesh.' Hetero, of course, is the prefix for words like heterosexuality, not homosexuality. Far from arguing that the men of Sodom pursued flesh too similar to their own, Jude indicts them for pursuing flesh that was too different. In fact, the phrase 'strange flesh' likely refers to the attempted rape of angels instead of humans. Jude 6 supports that connection by comparing Sodom's transgressions with the unusual sins described in Genesis 6. In that chapter, 'sons of God' (interpreted by many to be angels) mated with human women, arousing God's ire before the flood." (God and the Gay Christian: The Biblical Case in Support of Same-Sex Relationships, p. 69)
The context of this passage in Jude confirms this reading: the very next verse addresses an "insult" to "celestial beings."
Genesis 1
Our final passage is from the Hebrew origins story in Genesis 1.
"So God created mankind in his own image, in the image of God he created them; male and female he created them." (Genesis 1:27)
This passage, too often interpreted through a gender binary lens, is used against those with a same-sex orientation as well as against those who are transgender, non-binary, or gender nonconforming.
Last year, Asher O'Callaghan beautifully shared a more inclusive reading of this passage.
"In the beginning, God created day and night. But have you ever seen a sunset!?!? Well trans and non-binary people are kind of like that. Gorgeous. Full of a hundred shades of color you can't see in plain daylight or during the night.
In the beginning God created land and sea. But have you ever seen a beach?!?! Well trans and non-binary people are kind of like that. Beautiful. A balanced oasis that's not quite like the ocean, nor quite like the land.
In the beginning God created birds of the air and fish of the sea. But have you ever seen a flying fish, or a duck or a puffin that swims and flies, spending lots of time in the water and on the land!?!? Well trans and non-binary people are kind of like that. Full of life. A creative combination of characteristics that blows people's minds.
In the beginning God also created male and female, in God's own image, God created them. So in the same way that God created realities in between, outside of, and beyond night and day, land and sea, or fish and birds, so God also created people with genders beyond male and female. Trans and non-binary and agender and intersex, God created us. All different sorts of people for all different sorts of relationships. Created from love to love and be loved. In God's image we live.
God is still creating you. You are no less beautiful and wild than a sunset or a beach or a puffin. You are loved. You have a place here."
(Asher O'Callaghan, Facebook, October 18, 2018)
I believe the creation story also can be understood in a way that not only affirms transgender or non-binary or intersex people, but also affirms people with same-sex orientations.
This story is about beginnings. This story speaks of a God who began the human race by creating male and female, together, in the image of that God. Think of these categories as a spectrum with what we define as "male" on one end and what we define as "female" on the other. Could the image of God be the entire spectrum of humanity regardless of where any one individual identifies on a scale between male and female?
The image of God is the male-female spectrum. When we speak of a person's sex, we're describing their bodies in terms of characteristics we define as male, female, neither, or both. Wherever nature places a person on this spectrum, they are still just as much a bearer of God's image. With gender identity, a person may identify as male, female, neither, or both. They are still fully human. Whether your orientation is to be attracted to men, women, neither, or both, you are still fully human and still bearing the image of God.
There are so many possible combinations. You could, for example, understand your body as male, yet identity your gender closer to the female end of the spectrum, have an androgynous gender expression, and be attracted to men. Whichever combination, whether in sex, gender identify, gender expression or sexual attraction/orientation, you are still part of the human family and a bearer of the image of God. You are as much a reflection of that original Hebrew story as anyone else. You are not other.
This means that God is much more diverse than we may have assumed.
And humanity, bearing God's image, is much more diverse than we may have assumed, as well.
This beautify and diverse way of seeing humanity and the Divine image is reflected in a Jewish prayer first introduced to me by my dear friend Dr. Keisha McKenzie, "Blessed are you oh Lord King of the Universe for you vary the forms of your creatures." And in the Jewish proverb another dear friend of mine, Danneen Akers, introduced me to, "Before every person there walks an angel announcing behold the image of God."
Conclusion
I want to end this series with a passage from Brownson's work on the "one flesh" language of Adam and Eve in the Genesis story.
"As I have already observed, the language of 'one flesh' is the language of kinship. When the man meets the woman in Genesis 2:23, he declares, "This at last is bone of my bones and flesh of my flesh." In Genesis 29:14, Laban recognizes his kinship bond to Jacob, and says, "Surely you are my bone and my flesh!" In 2 Samuel 5:1, as the tribes of Israel move to make David their king, they declare to him, "Look, we are your bone and flesh" (similar examples can be found in Judg. 9:2; 2 Sam. 19:12f.; and 1 Chron. 11:1). In all these cases, gender distinctions play no role; the focus is entirely on kinship, shared culture, experience, and identity — the same focus that I argued is present in Genesis 2. Furthermore, the use of the word "cling," used in Genesis 2:24 to describe the relationship of the man and the woman, does not carry sexual connotations in any other usage, but reflects the desire for association and connection that is characteristic of kinship." (Bible, Gender, Sexuality: Reframing the Church's Debate on Same-Sex Relationships, p. 107).
There is so much more I wish I had space to share from Brownson's work on the Genesis narratives. If you're interested in a more holistic understanding of the Hebrew Genesis stories, his work is well worth your time.
This Hebrew origin story points to human kinship, the foundational solidarity of the human family of which we all are a part. In a more specific way, it also points to any of the numberless committed, consensual, loving relationships between human beings, whether they be same-sex or otherwise.
The story is about kinship. It's about love. And any place we find genuine love, we find the image of God, for God is love. (1 John 4:8)
"No good tree bears bad fruit, nor does a bad tree bear good fruit. Each tree is recognized by its own fruit." (Luke 6:43-44)
---
HeartGroup Application
As we continue to work toward creating safe places in society for people who daily face marginalization, this work is desperately needed within our faith communities as well. This week I am encouraging both our readers as well as our HeartGroups to volunteer some time with Church Clarity. From Church Clarity's website: "Church Clarity was borne out of a genuine desire to address very simple, yet profoundly impactful shortcomings of the church." What is this harmful shortcoming? Ambiguity. "Church Clarity is a crowd-sourced database of Christian congregations scored by our team of volunteers based on how easy it is to find a church's Actively Enforced Policy online. We currently evaluate church websites for policies that impact LGBTQ+ people and Women in Leadership." You can find out more about Church Clarity here.
This week:
Volunteer as a scorer for Church Clarity. It's not difficult and they'll walk you through it.
Recommend new communities that you are familiar with for volunteers to score.
Then share with your HeartGroup what you've learned from your experience and how you feel you made a difference.
Thanks you, each of you, for checking in with us this week. If you have been with us through this entire five part series, I want to say a special thank you to you. I'm so glad you are on this journey with us.
Where you are today, choose to live in love, compassion, action and justice.
Another world is possible.
I love each of you dearly.
I'll see you next week.