by Herb Montgomery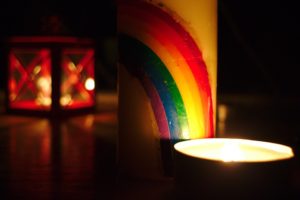 Before we begin this week, I want to take a moment to pause and remember the forty-nine victims of the Orlando Shooting. This tragic event took place at the gay nightclub Pulse, where our Lesbian, Gay, Bisexual, Transgender and Queer/Questioning siblings within our human family were targeted.  Fifty-three others were injured.  That's 102 beautiful lives either gone or at minimum will never be the same.
Within the Jewish wisdom tradition it is said, "Whosoever sheds human blood diminishes the divine image; destroying only one human life is equivalent to annihilating the entire world."  In this instance it was a specific demographic within our world that was purposely, hatefully, and senselessly singled out.  This was the largest targeted mass killing of LGBT people in the Western world since the Holocaust.
Our hearts at Renewed Heart Ministries are with the families and loved ones of those who were both injured and lost.  Our hearts are with the LGBTQ community at large who daily live in fear, afraid to drop their guard, constantly aware they are at some level of risk; ever performing habitual safety-checks assessing their surroundings when in public.  You are not alone.  We grieve with you.  And we at RHM will continue to stand along side you in the work to end homophobia, heterosexism, and the violence through which they most often find their expression.  We acknowledge and affirm your presence within our human family.  You deserve dignity, respect and life. And to all the critics, our time among the LGBTQ community has taught us that there really is only one, as is so called, "gay agenda" and that too often, sadly, is simply to survive. If history has proven anything it is that those who are excluded today will be eliminated and exterminated tomorrow.  To the LGBTQ community, we love you. We are standing with you, and when needed, we pledge to stand between them and you.  The names of those lost will not be forgotten.  Varied is the image of God.  Our work will continue.
As the sun continues to rise, so will our efforts till the day comes when our world is a safer, more just, more compassionate home for us all.
---
"And someone said to him: 'I will follow you wherever you go.' And Jesus said to him: 'Foxes have holes, and birds of the sky have nests; but the son of humanity does not have anywhere he can lay his head.' But another said to him: 'Master, permit me first to go and bury my father.' But he said to him: 'Follow me, and leave the dead to bury their own dead.'" (Q 9:57-60)
Companion Texts:
Luke 9:57-60: "As they were walking along the road, a man said to him, 'I will follow you wherever you go.' Jesus replied, 'Foxes have dens and birds have nests, but the Son of Man  has no place to lay his head.' He said to another man, 'Follow me.' But he replied, 'Lord, first let me go and bury my father.' Jesus said to him, 'Let the dead bury their own dead, but you go and proclaim the kingdom of God.'"
Matthew 8:19-22: "Then a teacher of the law came to him and said, 'Teacher, I will follow you wherever you go.' Jesus replied, 'Foxes have dens and birds have nests, but the Son of Man has no place to lay his head.' Another disciple said to him, 'Lord, first let me go and bury my father.' But Jesus told him, 'Follow me, and let the dead bury their own dead.'"
Gospel of Thomas 86: "Jesus says: 'Foxes have their holes and birds have their nest. But the son of man has no place to lay his head down and to rest.'"
Jesus wasn't a politician, and Jesus wasn't a pastor.
Too often diplomacy, peace-keeping (as opposed to peace-making), and efforts to appeal to the largest number of people are the modus operandi of those working for social change while also trying to obtain or maintain a position of privilege in the status quo. But this wasn't Jesus's method in Sayings Gospel Q. I'm reminded of the lyrics to Bob Dylan's song Like a Rolling Stone: "When you got nothing, you got nothing to lose."
Jesus wasn't trying to win at popularity. One of my favorite quotations from Peter Gomes' book The Scandalous Gospel of Jesus is this: 
"Good news to some will almost inevitably be bad news to others. In order that the gospel in the New Testament might be made as palatable as possible to as many people as possible, its rough edges have been shorn off and the radical edge of Jesus' preaching has been replaced by a respectable middle, of which "niceness" is now God. When Jesus came preaching, it was to proclaim the end of things as they are and the breaking in of things that are to be: the status quo is not to be criticized; it is to be destroyed."(p. 31)
It seems that just about every time a crowd of followers begins to amass behind Jesus, he does something to ground them, making sure they understand exactly what they are signing up for. And what is their response? He loses that large numbers of followers every time.
Jesus wasn't trying to get as many people to go to a post-mortem heaven as possible when they died. He was working to create change here, now, today, and he realized that lip-service wouldn't change anything. I don't think that Jesus would have been against large membership lists. I think he just understood that numbers are meaningless when the people that the numbers represent aren't significantly challenging the injustice, violence and oppression of our world in their deeds.
Homelessness
This week's statement is one of the most haunting statements that Jesus makes; at least it is for me personally. I am not homeless, and in my lifestyle here in America, I do not reflect Jesus much at all. I have a family. Crystal and I have children. We look more like foxes and birds than we do like Jesus. I do wrestle with this. I wonder: how much does my privilege, and my reluctance to jeopardize that privilege, hold me back from following Jesus' teachings more deeply?
Also, I think of Christianity as a whole. Ever since the days of Constantine, the Church has become one of the greatest holders of land and property on Earth, all while claiming to be following the homeless Jesus. The Church's land holdings have been at the root of poverty and complicit in economic structures that cause poverty.
Yet one of the elements of ancient Jewish hope was a vision of a day where "Everyone will sit under their own vine and under their own fig tree, and no one will make them afraid." (Micah 4.4, emphasis added.) The vision didn't include large land holdings exclusively owned by a small oligarchy. This ancient hope saw everyone with a secure place to live and provide for themselves.
Yet it seems that Jesus abandoned the pursuit of "property" as long as that property meant joining a coalition with a domination system that exploited the poor, transformed small independent farmers into debt-ridden indentured slaves under the Roman system, and pressured the Temple leadership to religiously legitimize the system. As a means of working toward the Jewish hope of property to all as a human right, Jesus chose solidarity with the property-less, rather than pursuing a propertied institution to establish his movement's permanence.
The Christian Church has not done what Jesus did. This gives me much cause to pause and contemplate.
Studies of U.S. capitalism, English enclosures, Soviet collectivization, and South American latifundia have shown that there is a deep connection between the creation of a dependent labor force for the Western industrial revolution and the majority of the population's loss of land ownership. In the United States, land was concentrated into the hands of a few and the majority of the population became dependent on working for industrialists just to scratch out a living. The same happened in state-enforced capitalism, state Soviet socialism, and colonial capitalism. (Land ownership is different from property ownership, though owning even a small home can leave people dependent on working for industrialists to pay a mortgage.) Much has been written on this history, and I recommend Joseph R. Stromberg's English Enclosures and Soviet Collectivization. 
I wrestle with how to work toward Micah's vision of everyone having their own safe vineyard. But I take that wrestling as a call to lean more deeply into experimentation to find things that work, and not stop at futility or throwing up my hands. As Dorothy Day once wrote in her journal, "No one has a right to sit down and feel hopeless. There is too much work to do."
At bare minimum, we might begin, as Tolstoy stated in his book The Kingdom of God is Within You, with being honest about what is transpiring around us. We can begin to tell the truth.
"And therefore you cannot but reflect on your position as landowner, manufacturer, judge, emperor, president, minister, priest, and soldier, which is bound up with violence, deception, and murder, and recognize its unlawfulness. I do not say that if you are a landowner you are bound to give up your lands immediately to the poor; if a capitalist or manufacturer, your money to your workpeople; or that if you are Tzar, minister, official, judge, or general, you are bound to renounce immediately the advantages of your position; or if a soldier, on whom all the system of violence is based, to refuse immediately to obey in spite of all the dangers of insubordination. If you do so, you will be doing the best thing possible. But it may happen, and it is most likely, that you will not have the strength to do so. You have relations, a family, subordinates and superiors; you are under an influence so powerful that you cannot shake it off; but you can always recognize the truth and refuse to tell a lie about it. You need not declare that you are remaining a landowner, manufacturer, merchant, artist, or writer because it is useful to mankind; that you are governor, prosecutor, or tzar, not because it is agreeable to you, because you are used to it, but for the public good; that you continue to be a soldier, not from fear of punishment, but because you consider the army necessary to society. You can always avoid lying in this way to yourself and to others, and you ought to do so; because the one aim of your life ought to be to purify yourself from falsehood and to confess the truth. And you need only do that and your situation will change directly of itself. There is one thing, and only one thing, in which it is granted to you to be free in life, all else being beyond your power: that is to recognize and profess the truth." (pp. 263-264, emphasis added.)
I have found this to be true in my own life: Just keep "telling the truth"; "you need only do that and your situation will change directly of itself." Maybe this is why Jesus was unlike foxes and birds himself. He chose to speak the truth in a society that exploited the many for the elite and marginalized an other-ed few. Jesus chose not to be silent, even knowing it could cost him his life; he saw what Desmond Tutu and others said much later on about silence and neutrality: "If you are neutral in situations of injustice, you have chosen the side of the oppressor. If an elephant has its foot on the tail of a mouse and you say that you are neutral, the mouse will not appreciate your neutrality" (in Unexpected News: Reading the Bible with Third World Eyes (1984) by Robert McAfee Brown, p. 19)
Jesus chose not to be silent, even if it would cost him his life, and it did.
The Dead
Last week's eSight helped us to understand that Jesus would refer to the lethargic, passive, complicity larger society around him as "dead." Some scholars believe that he made this statement about the dead burying their dead about a year after the would-be disciple's father's death.
In that era, the burial process sometimes had two parts. It involved an initial interment in caves, hewn tombs, sarcophagi, or catacombs. Then a secondary burial of the remains into ossuaries sometimes took place about one year after the original burial, after the body had decomposed and the only remains were the bones of the deceased loved one (see Death & Bereavement in Judaism: Ancient Burial Practices).
But it is difficult to tell for sure whether Jesus's conversation with the follower was about their request to take part in a first interment or a second. It would be impossible for me to defend this saying if it was the first interment. Both within Jewish culture and according to Torah, denying someone burial was the most humiliating indignity that could be shown to the deceased (see Jewish Encyclopedia: Burial). Also, Jesus's social vision was rooted in people taking care of people. I have a hard time believing Jesus would be so callous (as well as non-Jewish) as to not let grieving people bury and properly grieve the loss of their loved ones. (Especially in the wake of the events of this week.)  If the context of this saying was the second interment, however, this would have been a year later, a year removed from the grief, and although still difficult to accept, the saying does contrast a Hellenistic-Jewish ceremony related to what a loved one was experiencing in their "afterlife" (see Jewish Burials), and the priority of a movement focused on taking care of those still alive. Sectors of modern Christianity place a high priority on obtaining entrance to a post mortem heaven or avoiding a hell while grossly ignoring the hell that many are living in now. It could be that, to them, the Jesus of this saying replies, "Let the dead bury their dead."
This saying challenges me. I don't see taking care of the living and honoring the dead as mutually exclusive; I see them as connected. However one interprets this saying of Jesus, whether one justifies this statement or believes Jesus went too far in prioritizing his revolution above what is decent and compassionate, this saying must be held in tension with a Jesus who elsewhere defined his vision for human society as people taking care of one another rather than disregarding them.
Either way, the confrontation in this week's sayings is hard. It's a serious wake-up call to us to genuinely understand what we are signing up for when we choose to lean more deeply into and begin following the teachings of the historical Jesus. This journey is not for those who desire to remain comfortable. It's not about a post-mortem destination that has little to do with this present life. This journey is about change. It's about liberation. It's a path, sometimes very difficult, of compassionate work toward systemically resolving those things that presently cause humans suffering. It means embracing the "way of the cross," not as "sacrifice" but, as Karen Baker-Fletcher and Garth Baker-Fletcher in My Sister, My Brother say, "actively struggling for social justice" (pp. 79-80). Make no mistake: the conventional domesticated Jesus of the American Christian religion is not the Jesus we find in the Jewish Sayings Gospel Q. And this is a difference that is worth recognizing.
Take some time this week to meditate on what this saying may mean for you:
"And someone said to him: 'I will follow you wherever you go.' And Jesus said to him: 'Foxes have holes, and birds of the sky have nests; but the son of humanity does not have anywhere he can lay his head.' But another said to him: 'Master, permit me first to go and bury my father.' But he said to him: 'Follow me, and leave the dead to bury their own dead.' (Q 9:57-60)
HeartGroup Application
It is much easier to face the challenges of societal change as a community. In fact, to follow Jesus's teachings regarding social change, it's impossible to do so outside of community. Jesus's method of subverting domination systems was community.
This week, to honor your community, sit down with your HeartGroup and share with each other ways you can support one another in your private and communal efforts to follow the teachings of Jesus.
Actually write them out and discuss ways you can come underneath and support one another. Note what that looks like, what it doesn't look like, and what supporting one another would cost the group, as well as what it would cost the individual.
Choose at least one other person in the group to affirm and support in tangible ways this week. Begin taking responsibility for taking care of each other personally.
As we have said before, we don't want to make following Jesus difficult. We want to be honest about where following Jesus is difficult. This is not an easy, feel-good way to arrive at a celestial shore. This is a honest and compassionate way of healing and transforming our world, till the only world that remains is a world where only love reigns.
Thanks for checking in with us this week.  Again, our hearts are with all those grieving the tragedy in Orlando.
Keep living in love.
I love each of you.
And I'll see you next week.