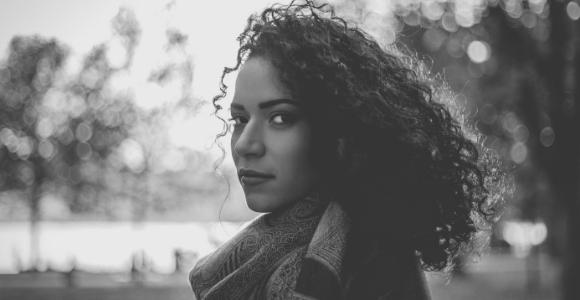 Herb Montgomery | June 3, 2022
To listen to this week's eSight as a podcast episode click here.
---
"We don't get to go from exclusively gendering God as male for two thousand years in Christianity to describing God as genderless. This conveniently bypasses the internal confrontation many have to face through the practice of gendering God as a woman."
---
Our reading this week is from the gospel of John:
Philip said, "Lord, show us the Father and that will be enough for us." Jesus answered: "Don't you know me, Philip, even after I have been among you such a long time? Anyone who has seen me has seen the Father. How can you say, 'Show us the Father'? Don't you believe that I am in the Father, and that the Father is in me? The words I say to you I do not speak on my own authority. Rather, it is the Father, living in me, who is doing his work. Believe me when I say that I am in the Father and the Father is in me; or at least believe on the evidence of the works themselves. Very truly I tell you, whoever believes in me will do the works I have been doing, and they will do even greater things than these, because I am going to the Father. And I will do whatever you ask in my name, so that the Father may be glorified in the Son. You may ask me for anything in my name, and I will do it. If you love me, keep my commands. And I will ask the Father, and he will give you another advocate to help you and be with you forever— the Spirit of truth. The world cannot accept him, because it neither sees him nor knows him. But you know him, for he lives with you and will be in you. (John 14:8-17)
This week's gospel lectionary reading has a lot to details to notice. The first thing that strikes me now is the overwhelming maleness of this passage: Jesus is male, reveals the Father as male, and refers to the Divine exclusively in male language and symbols.
The symbols we use for God have a function. Exclusively speaking of God with only male language and symbols has a function too. Elizabeth Johnson explains:
"This exclusive speech about God serves in manifold ways to support an imaginative and structural world that excludes or subordinates women. Wittingly or not, it undermines women's human dignity as equally created in the image of God."(Elizabeth A. Johnson, She Who Is, Kindle Edition. Location 831)
Describing the Divine as exclusively male or masculine has produced bad fruit throughout Christian history. I offer two examples. The first comes from John Paul Boyer in Some Thoughts on the Ordination of Women:
"Being a Jew, being a Palestinian, being a first century man—all these are what we might call, in the language of Aristotelian metaphysics, the 'accidents of Christ's humanity'; but his being a male rather than a woman is of the 'substance' of his humanity. He could have been a twentieth-century Chinese and been, cultural differences notwithstanding, much the same person he was; but he could not have been a woman without having a been a different sort of personality altogether." (In A Monthly Bulletin of the Church of St Mary the Virgin, Vol XLI, No. 5, May 1973, Quoted by Jacquelin Grant in White Women's Christ and Black Woman's Jesus, p. 77)
For Boyer, every other detail of the incarnation is incidental, but the fact that Jesus was male is substantive.
The second example is from Pope Paul VI. On October 15, 1976, Pope Paul VI issued a declaration on the question of women and the priesthood. The declaration specifically excludes women from the Imago Dei and justifies the exclusion by referring to Jesus as the exclusive revelation of the Divine:
"The Christian priesthood is therefore of a sacramental nature: The priest is a sign, the supernatural effectiveness of which comes from the ordination received, but a sign that must be perceptible and which the faithful must be able to recognize with ease. The whole sacramental economic is in face based upon natural signs, or symbols imprint upon the human psychology: 'Sacramental signs', says Saint Thomas, 'represent what they signify by natural resemblance.' The same natural resemblance is required for persona as for things: when Christ's role in the Eucharist is to be expressed sacramentally there would not be this 'natural resemblance' which must exist between Christ and his ministry if the role of Christ were not taken by a man. In such a case it would be difficult to see in the minister the image of Christ. For Christ himself was and remains man." (Franjo Cardinal Seper; Vatican Declaration, published February 3, 1977)
According to this declaration, because Jesus was male, those who represent Jesus sacramentally must also be male. It is only one step further to state that because Jesus was male and Jesus is the express revelation of God, God is also exclusively male.
Patriarchal hierarchy has been deeply ingrained not only through teachings based on Jesus' exclusive male gendering of the Divine, but also the Second Testament practice of describing the church as the bride of Christ. With Christ superior to the church and the church subservient to Christ, the symbols of a male Jesus and a female church unhealthfully reinforce the false belief that men are superior to women and women are subservient to men. This doesn't even begin to address how harmful a binary, exclusive understanding of gender can be.
I find it telling that it is often the gender of Jesus that defines God, qualifies human men for ordination, and centers men while disenfranchising those who do not identify as male within the church. Rarely do we see Jesus' ungendered concern for the poor, marginalized, and excluded on the edges of society or Jesus' ethic of universal love and treating others as you would like to be treated as what defines God, qualifies one for ordination, or impacts how to view and treat those who are not gendered as male.
There are many life-giving symbols of the Divine in the Jesus story. But Jesus' maleness and the Divine being repeatedly and exclusively gendered as "Father" is not one of them. Because of them, many Christian and non-Christian feminists alike have questioned whether Jesus can be an effective savior or liberator for women at all within deeply patriarchal societies.
To say that Jesus is the "express revelation of God," as Christianity claims, can be life-giving or death-dealing depending on what someone means by that statement. What do you mean when you say Jesus is a revelation or the revelation of the Divine?
Some, seeing the above challenges, have chosen to adopt genderless symbols for God or the Divine, and use symbols that can be heard and understood in multiple gender expressions. While part of me applauds this as an important step, we may have skipped a step. We don't get to go from exclusively gendering God as male for two thousand years in Christianity to describing God as genderless. This conveniently bypasses the internal confrontation many have to face through the practice of gendering God as a woman.
A few years ago now, I engaged in a twelve-month practice of exclusively referring to and thinking of God with female gendered language and symbols. I was not prepared for what this would dig up inside of me that I didn't even know was there. I had to face my own indoctrination and socialization in patriarchal social structures and internal biases that I didn't know I had. I would now recommend the practice to anyone. It doesn't take long to realize that gendering God as a women is not only life-giving, but that also not neutral: it's redemptive and restorative as well—medicinal or therapeutic.
Fish don't know they're wet. Many of us don't realize the misogynistic waters we've been swimming in all our lives and how we have inadvertently soaked up some of that water, no matter how hard we have endeavored to swim against the stream. I was raised by a single mother and thought I had evolved past a lot of these gender-based assumptions. I was shocked to discover how much patriarchy had still shaped me.
There are resources that can help if this is a new journey for you.
Just a few of books that I have found of incredible value are:
She Who Is by Elizabeth A. Johnson
White Women's Christ and Black Women's Jesus by Jacquelyn Grant
A Woman's Lectionary for the Whole Church by Wilda C. Gafney
Christianity, Patriarchy, and Abuse by Joanne Carlson Brown and Carol R. Bohn
The Divine Feminine Version of the New Testament by The Christian Godde Project
And, especially for children, there is a new children's book project due soon from a dear friend of mine, Daneen Akers, author of Holy Trouble Makers and Unconventional Saints. The book, Mama God, helping children imagine and relate to Divine femininity.)
People of all genders should be able to see themselves as bearing the image of the Divine because we all do. In our language for God, in the symbols we use for God, we can and must represent that image more clearly. Language and symbols have a function! We must be honest in asking whether the language and symbols we use genuinely are life-giving for everyone.
HeartGroup Application
1. Share something that spoke to you from this week's eSight/Podcast episode with your HeartGroup.
2. How does imagining the Divine in genders other than male, impact your own Jesus following? Discuss as a group.
3. What can you do this week, big or small, to continue setting in motion the work of shaping our world into a safe, compassionate, just home for everyone?
Thanks for checking in with us, today.
Right where you are, keep living in love, choosing compassion, taking action, and working toward justice.
I love each of you dearly,
I'll see you next week
---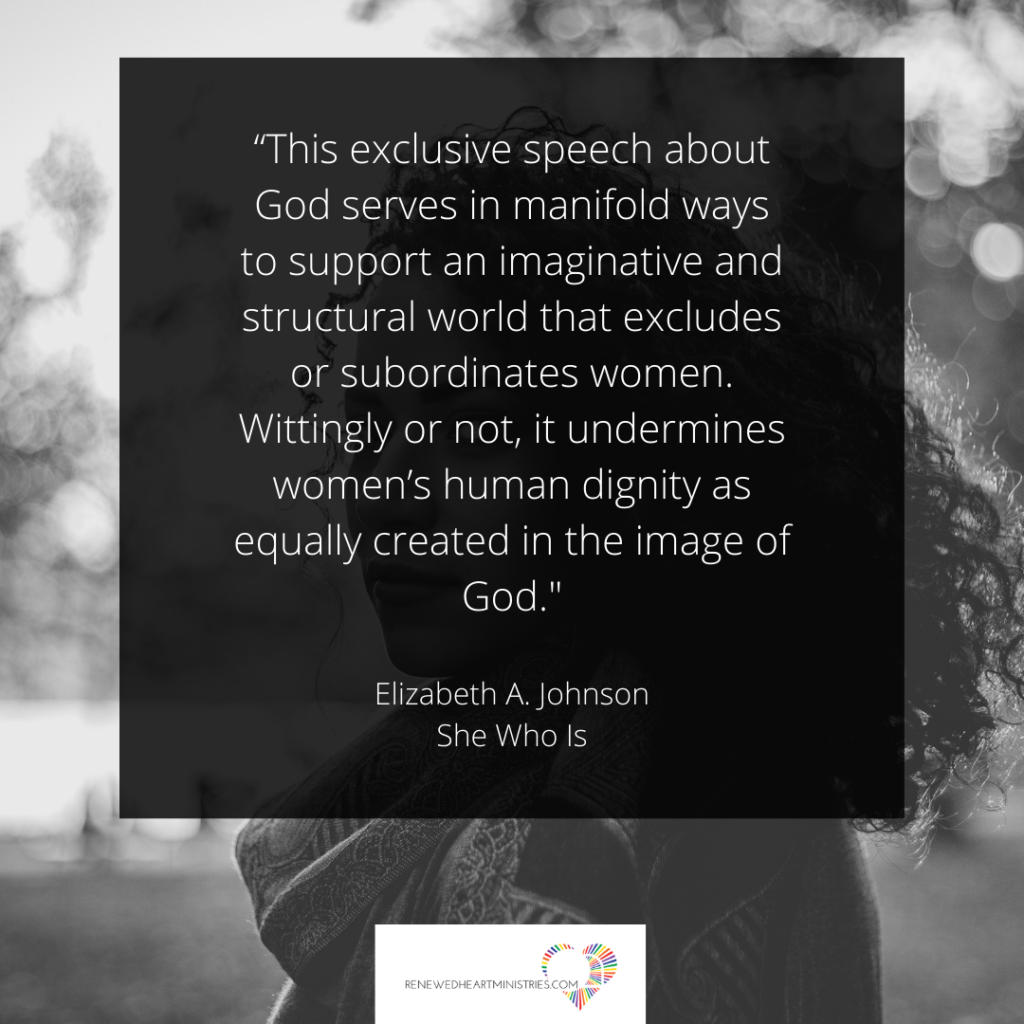 ---
Begin each day being inspired toward love, compassion, action, and justice.
Go to renewedheartministries.com and click "sign up."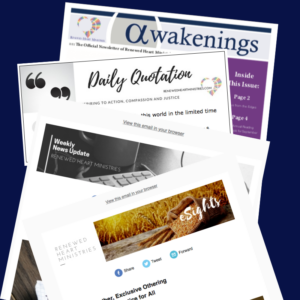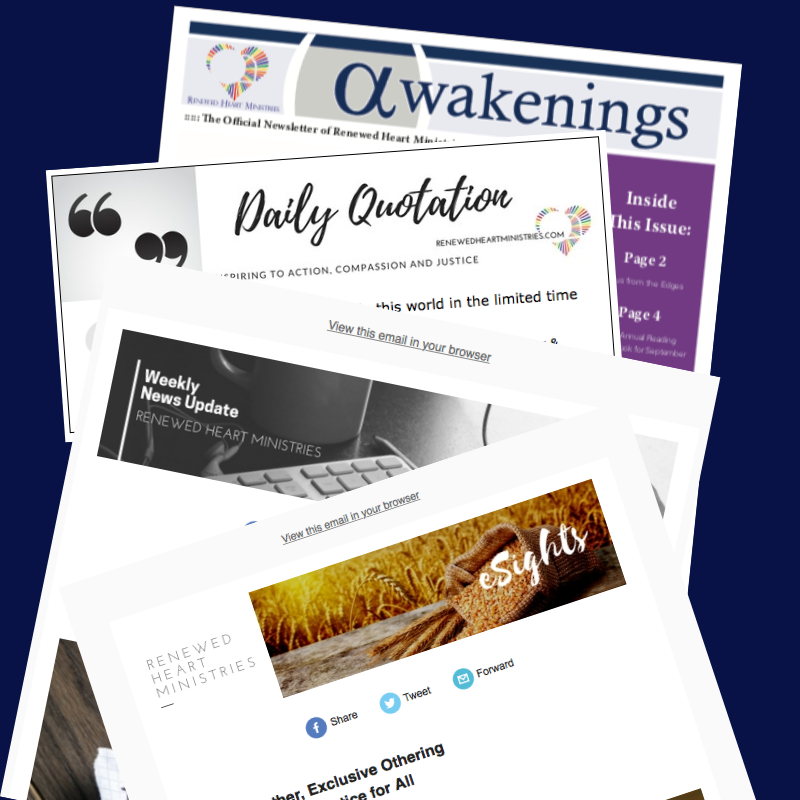 Free Sign-Up at:
https://renewedheartministries.com/Contact-forms?form=EmailSignUp