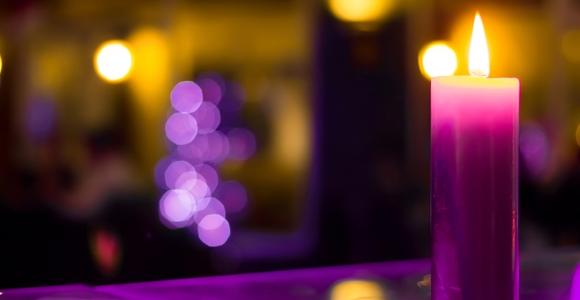 Herb Montgomery | November 25, 2022
To listen to this week's eSight as a podcast episode click here.
---
"We can desire a future characterized not by some being left and many being destroyed but by change and reclaiming the humanity for all whether they be oppressed or oppressor. And we can anticipate a world that represents the social truth that if there is such a thing as salvation for any of us, none of us are saved until all of us are saved."
---
Our reading this week is from the gospel of Matthew:
"But about that day or hour no one knows, not even the angels in heaven, nor the Son, but only the Father. As it was in the days of Noah, so it will be at the coming of the Son of Man. For in the days before the flood, people were eating and drinking, marrying and giving in marriage, up to the day Noah entered the ark; and they knew nothing about what would happen until the flood came and took them all away. That is how it will be at the coming of the Son of Man. Two men will be in the field; one will be taken and the other left. Two women will be grinding with a hand mill; one will be taken and the other left.
"Therefore keep watch, because you do not know on what day your Lord will come. But understand this: If the owner of the house had known at what time of night the thief was coming, he would have kept watch and would not have let his house be broken into. So you also must be ready, because the Son of Man will come at an hour when you do not expect him." (Matthew 24:36-44)
This weekend marks the beginning of the season of Advent. As most Western Christians celebrate it, Advent season commemorates both expectation and preparation: the approaching season of Christmas and Christians looking forward to the Second Coming. Advent also marks the beginning of the Western Christian liturgical year and the beginning of our winter holiday season. The word advent refers to a "coming" or "arrival" of some looked-for event. It refers to the birth of Jesus long ago, the coming of the Christmas season this year, and the Christian expectation of Jesus' future return.
This week's reading begins with a passage from Matthew about the coming of the "Son of Man." This "Son of Man" figure is from the Jewish apocalyptic book of Daniel. In Daniel 7, the world's empires are represented as violent beasts bringing destruction and harm to the vulnerable. In Daniel's narrative, all violence, injustice, and imperial oppression is finally answered for when God's just future breaks in for the people through this "Son of Man" (see Daniel 7).
Daniels' imagery would have meant a lot to Matthew's Jewish audience who were followers of Jesus and people negatively impacted by Roman imperialism. They longed for liberation.
So our reading in Matthew begins with the timing of this liberation being unknown to all but God, even though it will begin within the lifetimes of Matthew's audience (see Matthew 24:34). Matthew references the ancient folktale of Noah and the flood: Those "taken" are destroyed and those "left" are those who remain after the destruction. This image represented a great reversal of fortune and social location. Those who are marginalized and exploited are left while those responsible for oppression, violence, and injustice are taken away.
Many Christians today interpret these passages in ways that point forward to the second coming of Jesus. The original audience would have also heard this passage as a way to make sense of the world-upending events of Rome's destruction of the Temple in 70 C.E. Reading these passages in the 21st Century, few of us can fathom the lostness that many Jewish folk including Jewish followers of Jesus must have felt as they were "left" after Rome's devastating destruction and with the Temple being no more. They were the one's not taken but left to pick up the pieces. For these people, a passage about Rome being taken away instead of conquering yet again would have resonated with the hope that they could piece together their own worldview and place of belonging after their loss.
This passage ends with the admonition to not lose hope but to remain watchful. I understand why that encouragement would have been included in Matthew's version of the Jesus story given what many in Matthew's intended audience experienced. Today, I think we need even more life-giving stories or imagery.
History has proven time and again that simply reversing social locations is not good enough. Reversals that result in today's oppressed people becoming tomorrow's oppressors still leave the hegemonic system in place: only the actors in that system have traded places.
What if we instead desire an egalitarian future that looks more like a shared table, one where oppressors are transformed through restitution and restoration for the harm done, and the oppressed's humanity is recognized resulting in liberation. We can desire a future characterized not by some being left and many being destroyed but by change and reclaiming the humanity for all whether they be oppressed or oppressor. And we can anticipate a world that represents the social truth that if there is such a thing as salvation for any of us, none of us are saved until all of us are saved (see Rev. Dr. Jacqui Lewis' Fierce Love, p. 14).
Again, I understand why a reversal would have resonated with the original audience of our passage, and today, we can do better.
For the past decade, I and so many others have been trying to understand and interpret the Jesus story in a more life-giving way. If you are interested in leaning more into this way of interpreting our Jesus story this Advent season, Renewed Heart Ministries is proud to announce the release of my new book, Finding Jesus: The Story of a Fundamentalist Preacher who Unexpectedly Discovered the Social, Political, and Economic Teachings of the Gospels.
We'll release it exclusively through our website at renewedheartministries.com beginning December 1.
Here is a sample of what folks are saying about the book: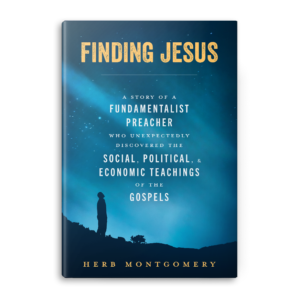 "Herb has spent the last decade reading scripture closely. He also reads the world around us, thinks carefully with theologians and sociologists, and wonders how the most meaningful stories of his faith can inspire us to live with more heart, attention, and care for others in our time. For those who've ever felt alone in the process of applying the wisdom of Jesus to the world in which we live, Herb offers signposts for the journey and the reminder that this is not a journey we take alone. Read Finding Jesus with others, and be transformed together." —Dr. Keisha McKenzie, Auburn Theological Seminary
"In Finding Jesus, Herb Montgomery unleashes the revolutionary Jesus and his kin-dom manifesto from the shackles of the domesticated religion of empire. Within these pages we discover that rather than being a fire insurance policy to keep good boys and girls out of hell, Jesus often becomes the fiery enemy of good boys and girls who refuse to bring economic justice to the poor, quality healthcare to the underserved, and equal employment to people of color or same-sex orientation. Because what the biblical narratives of Jesus reveal is that any future human society—heavenly or otherwise—will only be as good as the one that we're making right here and now. There is no future tranquil city with streets of gold when there is suffering on the asphalt right outside our front door today. Finding Jesus invites us to pray 'thy kingdom come, thy will be done on earth as it is in heaven' on our feet as we follow our liberator into the magnificent struggle of bringing the love and justice of God to all—right here, right now." —Todd Leonard, pastor of Glendale City Church, Glendale CA
"Herb Montgomery's teachings have been deeply influential to me. This book shares the story of how he came to view the teachings of Jesus through the lens of nonviolence, liberation for all, and a call to a shared table. It's an important read, especially for those of us who come from backgrounds where the myth of redemptive violence and individual (rather than collective) salvation was the focus." —Daneen Akers, author of Holy Troublemakers & Unconventional Saints and co-director/producer of Seventh-Gay Adventists: A Film about Faith, Identity & Belonging
"So often Christians think about Jesus through the lens of Paul's theology and don't focus on the actual person and teachings of Jesus. This book is different. Here you find a challenging present-day application of Jesus' teachings about the Kingdom of God and the Gospel. Rediscover why this Rabbi incited fear in the hearts of religious and political leaders two millennia ago. Herb's book calls forth a moral vision based on the principles of Jesus' vision of liberation. Finding Jesus helps us see that these teachings are just as disruptive today as they were when Jesus first articulated them." —Alicia Johnston, author of The Bible & LGBTQ Adventists
"Herb Montgomery is a pastor for pastors, a teacher for teachers, and a scholar for scholars. Part memoir and part theological reflection, Finding Jesus is a helpful and hope-filled guide to a deeper understanding of who Jesus is. Herb's tone is accessible and welcoming while also challenging and fresh. This book is helpful for anyone who wants a new and fresh perspective on following Jesus." —Traci Smith, author of Faithful Families
This week's passage reminds us once again that elements in the Jesus story that were once life-giving for certain of Jesus followers in their context must evolve and become more life-giving so they can have non-destructive meaning for us today as we seek to follow Jesus in our own society. These new ways of reading will be in perfect harmony with the overall spirit of the message and teachings of Jesus. Reading this way often involves hard work as we wrestle with understanding its application to our time's social needs, but this work is well worth it for those of us who believe the Jesus story still has much to offer us today.
As we begin this Advent season, may Advent this year be not only about the arrival of Jesus in Bethlehem, nor only the arrival or coming of our holiday season or the future coming of Jesus, but also the coming of more life-giving ways to follow Jesus today. That's the kind of Advent I can get behind!
May this blessed season of Advent bring peace, joy, love, and justice to each of you.
Heart Group Application
1. Share something that spoke to you from this week's eSight/Podcast episode with your HeartGroup.
2. What does the season of Advent mean for you? Share with your group.
3. What can you do this week, big or small, to continue setting in motion the work of shaping our world into a safe, compassionate, just home for everyone?
Thanks for checking in with us, today.
You can find Renewed Heart Ministries on Twitter, Facebook and Instagram. If you haven't done so already, please follow us on your chosen social media platforms for our daily posts. Also, if you enjoy listening to the Jesus for Everyone podcast, please like and subscribe to the JFE podcast through the podcast platform you use and consider taking some time to give us a review. This helps others find our podcast as well.
And if you'd like to reach out to us through email, you can reach us at info@renewedheartministries.com.
Right where you are, keep living in love, choosing compassion, taking action, and working toward justice.
I love each of you dearly,
I'll see you next week.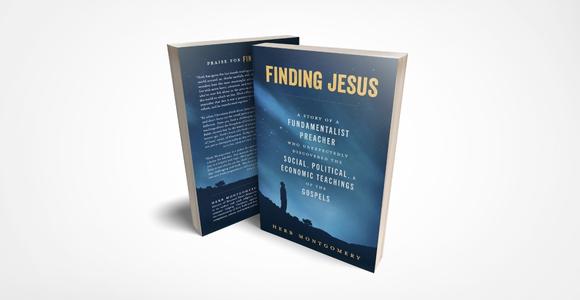 ---
Begin each day being inspired toward love, compassion, action, and justice.
Go to renewedheartministries.com and click "sign up."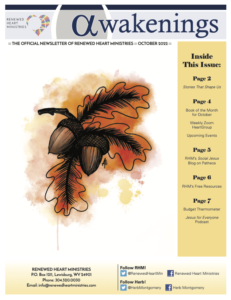 Free Sign-Up at:
https://renewedheartministries.com/Contact-forms?form=EmailSignUp
or Follow us on Facebook, Twitter and Instagram.