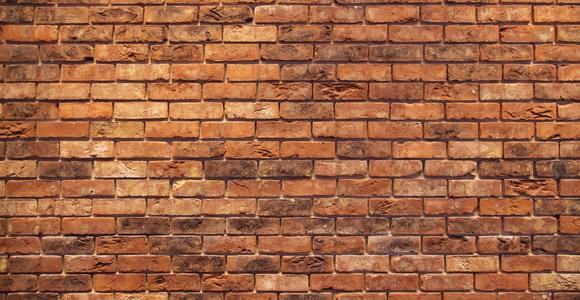 Herb Montgomery | October 14, 2022
To listen to this week's eSight as a podcast episode click here.
---
No effort invested in working toward a safe, compassionate, just world that is home for everyone is in vain. We never know what new concession from those who wield power is just around the next corner.
---
Our reading this week continues from the gospel of Luke:
Then Jesus told his disciples a parable to show them that they should always pray and not give up. He said: "In a certain town there was a judge who neither feared God nor cared what people thought. And there was a widow in that town who kept coming to him with the plea, 'Grant me justice against my adversary.'
For some time he refused. But finally he said to himself, 'Even though I don't fear God or care what people think, yet because this widow keeps bothering me, I will see that she gets justice, so that she won't eventually come and attack me!'"
And the Lord said, "Listen to what the unjust judge says. And will not God bring about justice for his chosen ones, who cry out to him day and night? Will he keep putting them off? I tell you, he will see that they get justice, and quickly. However, when the Son of Man comes, will he find faith on the earth?" (Luke 18:1-8)
Historical Jesus scholars attribute this week's parable to the Jewish Jesus although they also allow for the possibility that the author of Luke created the story given the overall focus of the gospel of Luke. The story only appears here in Luke's version of the Jesus story. And the message encourages persistence.
The widow in the story demands justice. In the patriarchal culture of Jesus' society, a widow had a fragile economic status, and the justice tradition of Judaism had ways of addressing that.
"A father to the fatherless, a defender of widows, is God in God's holy dwelling." (Psalm 68:5)
"The Most High watches over the foreigner and sustains the fatherless and the widow, but the Most High frustrates the ways of the wicked." (Psalms 146:9)
"The Most High tears down the house of the proud, but the Most High sets the widow's boundary stones in place." (Proverbs 15:25)
"Learn to do right; seek justice. Defend the oppressed. Take up the cause of the fatherless; plead the case of the widow." (Isaiah 1:17)
"Your rulers are rebels, partners with thieves; they all love bribes and chase after gifts. They do not defend the cause of the fatherless; the widow's case does not come before them." (Isaiah 1:23)
"…To deprive the poor of their rights and withhold justice from the oppressed of my people, making widows their prey and robbing the fatherless." (Isaiah 10:2)
"…If you do not oppress the foreigner, the fatherless or the widow and do not shed innocent blood in this place, and if you do not follow other gods to your own harm . . ." (Jeremiah 7:6)
"This is what the Most High says: Do what is just and right. Rescue from the hand of the oppressor the one who has been robbed. Do no wrong or violence to the foreigner, the fatherless or the widow, and do not shed innocent blood in this place." (Jeremiah 22:3)
"In you they have treated father and mother with contempt; in you they have oppressed the foreigner and mistreated the fatherless and the widow." (Ezekiel 22:7)
"Do not oppress the widow or the fatherless, the foreigner or the poor. Do not plot evil against each other." (Zechariah 7:10)
"'So I will come to put you on trial. I will be quick to testify against sorcerers, adulterers and perjurers, against those who defraud laborers of their wages, who oppress the widows and the fatherless, and deprive the foreigners among you of justice, but do not fear me,' says the Most High, the Almighty." (Malachi 3:5)
I share this lengthy collection of passages so that we can begin to get the cultural context for our parable: what we would today describe as Jesus' concern for social justice. Working for social justice is at the heart of what it means to follow the Jesus of synoptic gospels. It is a central theme of the Hebrew prophets' justice tradition, and it is to this tradition that Luke's version of the Jesus story adds its voice.
It strikes me as very odd today when I hear Jesus followers making fun of or speaking derisively of those who work for  social, political and economic justice in our time. The Jesus of our stories was speaking throughout Galilee's villages to communities whose entire social fabric was being impacted by Roman imperialism. This impact enriched the elite at the expense of the masses. In Jesus' audience, then, there would have been widows who knew this story by experience. Jesus wasn't giving them a spiritual focus on post mortem bliss to pacify them while they continued to suffer. Jesus's story would have inspired them to continue, to persist, to keep on going in their striving for concrete, temporal justice. They would also have prayed for God to match their persistent efforts by making a way for them. This parable is about prayer for sure, but it's not only about prayer. The phrase we read in the introduction is to "always pray and not give up."
If you are working toward justice and you find yourself feeling as if  you are swimming upstream against our society's strong currents, don't give up!
Also noteworthy is the unjust judge's motive in this story.
His motive is not fidelity to God or concern for what people may think of him. The judge in the story is concerned that this widow may "eventually come and attack me." The language for attack here would have been used to describe slapping someone in the face or giving them a black eye. So the judge acquiesces to the widow's demand for justice for fear of her demands might turn violent. This reminds me of the political motives that lead to partial victories of the civil rights movement during the Johnson presidency. Faced with the demands of the King's nonviolent movement versus the potential violence of other movements if changes weren't made, the government partially heeded demands for change. Nearly 60 years later, we still have a long way to go to repair the harm born from our national sin of racism.
The author of Luke ends this section with a reference to the "Son of Man" and a question about where faith can be found. Again, this language is not concerned with post-mortem bliss but with present world realities. The title "Son of Man" comes from Jewish apocalyptic literature, specifically Daniel 7. In Daniel 7, world empires are depicted as monstrous beasts that will one day stand trial before the throne of justice to face judgment for their atrocities. In the end, the son of Man comes and gives liberation to the people.
"But the court will sit, and his power will be taken away and completely destroyed forever. Then the sovereignty, power and greatness of all the kingdoms under heaven will be handed over to the holy people of the Most High." (Daniel 7:26-27)
So, from start to finish, the entire context of our story is  of establishing justice on Earth, ending violence, and restoring what oppression has stolen.
Lastly the question is asked, when the son of Man comes, will there be faith on the earth?
My challenge this week is not to switch tracks at the end and hear faith in terms of religious or metaphysical claims. Contextually, given the focus of our story, faith is synonymous with persistence in praying for and working toward justice here on our earth. It's about concrete change in our present systems. It's about persistence in our reordering this present world.
This week's story moves me to do two things. In matters where I, like the judge in this week's story, have the power to change things and make our world a safer, just place, this week's story moves me to do so. In matters where, like the widow, I don't have the power to change things myself, this week's story moves me to make those with the power continually uncomfortable until they do.
I don't know about you, but there are seasons when I get tired swimming against the various currents of injustice and voices that perpetuate them in our society, both inside of and outside of Christianity. I do believe it's okay to rest sometimes, and we can accomplish more in the long run if we take time to rest today.
There is also a time to persist rather than to quit. My mother used to remind me when I felt like giving up, "It's always darkest just before the dawn." This week's reading encourages Jesus followers not to give up. No effort invested in working toward a safe, compassionate, just world that is home for everyone is in vain. We never know what new concession from those who wield power is just around the next corner. Keep going!
HeartGroup Application
1. Share something that spoke to you from this week's eSight/Podcast episode with your HeartGroup.
2. What are some ways that you balance rest and persistence in your own justice work? Share some of these with your group.
3. What can you do this week, big or small, to continue setting in motion the work of shaping our world into a safe, compassionate, just home for everyone?
Thanks for checking in with us, today.
You can find Renewed Heart Ministries on Twitter, Facebook and Instagram. If you haven't done so already, please follow us on your chosen social media platforms for our daily posts. Also, if you enjoy listening to the Jesus for Everyone podcast, please like and subscribe to the JFE podcast through the podcast platform you use and consider taking some time to give us a review. This helps others find our podcast as well.
And if you'd like to reach out to us through email, you can reach us at info@renewedheartministries.com.
Right where you are, keep living in love, choosing compassion, taking action, and working toward justice.
I love each of you dearly,
I'll see you next week
---
Begin each day being inspired toward love, compassion, action, and justice.
Go to renewedheartministries.com and click "sign up."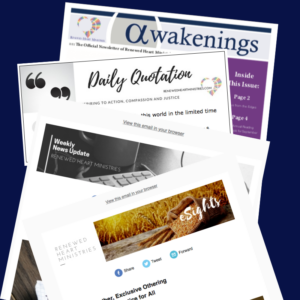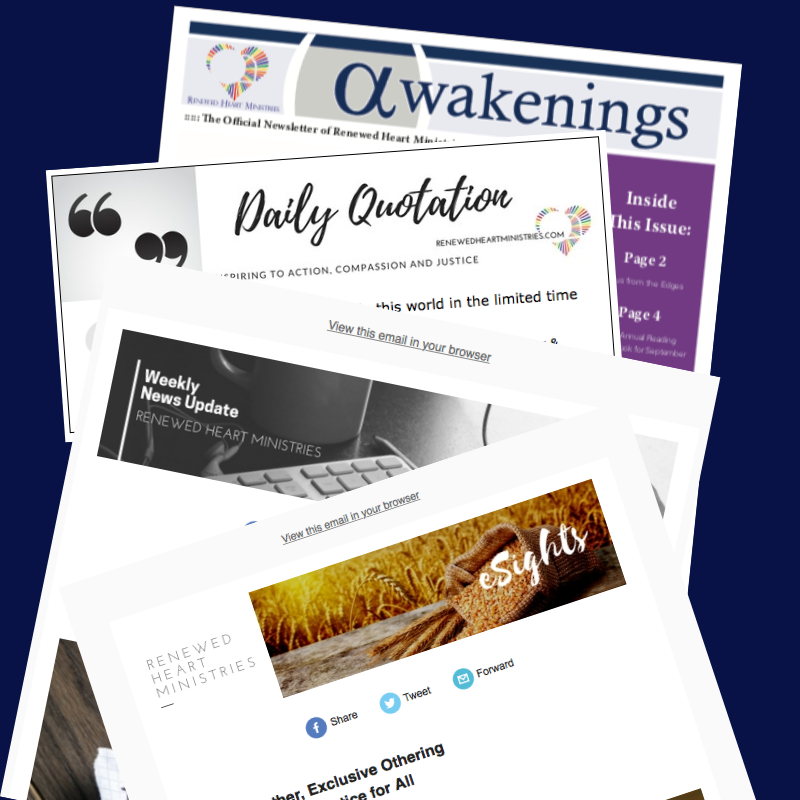 Free Sign-Up at:
https://renewedheartministries.com/Contact-forms?form=EmailSignUp
or Follow us on Facebook, Twitter and Instagram.