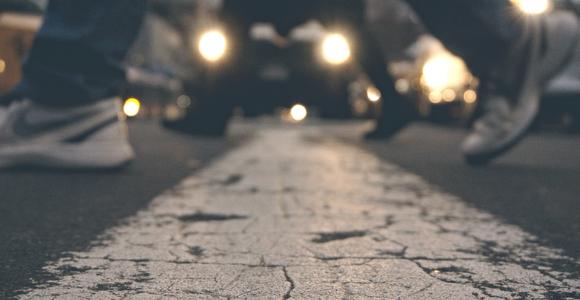 Herb Montgomery | September 30, 2022
To listen to this week's eSight as a podcast episode click here.
---
"The Jesus of the gospels cared about the concrete harm being done to the marginalized and exploited. And our faith in this kind of Jesus should move us to do the same. Is our faith making us complicit with the mountains of harm done to those our present system makes vulnerable? Is our faith inspiring us to work today toward moving our mountains into the sea?"
---
Our reading this week is from the gospel of Luke:
The apostles said to the Lord, "Increase our faith!"
He replied, "If you have faith as small as a mustard seed, you can say to this mulberry tree, 'Be uprooted and planted in the sea,' and it will obey you."
"Suppose one of you has a slave plowing or looking after the sheep. Will he say to the slave when he comes in from the field, 'Come along now and sit down to eat'? Won't he rather say, 'Prepare my supper, get yourself ready and wait on me while I eat and drink; after that you may eat and drink'? Will he thank the slave because he did what he was told to do? So you also, when you have done everything you were told to do, should say, 'We are unworthy slaves; we have only done our duty.'" (Luke 17:5-10)
There is a lot to unpack in this week's reading.
Let's begin with the language of throwing trees into the sea. Luke's version of the Jesus story substitutes the mulberry tree for what other gospels call a mountain:
"Truly I tell you, if anyone says to this mountain, 'Go, throw yourself into the sea,' and does not doubt in their heart but believes that what they say will happen, it will be done for them. (Mark 11:23; see also Matthew 17:20; 21:21)
Jesus said, "If two make peace with each other in a single house, they will say to the mountain, 'Move from here!' and it will move." (Gospel of Thomas 48)
When you say, 'Mountain, move from here!' it will move." (Gospel of Thomas 106:2)
The language of throwing trees and/or mountains into the sea had a rich political history in the Hebrew scriptures. As Isaiah wrote, "every mountain and hill" would be "made low" (Isaiah 40:4)
I agree with Richard Horsley, who explains, "To hear this parable, however, we must again remove some of the Christian theological wax from our ears" (Richard A. Horsley, Jesus and Empire: The Kingdom of God and the New World Disorder, Kindle Location 1203). We first must understand the political and economic context in which this language was used in the Jesus story.
Jesus used this language in the justice tradition of the Hebrew prophets. His community, the Jewish community, was subjugated by Rome. In Roman fashion, the empire had installed its own client ruler, Herod, to have direct control of the region, and Herod had in turn appointed the High Priests of the temple (known as Herod's Temple) from elite families from Jerusalem and surrounding regions.
All of this meant the people were heavily economically oppressed. Not only did Rome tax the people through Herod and the Temple High Priest, but Herod also heavily taxed the people for expensive building projects to honor Caesar and to fund his reign of terror, which kept the populace in line and prevented rebellions. On top of this, the Temple itself demanded tithes and offerings. Instead of being a kind of wealth redistribution to the poor, these tithes and offerings tended only to make the wealthy elite richer.
It is in this context that we must understand the image of throwing a mountain into the sea. In the prophetic tradition, mountains represented political and social orders. In the gospels, the mountain being thrown into the sea was associated with the Temple State, which had become a proxy for Rome when, after Herod's death, Rome began directly determining who the priests and the High Priest would be. Talking about throwing a mountain into the sea in that era would have been associated with the oppressive social, economic, and political system represented by the temple mount rulers in the hilly city of Jerusalem.
To quote Horsley again:
"The high priests are hardly 'Jewish leaders.' [Editor's note: Horsley is not implying that the leaders were not Jewish ethnically. He's suggesting that they represented the interest of Rome, not of Jewish liberation or independence from Rome.] . . . Neither in this episode nor in Mark as a whole is there any suggestion of the replacement of 'Judaism' by 'Christianity.' . . . Here, as throughout Mark's story, the fundamental conflict lies between rulers and ruled, not 'Judaism' and 'Christianity.'" (Richard A. Horsley, Jesus and Empire: The Kingdom of God and the New World Disorder, Kindle Locations 1203-1207)
In his insightful commentaries, Ched Myers agrees that the metaphor of throwing mountains into seas referred to Roman oppression, directly or indirectly through the Temple state acting as a Roman client.
"As impossible as it may seem, Mark insists that the overwhelming power and legitimacy of both the Roman 'legion' and the Jewish 'mountain' will meet their end—if the disciples truly believe in the possibility of a new order." (Ched Myers, Binding the Strong Man, p. 305)
"Faith is here defined as the political imagination that insists on the possibility of a society freed from the powers, whether Roman militarism or the Judean aristocracy." (Ched Myers, Say to This Mountain": Mark's Story of Discipleship, p. 149)
In the same way that peasants could not imagine a world without feudalism, we today find it difficult to imagine a world without capitalism, and Jesus' followers could not imagine a world without Roman imperial rule.
Some in Jesus' audience that day didn't want a world without Roman imperial rule, much as capitalists today who benefit from capitalism therefore defend the way things are. The wealthy elite in Jesus' audience were benefitting from Roman rule, and it's to them that Jesus' next words are aimed.
We can read the "slave" language in this week's reading differently: I don't accept that Jesus is calling his disciples to perceive themselves as unworthy slaves who have only done their duty. This way of perceiving oneself is damaging, not life-giving.
But repeatedly in Luke 17, Jesus' audience keeps changing. These changes are not only frequent, they also happen rapidly with no warning. If we interpret this language as aimed at the ruling elite in Jesus' society rather than to the disciples, another meaning becomes possible.
The last phrase gives us a clue: "We have only done our duty." The original language of the text suggests that this concept of duty could involve the obligations of indebtedness.
Creditors don't thank debtors for paying back their loans. They demand it. The wealthy elite at this time had become wealthy through the misfortune of others. Heavy taxation had pushed many landowners to their limits: if they had one bad year or crop failure, they'd have to take loans. Being already on the edge, any other misfortune, which was common, would push these landowners into default. Many of the wealthy landowners in Jesus' society were creditors who had gained even more land because the original landowners had defaulted on their debts and lost their land to their creditors. The original owers had become debt-slaves, working on land that used to belong to them. In this context, those who were wealthy esteemed themselves through the typical lens of classism as being superior to those who had lost out.
Jesus turns this estimate of others as inferior back onto the elite, and accuses them of holding a similar status in relation to Rome. They were acting, he says, not as the liberated and independent worshippers of YHWH, but as the servants/slaves of the Roman Empire.
This rhetoric becomes a painful challenge, then. Is Rome going to thank them for their service and client slavery? No. Rome looks at them as inferior, conquered, and subjugated. They have traded faithfulness to God for faithfulness to Rome. Rather than being favored children of Abraham, elites have chosen the status of an unworthy slave only fulfilling the obligations of their debt to the Roman Empire.
Reading through this lens, we could paraphrase this passage this way: "So you wealthy elite, when you have done everything you were told to do by your Roman overseers, should say, 'We are unworthy slaves; we have only done our duty.'"
Jesus is seeking to wake the elites up to the reality of what they are doing to others by humiliating them with their classist estimation of others and the world around them.
There are other places in the gospels that refer to disciples as slaves. I interpret our reading this week as naming the elites as slaves of Roman imperialism. I'm also thankful that even the language of referring to disciples as slaves was ultimately replaced in the Jesus story. By the time of the last canonical gospel to be written the author of the gospel of John abandons the reference to disciples as slaves:
"I no longer call you slaves, because a slave does not know his master's business. Instead, I have called you friends, for everything that I learned from my Father I have made known to you." (John 15:15)
Nonetheless, I find this week's slave language to be much more life-giving when applied not to disciples, but to the client rulers or "slaves" of the Roman Empire in Galilee, Samaria, Judea and the surrounding regions. It calls me to question my own investment in the way things are today and what capitalism causes me to trade or give up so I can survive in this system.
Jesus calls his listeners to be careful about how they esteem and treat others, because how they were treating others was how Rome was treating them.
What all of this says to me is that the Jesus of the gospels did not separate his politics from his religion. He allowed his faith and his perception of God to inform his politics in relation how others were being exploited and harmed. Remember: all theology is political, because all politics should ask who is benefiting and who is being harmed. The Jesus of the gospels cared about the concrete harm being done to the marginalized and exploited. And our faith in this kind of Jesus should move us to do the same.
Is our faith making us complicit with the mountains of harm done to those our present system makes vulnerable?
Is our faith inspiring us to work today toward moving our mountains into the sea?
HeartGroup Application
1. Share something that spoke to you from this week's eSight/Podcast episode with your HeartGroup.
2. What concrete harm being done to the marginalized and exploited in our societal context is on your heart this week? Share with your group.
3.  What can you do this week, big or small, to continue setting in motion the work of shaping our world into a safe, compassionate, just home for everyone?
Thanks for checking in with us, today.
You can find Renewed Heart Ministries on Twitter, Facebook and Instagram. If you haven't done so already, please follow us on your chosen social media platforms for our daily posts.  Also, if you enjoy listening to the Jesus for Everyone podcast, please like and subscribe to the JFE podcast through the podcast platform you use and consider taking some time to give us a review. This helps others find our podcast as well.
And if you'd like to reach out to us through email, you can reach us at info@renewedheartministries.com.
Right where you are, keep living in love, choosing compassion, taking action, and working toward justice.
I love each of you dearly,
I'll see you next week
---
Begin each day being inspired toward love, compassion, action, and justice.
Go to renewedheartministries.com and click "sign up."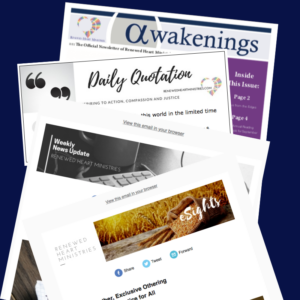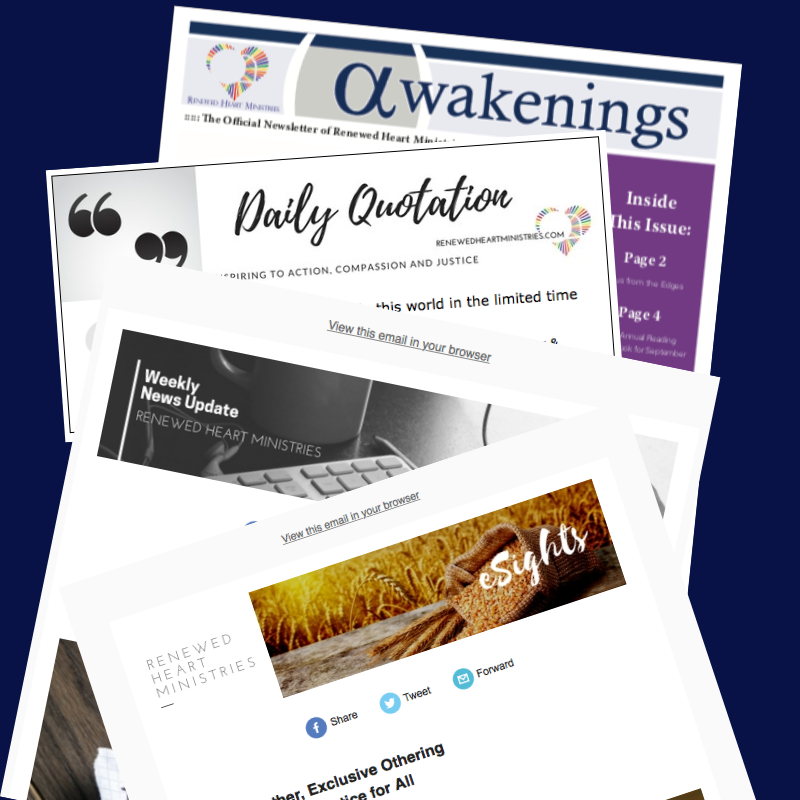 Free Sign-Up at:
https://renewedheartministries.com/Contact-forms?form=EmailSignUp
or Follow us on Facebook, Twitter and Instagram.