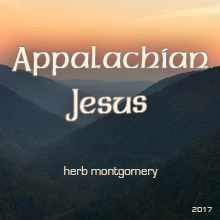 Update Required
To play the media you will need to either update your browser to a recent version or update your
Flash plugin
.
April's Featured Presentation
Appalachian Jesus by Herb Montgomery
Luke's gospel summarizes Jesus's teachings as "good news to the poor." (Luke 4.18)  If the Gospel Christians teach today is not first and foremost good news to the poor then we have to, at bare minimum, ask ourselves if our Jesus is the same one as the one in the story.  Here in Appalachia we have some of the most startling statistics in the United States.  Entire counties within Appalachia have the lowest life expectancy rates in the nation.  We have some of the lowest education rates in the nation; counties where less then half of the population finishes high school and only 5% of the adult population go on to finish some level of college.  In a nation that touts being the wealthiest country in history we cannot ignore that over 43 million live in poverty. In Appalachia, we are home to counties where over half the county lives below the poverty line.  This is a region of the country where unemployment reaches record highs, drug addiction is an epidemic, and our schools continue to struggle from not receiving adequate funding. For one out of every four children in my state, the only meals these children receive are the meals they eat at school.
Gustavo Gutierrez, author of A Theology of Liberation, wrote, "But the poor person does not exist as an inescapable fact of destiny. His or her existence is not politically neutral, and it is not ethically innocent. The poor are a by-product of the system in which we live and for which we are responsible. They are marginalized by our social and cultural world. They are the oppressed, exploited proletariat, robbed of the fruit of their labor and despoiled of their humanity. Hence the poverty of the poor is not a call to generous relief action, but a demand that we go and build a different social order."  Jesus' gospel places before our imaginations what this new human society could look like, if we choose it. This month we are featuring the second presentation in this new series—Appalachian Jesus by Herb Montgomery