Year-End Giving Update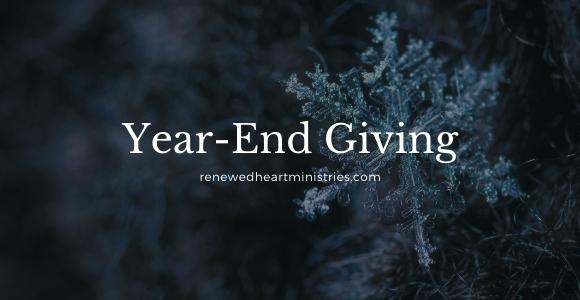 End of Year Matching Donations!
2021 has been a year of big challenges. Doing ministry during an ongoing COVID-19 pandemic has brought its share of change along with moments of heartwarming providence and blessings.
As this year is coming to a close, I'm deeply humbled and thankful for all of you who read, listen to, and share RHM's work.  I'm also grateful for the actions you have taken to make our world a safer, compassionate, just home for all. Thank you for being such an important part of our community, and for your continued support.
Thanks to a kind donor, who also believes in our work, we are able to extend matching donations through the end of month of December.  All donation this month will be matched, dollar for dollar, making your support of Renewed Heart Ministries, and the work we do, go twice as far.
Your support enables RHM to continue providing much needed resources to help Jesus-followers find the intersection between their faith and labors of love, compassion, and justice in our world today.
As 2021 ends, we invite you to consider making a donation to Renewed Heart Ministries to make the most of this very kind offer.
You can donate online by clicking online at renewedheartministries.com and clicking "Donate."
Or you can make a donation by mail at:
Renewed Heart Ministries
PO Box 1211
Lewisburg, WV 24901
Thank you in advance for your continued support.
This coming year, together, we will continue being a voice for change.