West Virginia Flood Relief
July 1, 2016
by Herb Montgomery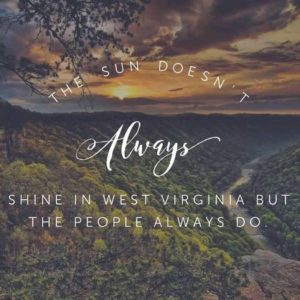 Hello Everyone,
My heart is heavy as I write this.
So many of you have been asking for an update of what is happening here in the wake of the flood that ravaged West Virginia last weekend.
First, we (myself, Crystal, Emarya and Christian) were in Arizona until this past Wednesday. I was giving four presentations at an annual event for AWC.  We were without cell phone signal where we were in Arizona, as well as having no way to connect to the internet for about four days. This explains why we were not able to publish a podcast/eSight last week.  We were off the grid. (Smiles.)
We arrived back in West Virginia on Wednesday and hit the ground running.  On Wednesday  we received word of some of the needs of the shelter/station in Ronceverte (two towns away).  We immediately hit all the stores and purchased every mop Crystal and I could find and ran it down to them. While there we were connected with a family of five who lost everything. The only things they were able to escape with were the clothes on their backs. Crystal and I purchased some more clothing for them and then connected them with the American Red Cross Station, United Way and FEMA. On Thursday I met up with a group of four friends here in Caldwell, one of the hardest hit towns in this area. We spent the day cleaning out three homes. In one we were slogging through mud up to our ankles while standing in the residents' living room. Most of everything they had, as well as their home was lost. The most heartbreaking story was the home where we hauled out everything the flood had decimated on the first floor. This dear lady, with tears in her eyes, looked into mine and said, "This stuff doesn't even begin to compare with what I have lost."  Her husband was one of the fourteen bodies found when the waters subsided. I fought back the tears in my eyes, as well. We helped clear out three homes there yesterday. Today my efforts were split between two homes.  One was shoveling mud out of the home of a family in that same area, then in the afternoon I met up with that same group of friends to help clear out a home in White Sulphur Springs, one of the four hardest hit towns in this county.  At our home, since Wednesday, our washing machine and dryer have also been running nonstop trying to help with specific laundry needs here in Lewisburg, as well.
One of my friends that I have been working along side is also a Katrina survivor.  He was relocated here after the flooding of New Orleans.  "There is a difference this time," he said, "there is something very unique about the way West Virginians come together to take care of one another."  Amidst all the shock and grief, I continue to have moments where my eyes tear up as I hear heroic stories of the power of community; how our community is coming together to provide for and get each other through this. The generosity and selflessness of so many is astoundingly beautiful. One thing Mountaineers lead the way in (and it is this that for me sets the residents of the Mountain State apart from the rest) we know how to take care of our own. When horrific events strike, we've got each other's backs. We know what love, especially in moments of horrendous tragedy, looks like. We open our hearts, homes, lives and we get each other back on their feet.
As I have had time to process everything I'm wading through each day, I'm overwhelmed by so much loss for this little community, both of property as well as loved ones. Pictures (and words) don't even begin to tell the story of the magnitude of the devastation left in the wake of this flood. Greenbrier County was one of the hardest hit; the last lives-lost count I've seen is 23 state-wide with 17 of those from our little county.  One of the 17 was one of our local High School students.  Another 14 year old girl has still not been found.
My dear friend Dr. Keisha McKenzie recently wrote "There are enough resources on Earth to feed, water, and clothe everyone here. We don't lack because there isn't enough. People lack because we don't care for each other enough to distribute what we have effectively."
Moments like these are when the truth of statements like this are also keenly felt.
I'm writing this to ask you, as a follower of Renewed Heart Ministries, for help. I can count the times we have asked folks for money directly on one hand in the last ten years. But this seems different.
We have set up a link through Renewed Heart Ministries webpage where you can give in increments of $15 all the way up to $5000.  Every little bit helps when people have lost so much.    100% of your donation will go directly to help the victims of the 2016 flooding here in Greenbrier County, West Virginia where Renewed Heart Ministries is located. You can also mail your contribution to help to:
Renewed Heart Ministries
PO Box 1211
Lewisburg, WV 24901
Please mark the contributions you mail as "WV Flood Recovery" so we can ensure that none of the funds we receive for this purpose will go toward RHM, but directly to aiding our local victims.
I also want to apologize. There will not be a podcast/eSight again this week. I'm so sorry.  I simply have not had any spare time to write or publish. We are spending every moment we can, shoulder to shoulder, working along side those who, for now, have lost everything.
John F. Kennedy, while visiting in West Virginia, once said, "The sun does not always shine in West Virginia, but the people always do."
We are a strong people. We will come back from this. You get the privilege of being able to participate in our recovery; helping in ways either big or small.
Thank you in advance for your kindness.
You can contribute to the recovery efforts through RHM at the link below:
May the bright rays of the sun continue to supersede the dark storm clouds that have battered our little community, till the only world that remains is a world where only love reigns.
Herb Montgomery
Director
Renewed Heart Ministries