We are not three worlds, but one.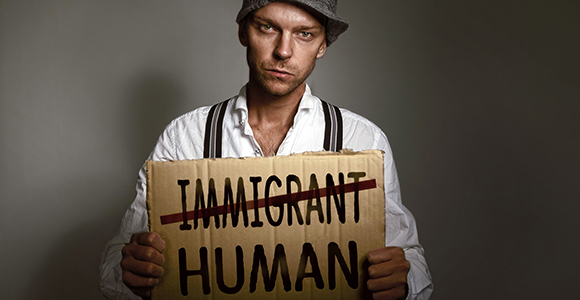 This past weekend, I participated along side of others in my local community in a faith-based gathering to reaffirm the value and honor of all migrant peoples.  Presentations were translated into both Spanish and English. It was our pleasure to add Renewed Heart Ministries' voice and support to this event.
This is a transcript of my brief remarks.
We Are Not Three Worlds, but One
by Herb Montgomery
Archbishop of San Salvador and martyr Oscar Romero used to say:
"We are not three worlds, but one."
As a pursuer of the historic Jesus, I take seriously these words from the gospel of Luke:
"The Spirit of the Lord is on me, because he has anointed me to proclaim good news to the poor.
He has sent me to proclaim freedom for the prisoners [I wonder does this include prisoners being held in immigration detention centers?]
and recovery of sight for those in the blinding darkness of a prison cell, [does this include the darkness of one in a detention cell awaiting deportation?]
to set the oppressed free, [does this include the oppressed of an exploitative and exclusionary global economy?]
to proclaim the year wherein all debts are to be cancelled." 
[does this include global debts that leave developing countries in such states of economic exploitation that their inhabitants must, at great risk, migrate to other areas of the globe just to feed their families?]" (Luke 4.18-19)
I take seriously the words of the Peruvian Father of Latin American Liberation Theology, Gustavo Gutierrez, that a follower of Jesus:
"… will be engaged where nations, social classes, people struggle to free themselves from domination and oppression by other nations, classes, and people (A Theology of Liberation p. 1) . . .
The world today is experiencing a profound and rapid transformation. But the changes do not occur at a uniform pace. (Ibid. 13)
A large part of the Church by its silence or friendly relationships has lent legitimacy to oppression (Ibid. 65) . . .
The Church is beginning to take a different attitude regarding the exploitation, oppression, and alienation which prevails in Latin America. (ibid. 72) . . .
Faced with the urgency of the Latin American situation, the Church denounces as insufficient those partial and limited measures which amount only to alleviating the symptoms of the problem without dealing with the underlying causes and which in the long run actually strengthen an exploitative system. (Ibid. 110) . . ."
Gutierrez reminds us that we encounter Luke's Jesus not only in private meditation, but by participation in the struggle for justice in solidarity with the oppressed.
As director of Renewed Heart Ministries, I am here tonight along side of others to reaffirm our commitment to the work of making our world a just, safe, compassionate home for all.
I reaffirm our rejection of ALL expressions of exploitation and exclusion on the basis race, ethnicity, nationality, gender, ability, age, religion, education, sexual orientation, or gender identification.
Racism and nationalism have ever been at the heart of global economic exploitation and exclusion.
We reject the colonial preferential option for "ones own people" where such is defined by the limited, artificial distinction of citizen vs. noncitizen.
We reaffirm, instead, a preferential option for the exploited and excluded, both locally AND globally.
We reaffirm our commitment to broaden our definition of "one's own" beyond the artificial limits of "fellow citizen" to the reality of our global oneness.
We are not three worlds but one.
We belong to each other and we are each other's fate. The fruit of inequity is not security for the future for some, but greater vulnerability and risk for us all.
We reaffirm the decolonial prioritizing of people's mutual well being.
We reject the recent fear-mongering rhetoric of "threat" to the security, economy and culture of SO CALLED first world citizens.
We reaffirm the truth in that Jewish proverb, "Before every person their walks an angel announcing behold the image of God."
We reaffirm our continuing commitment of listening to God in the "Other," so that together we might integrate all our many and diverse experiences of life on our shared planet into a meaningful and coherent, heterogeneous, non-homogenous whole.
We reaffirm the truth in the prayer of Rabbi Jonathan Zachs, Chief Rabbi of the United Hebrew Congregations of the British Commonwealth, "Blessed are you oh Lord King of the Universe for you vary the forms of your creatures."
We affirm the beauty of the variety found in our humanity. We acknowledge and celebrate our differences rejecting the view that certain differences cause certain communities to be "less than."
We, each of us together, being formed from the diverse image of the One the Hebrews named "I am," are thus a "We who are", and not an "us vs. them."
In the Christian scriptures, in the first epistle of John we read, "For whoever does not love their brother and sister, whom they have seen, cannot love God, whom they have not seen." (1 John 4.20)
This calls me to recognize the reality that, at least in this life, the closest I will ever come to what we as humans refer to as God is YOU, my fellow Image bearer. We are all siblings of the same Divine Parents.
Therefore I reject such agenda-driven-labels as "illegal," "alien," or "criminal." For how can I use such terms to refer to you my brother, my sister, my sibling, my family?
We, at Renewed Heart Ministries, reaffirm our commitment, in solidarity along side you, to learn from you, as we, with you seek to reclaim our interconnected, interdependent humanity, together engaging the work of survival, resistance, liberation, restoration and transformation.
I close with the words of the late Carl Sagan.
"A new consciousness is developing which sees the earth as a single organism and recognizes that an organism at war with itself is doomed. We are one planet."
Oscar Romero was right, "We are not three worlds, but one."