Update from Brazil!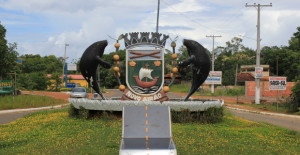 Hello Everyone!
My meetings in Manaus wrapped up this past weekend, and I have arrived in Novo Airão. My meetings here begin tonight.
This is a much more remote area than Manaus. It is a small town, literally at the end of the road along the Rio Negro.
For those of you who were praying for the series in Manaus, thank you. I will share the whole story when I return, but let me share with you briefly, without your prayers, I don't think the meetings in Manaus would have even happened, much less been the success that they were. To each of you, thank you.
Last night upon my arrival, as I walked the streets in this small remote town of Novo Airão, there was one passage from Luke's gospel that repeatedly came to mind.
It is Jesus' announcement of why he had come:
"The Spirit of the Lord is on me,
because he has anointed me to proclaim good news to the poor.
He has sent me to proclaim freedom for the prisoners and recovery of sight for those with prison-blindness,
to set the oppressed free,
to proclaim the year of the Lord's favor."
(Luke 4:18-19)
Here, the economic challenges for most are severe.
Please continue to pray that those who attend will encounter Jesus and his gospel of liberation.
As Jesus said, so long ago, "Blessed are you who are poor, for YOURS is the kingdom of God." Thank you, to each of you, once again.
My access to internet here is very limited. I'll write more when I can.
Much MUCH love to each of you,
Herb