To the Church that Meets in the House of Dave and Sandra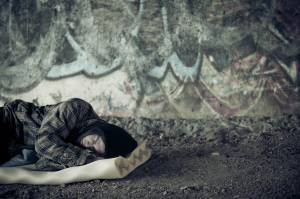 Oshawa, Ontario
Canada
November 7–8, 2014
To the Church that Meets in the House of Dave and Sandra
by Herb Montgomery
First, let me say that this last weekend was extraordinary. Rarely have I witnessed such radical, Jesus-following activity among a group as what I was immersed in last weekend.
Let me back up and start from the beginning.
Let me tell you briefly about Dave and Sandra. Dave is an attorney, and Sandra is a highly educated teacher. They had a beautiful home out in the country that they had restored, and they were living a life that many could only dream of having on their ten acres—creek included. They attended church every week as well as all the church functions. And then that's when it happened—they heard the call of Jesus.
To make a long story short, they sold their beautiful property and purchased an old crack house (literally) in downtown Oshawa that had been burnt out by a fire. They restored the old building and turned it into their home. They are two blocks away from the men's halfway house where they show up and hang out with the men weekly. They started a community garden behind their home, and this decision literally changed the life of one of their neighbors! Sandra teaches at the public school a few blocks away, and each day, as she walks to and from work, she passes the homes of the children with whom she spends her days. And last, but not least, they have a house church that meets at their home every weekend.
These people aren't driving into the city to do "ministry" and then return home. No, they heard the call of Jesus and moved their home to the inner city to bring hope and light from the inside out to a street known as Oshawa's "skid row." And what I believe both Dave and Sandra would be quick to tell you is that the folks in their new neighborhood have actually brought hope and light to them.
Needless to say, I loved spending the weekend with this little house church. Two blocks away is the YWCA, where they rented a room that would seat more than their living room could. That's where I gave a presentation on Friday night and Saturday afternoon. The rest of the time on Saturday, from early morning till late into the night, I spent sitting around a bustling house, sharing, laughing, dialoguing, and making friends with those who meet regularly in this amazing house church.
What I witnessed was beautiful. What I witnessed, without the slightest exaggeration, was the radically giving, others-focused, co-suffering, overwhelmingly inclusive ethos of Christ's radical new world.
On Sunday before I left, I had the opportunity to swing by The Meeting House in Toronto for a bit, where Dave, Sandra, and I were also able to have lunch with Bruxy and his family. Bruxy is a friend of mine who is a Brethren in Christ minister and the teaching pastor of The Meeting House. If you are not familiar with Bruxy, you owe it to yourself to change that. You'll be immensely blessed by what Jesus shares through him. Plus, he's my friend, and I'm quite sure you'll come to love him as I do.
All this adds up to a weekend that I will not soon forget. New Creation has begun. A world in which Christ's love reigns has dawned. This weekend, I had the privilege of experiencing its healing rays firsthand.
For all of you who were praying for this weekend, thank you. It's through partners like you that we, together, are able to participate in the enlargement of Christ's new world (rooted in Jesus' revelation of God, ourselves, and others) one person, one heart, and one relationship at a time.
Until the only world that remains is a world in which Christ's love reigns, I love each of you, and remember, God does too.