This Weekend in Spokane, WA!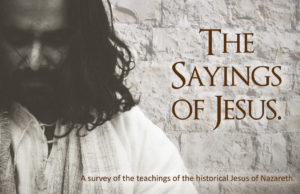 This weekend I'll be sharing a weekend version of our series The Sayings of Jesus in Spokane, WA. This series of presentations is a unique event that considers the sayings of Jesus believed to have been cherished by the community of early, Jewish followers of Jesus. These sayings have historically inspired significant positive world change. From Francis of Assisi, the radical Anabaptists to more recent figures like Mahatma Gandhi, Dr. Martin Luther King, Jr., and others. Whenever those who desire to follow Jesus' teachings have sought to rediscover what those teachings actually were, the result has been positive advances toward making the world a safer, more just, more compassionate home for us all.
If you feel drawn toward the historical Jesus, but have had a difficult time with most things religious, you are not alone.
I'll be speaking at the Spokane Valley Adventist Church in the Spokane Valley. The address is 1601 S Sullivan Rd., Spokane Valley, WA 99037.
I'll be speaking Friday night and all day on Saturday.
The four presentations I will be giving are:
Friday Night:
Presentation 1: Blessed are the Poor, Hungry and Mourning
Saturday:
Presentation 2: Enemy Love, Nonviolence and The Golden Rule
Presentation 3: Mutual Aid and Jesus' "Empire" of God
Presentation 4: Three Reasons The Sayings of Jesus Remain Relevant (for both the religious and the secular)
For more information please call:
509-926-5866
I hope to see you there!
"I am a Jew, but I am enthralled by the luminous figure of the Nazarene." – Albert Einstein
"He was one of the greatest teachers humanity has ever had…he belongs not solely to Christianity, but to the entire world; to all races and people." – Mahatma Gandhi
"Alexander, Caesar, Charlemagne, and myself founded empires; but what foundation did we rest the creations of our genius? Upon force. Jesus Christ founded an empire upon love…" – Napoleon
"The likeness we bear to Jesus is more essential than our notions of him." – Lucretia Mott
"Even those who have renounced Christianity and attack it, in their inmost being still follow [Jesus'] ideal, for hitherto neither their subtlety nor the ardour of their hearts has been able to create a higher ideal of man and of virtue than the ideal given by Christ of old." – Fyodor Dostoyevsky
"Get rid of the miracles and the whole world will fall at the feet of Jesus Christ." – Rousseau
The history of the Christian religion proves that the Sayings of Jesus "have not been tried and found wanting, but found difficult and left untried." — G.K. Chesterton