This Weekend in Phoenix!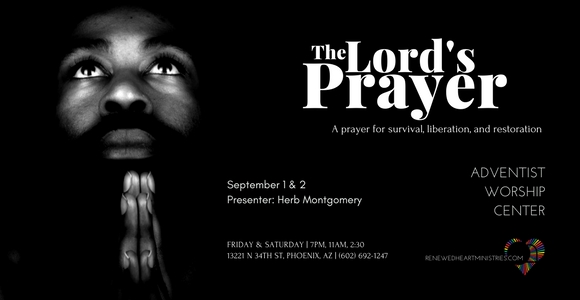 September 1-2
Phoenix, AZ
This coming weekend I'll be in Phoenix, Arizona sharing a new series entitled:
The Lord's Prayer: A Prayer of Survival, Liberation and Restoration.
This new series is on the prayer we find in Matthew 6.9-13.  Throughout Jesus's teachings, and as outlined in this prayer, Jesus does not offer us a privatized path toward personal peace of mind, but a distributively just, societally transformative and reparative path toward peace "on earth, as it is in heaven." It's a transformative prayer that shapes us into being people of compassion and justice, who care about the well being and thriving of all.
This event will be at the:
Adventist Worship Center
13221 N 34th St.
Phoenix, AZ. 85032.
I'll be speaking:
Friday night at 7:00 p.m.: On Earth as it is in Heaven
Saturday morning at 11:00: Bread for Today and Cancelled Debts for Tomorrow
Saturday afternoon at 2:30: A Path Toward Compassion and Justice
If you'd like more information about this event, feel free to call: 602-692-1247.
If you'd like to support this event and events like this one, you can do so at http://bit.ly/RHMSupport.
Thanks in advance.
I hope to see you there!