Thank You!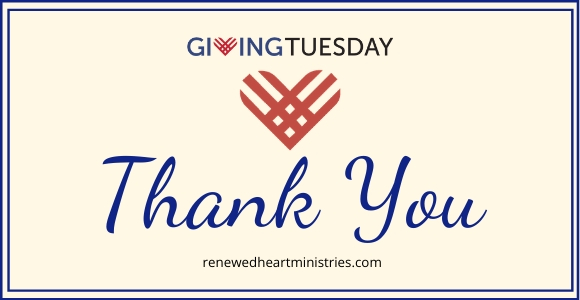 From all of us here at Renewed Heart Ministries, thank you for your donation to Renewed Heart Ministries yesterday on this year's #GivingTuesday
Your support is deeply valued and appreciated.
When you give to RHM, you're participating in furthering the work of repairing the damage Christianity has done to so many, and you're helping Christians be better humans in the future, too.
One reader who identifies as both belonging to the LBTQ community and also as a follower-of-Jesus recently responded, "Very thought-provoking! This approach leads us to a different, deeper kind of Christianity. This is the kind of stuff that is allowing me to reshape my view of GOD, and reclaim it from years of abuse and misunderstanding."
Your support enables us to continue impacting lives and providing the kind of resources and analysis RHM offers.
Intersections between faith, love, compassion, and justice are needed right now more than ever. 
We wish there were 1,000 ways to say thank you, we'd use them all. 
You've kicked off your holiday season with an expression of generosity and by helping others in a way that you can feel good about. 
May your holiday seasons be marked by continued happiness and joy.
Here's to a world of love and justice.
Thank you . . . from all of us.
Herb Montgomery
Director 
Renewed Heart Ministries