Rhema Christian Center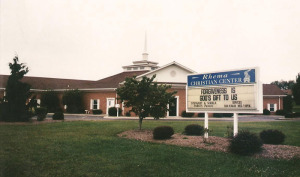 Lewisburg, WV
September 7, 2014
Two weekends ago, I had the distinct privilege of speaking here in Lewisburg at Rhema Christian Center. This is a church whose pastor I have been friends with since I was six. Actually, I believe he baptized me at that age as well. I also went to Rhema's "church school" from kindergarten through second grade before my family moved to Charlotte, NC. But that is a completely different story. This church has roots in the Church of God denomination, yet it has not identified with that denomination since the eighties. Today it considers itself to be an interdenominational church.
One of the things that caught my attention the most, and will for you too if you have spent any time studying what Jesus taught, was a statement made by the pastor of this church in the week leading up to my presentation. He said, "I'm convinced, most Christians have accepted Heaven, but they have yet to accept Jesus and His Kingdom!"
So what did I choose to speak on? I chose to speak on Jesus' favorite topic, as well as that of all the Apostles—the Kingdom. The title of the presentation I gave is, A Time For Change: Rediscovering the Gospel Jesus Taught. You can listen to this presentation here:
https://renewedheartministries.com/presentation/The-Kingdom
What encouraged me most about my time with this church is that it is in process. It's a church that although, by definition, is nontraditional, it realizes that it has "nontraditional" traditions of its own now, after being in existence for some thirty years. It's a church that wants to follow Jesus and wants to begin doing things differently. (That's one of the many reasons why I was invited to share.)
After my presentation, the pastor, a couple others, and I went out to lunch together. As we talked, it became apparent that we should spend more time together, especially since we live in the same town. Neither of us knows what the future may hold or where any of this may lead, but what we do know is that we simply want to be following Jesus and putting on a display of God's love, wherever that may lead us. I'm excited to be entering into a friendship with the folks at Rhema. I can't thank Rhema enough for taking the risk of having someone from "outside" come and share. I see good things happening there, I love the trajectory I see Rhema on, and I love to see churches that aren't afraid of change but that only want to follow Jesus, wherever that may lead.
The pastor and I are going to be endeavoring to spend some time together periodically. The first subject we've chosen, and which we are both keenly interested in, is what this "Kingdom" thing is that Jesus was so passionate about.
For those of you who were praying for this presentation, again, thank you. I wish you could have been there to see how well received I was by this congregation. We are still receiving positive feedback here locally as a result. Again, you can listen to the presentation at the above link. Remember, together we are enlarging Christ's Kingdom, putting on display a God who looks like Jesus, and impacting lives both for today and for eternity, one heart at a time.
For partnering with us here at RHM and in the proclamation of Christ's gospel, thank you.
I love each and every one of you. And remember, God does too.
Herb