Renewed Heart Ministries' Weekly Podcast Now Has A Name!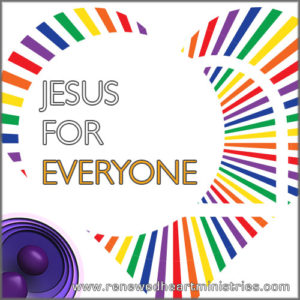 Last week marked Renewed Heart Ministries' 168th episode of our weekly podcast.  We began this podcast in 2011. We've recently decided to give our podcast a name—Jesus For Everyone.
This year we are dedicating the podcast (as well as our weekly eSights) to the sayings of Jesus believed to have been held dear by the early, first-century, Jewish, Jesus-community.  These are a collection of sayings found in both Matthew and Luke, and referred to by most scholars as Sayings Gospel Q.
You can access our weekly podcast by three different methods.
You can listen directly by going to Renewed Heart Ministries' podcast episode page:
https://renewedheartministries.com/Podcasts
You can access it through iTunes by going to
https://itunes.apple.com/us/podcast/renewed-heart-ministries/id442036678?ign-mpt=uo%3D4
Or you can access it through your favorite RSS reader by pointing your reader to:
renewedheartministries.com/podcasts/podcast.xml
We are excited to be on this journey with you of rediscovering, following and helping others rediscover the teachings and sayings of the historical Jesus. We believe these teachings have an intrinsic value in informing the work of nonviolently confronting, liberating and transforming our world into a safe, more just, more compassionate home for us all.
Till the only world that remains is a world where only love reigns.
"The Kingdom of God is within you." — Jesus