Recommended Reading from RHM for December
 The Liberation of Christmas: The Infancy Narratives in Social Context
by Richard Horsley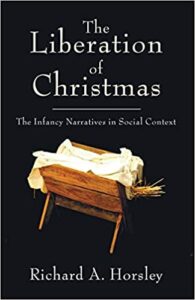 Current biblical scholarship tends to treat the nativity narratives as having little historical basis and to see in them illustrations of the particular theologies of Matthew and Luke. 
Nonbiblical scholarship sees in these narratives only an adaptation of traditional folklore themes relating to the birth of the hero. This leaves the ordinary Christian in a vacuum that the mass media and other commercial interests are only too anxious to fill. 'Liberating Christmas' shows that, regardless of whether the nativity narratives are rooted in actual historical situations, they do portray a particular network of social-political relationships. Thus Caesar ruled and taxed peoples, such as the Jews, through client-kings, such as Herod, who ruled with sharply repressive violence. But the narratives also celebrate the birth of a messiah who will finally liberate his people even though he and his family are driven into exile. 
The Christmas stories as reappraised by this book have, therefore, important political implications, implications not only about first-century Palestine but about contemporary history as well. These latter implications are brought out by an extensive analysis of the political-economic domination exercised in much of Latin America by the United States, domination maintained by "client dictators who use death squads (paralleling Herod's slaughter of innocents) to terrorize and control the exploited peasants while driving members of basic Christian communities into exile. 'Liberating Christmas' has as much to say about the 'Pax Americana' as the original nativity narratives had to say about the 'Pax Romana' The story of Jesus is as important to ordinary readers today as it was when it was first told centuries ago.
Remember, you don't have to order this book through amazon.com, but if you do, please consider using Amazon Smile (smile.amazon.com) and selecting Renewed Heart Ministries as your designated charity for a portion of your purchase to be donated to RHM at no additional cost to you.