RHM's Annual Reading Course Book for August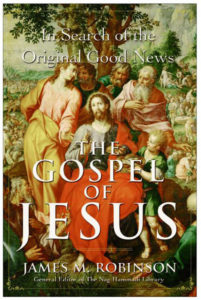 The Gospel of Jesus: A Historical Search for the Original Good News
by James M. Robinson
We are excited to add this month's book to our Reading Course for 2017. It's our hope that this book will inspire both hope and action as you, too, read and rediscover, not a gospel about Jesus, but the gospel, to the best of our knowledge, Jesus himself taught.
"We all know the Gospels of Matthew, Mark, Luke, and John, but what was the gospel of Jesus? That is, what was the original 'good news' the first disciples heard from Jesus? What did Jesus really say that started the dramatic movement in Galilee that grew to become the largest religion in the world?
Jesus's original gospel has been lost from sight, hidden behind the version preferred by the church. We have put him on a pedestal, rather than walked in his footsteps. In The Gospel of Jesus, James M. Robinson, the preeminent expert on the earliest sources of information about Jesus, provides the primary texts in all their unvarnished honesty to get to the true historical message of Jesus — what Robinson calls 'a brittle, upsetting, comforting, challenging gospel.' The Gospel of Jesus draws on a combination of the most ancient and authentic texts to reveal what Jesus really said and to illuminate what he may still have to say to us today.
Drawing on the earliest Gospel, Mark, plus the source for Matthew and Luke, known as 'Q,' as well as from Jewish sources such as the Dead Sea Scrolls and the ancient extra-biblical Gnostic texts discovered at Nag Hammadi, Robinson not only reconstructs the good news Jesus preached and practiced two thousand years ago, but shows how relevant his message still is — and how we can apply it to our lives today. The Gospel of Jesus offers one of the most authentic and stirring accounts ever written of the message preached by the figure whose followers today number more than two billion."
Remember, if you use Amazon.com, please consider using Amazon Smile and selecting Renewed Heart Ministries as your charity to support our work at no additional cost to yourself. You can do so at: http://smile.amazon.com/ch/20-8663541