RHM's 2018 Reading Course Book for January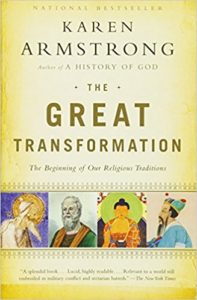 Happy 2018!
With this new year we begin another twelve month reading course. We are excited about the list of books we will be reading in 2018. To kick off this new list, our book for January is The Great Transformation: The Beginning of Our Religious Traditions by Karen Armstrong.
"From one of the world's leading writers on religion and the highly acclaimed author of the bestselling A History of God, The Battle for God and The Spiral Staircase, comes a major new work: a chronicle of one of the most important intellectual revolutions in world history and its relevance to our own time.
In one astonishing, short period – the ninth century BCE – the peoples of four distinct regions of the civilized world created the religious and philosophical traditions that have continued to nourish humanity into the present day: Confucianism and Daoism in China; Hinduism and Buddhism in India; monotheism in Israel; and philosophical rationalism in Greece. Historians call this the Axial Age because of its central importance to humanity's spiritual development. Now, Karen Armstrong traces the rise and development of this transformative moment in history, examining the brilliant contributions to these traditions made by such figures as the Buddha, Socrates, Confucius and Ezekiel.
Armstrong makes clear that despite some differences of emphasis, there was remarkable consensus among these religions and philosophies: each insisted on the primacy of compassion over hatred and violence. She illuminates what this "family" resemblance reveals about the religious impulse and quest of humankind. And she goes beyond spiritual archaeology, delving into the ways in which these Axial Age beliefs can present an instructive and thought-provoking challenge to the ways we think about and practice religion today.
A revelation of humankind's early shared imperatives, yearnings and inspired solutions – as salutary as it is fascinating."
Our hope is that as you read this thought provoking volume, you will be inspired and your heart renewed to choose compassion as we follow Jesus' example in healing our world in 2018.
Remember, if you use Amazon.com, please consider using Amazon Smile and selecting Renewed Heart Ministries as your charity to support our work at no additional cost to yourself. You can do so at: http://smile.amazon.com/ch/20-8663541